The cast of Saved by the Bell reunited at a panel during the 90s Con in Connecticut, where they discussed their experiences on the show and revealed some interesting tidbits about the beloved sitcom. The group, including Mark Paul Gosselaar (Zack Morris), Elizabeth Berkley (Jessie Spano), and Mario Lopez (AC Slater), talked about how the show became a hit, the normal high school experiences they had while filming, and the props they wished they had taken from the set. They also discussed the potential success of the girl group on the show, Hot Sundae, and provided a secret reveal on the caffeine pills episode.
---
Did the Cast Go to Regular High School?
The cast reminisced about their high school experience, which they got to relive while filming the show. They all attended regular high schools while being tutored on the set. "It was cool I got to play sports and go to the prom. I graduated with my class and all that," said Mario Lopez.
Mark Paul Gosselaar expressed regret for not taking anything from the set. "We should have taken things. When you watch the show, you wonder where did that poster go. There were so many things we could have boosted. Like on the shows now, after my tenure at NYPD Blue, I took anything that wasn't bolted down. I would have taken someone's chair."
Mario Lopez's mother, on the other hand, kept everything. When asked about memorabilia, Mario said, "No, I never took those things." Mark remembered some of the crazy props on the set, like Dustin masks, that nobody took. "Imagine how much money you could get for that now?" he laughed.
A picture of Mario and his mom ↓
The panel then turned to the infamous "Hot Sundae" episode, where Jessie becomes addicted to caffeine pills while trying to balance her schoolwork and her music career with the girl group, Hot Sundae. "I definitely think we could have gone far," said Elizabeth Berkley. "We should have had albums in real life. Jumping on the trampoline in a music video? Come on!"
Watch the Official Hot Sundae Music Video ↓
---
The Secret of the Caffeine Pills
Mark Paul Gosselaar agreed, but noted that back then, you didn't do commercials, you didn't advertise, and you didn't cross over. The interviewer then asked if people knew that the pills were actually Red Hot candies. Mark confirmed, "They were Red Hots, little cinnamon Red Hots."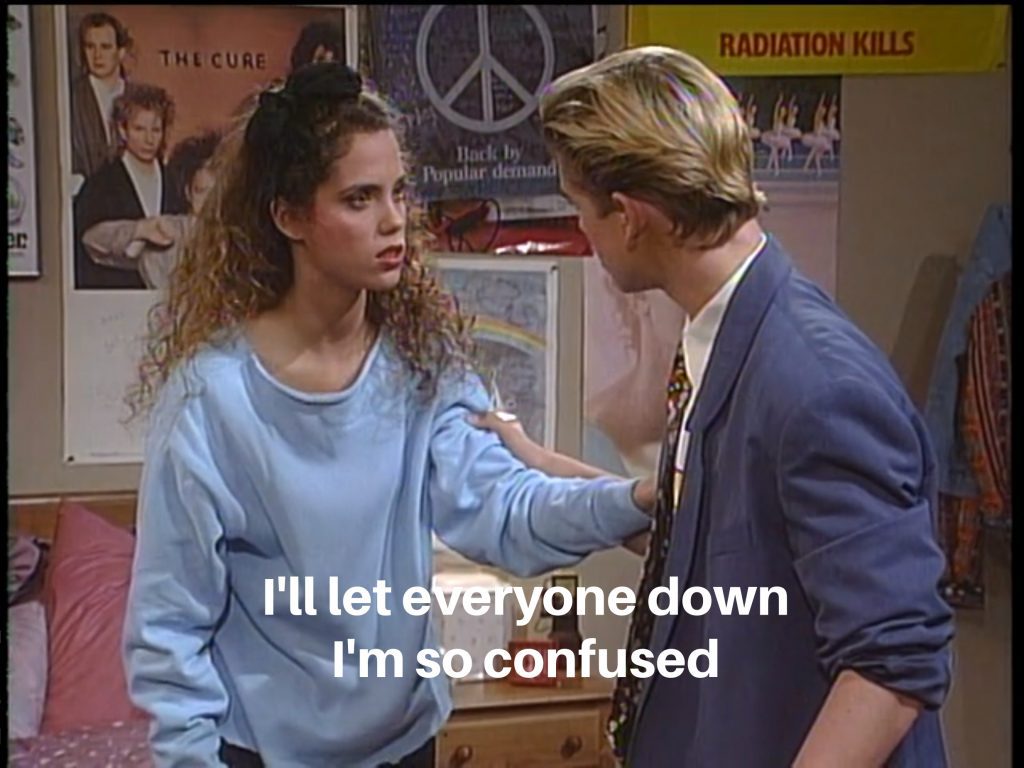 In conclusion, the Saved by the Bell cast talked about their experiences while filming the show and how they could have taken advantage of their popularity back then. They also regretted not taking anything from the set, and joked about the crazy props they could have taken. Despite their regrets, they all seem to have fond memories of their time on the show.
If you purchase an independently reviewed product or service through a link on our website, Feeling the Vibe may receive an affiliate commission. Courtney Rose is an Entertainment Writer at Feeling the Vibe Magazine based in New York. Pop culture and rom-com obsessed. Studied Journalism and is up to date on all the latest entertainment news. For tips or comments, email me at [email protected]