The event that fans have been waiting for is almost here. NBC released the promotional trailer for their exciting #OneChicago crossover, which combines Chicago Med, Chicago Fire, and Chicago PD into one 3-hour story. The 2019 crossover promises to deliver heart-pounding drama and the classic teamwork between Firehouse 51, Med, and the 21st district that fans have come to know and love.
First, what makes the crossover so special?
If you're new to the One Chicago world, or aren't familiar with the TV term "crossover," allow us to help you understand the draw of such an event. In terms of television, the lure of a crossover comes from bringing multiple shows (either within the same genre, network, or "universe") together. By doing so, characters from across each show are brought into each other's worlds or storylines. These are fun for fans to see, as their favorite characters may interact in ways they wouldn't have been able to otherwise.
Dick Wolf — the Chicago franchise creator — has been doing these crossovers since 2014, when Chicago Fire and Chicago PD came together to solve an arson-murder mystery. When Chicago Med came aboard in 2015, it gave space for a 3-way crossover, which was something that hadn't been done on NBC yet.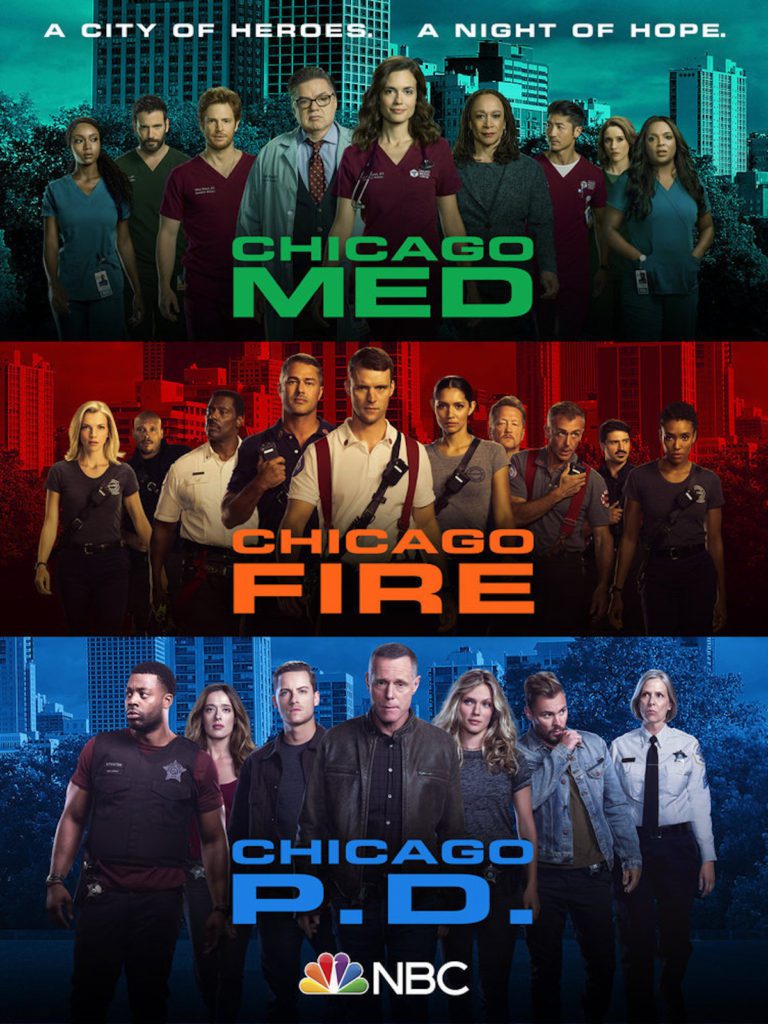 ---
What is this year's #OneChicago crossover about?
This year's 'One Chicago' crossover revolves around an infectious disease that causes chaos in the Windy City. Chicago Fire co-creator Derek Haas wrote all 3 episodes and developed the story with Dick Wolf. This year's plot is more feasible in that it truly intertwines the shows, as opposed to year's past where only portions of storylines carried over. According to TVLine, Haas was inspired by disaster films like The Poseidon Adventure and Independence Day, but not to worry: it won't read like a SyFy movie; it'll still feature the uniqueness of the One Chicago universe.
As for how all 3 shows will become entangled in the mess, that's for the trailer to uncover. In the promo, it starts off with some members of Chicago Med, Chicago Fire, and Chicago PD enjoying a rare day off at a Chicago Bears football game. Unfortunately, things don't say sane for long, as a mysterious illness overcomes some attendees, causing everyone's favorite doctors and paramedics to spring into action.
From there, it's up to the rest of Chicago Med to discover what exactly has caused this outbreak, and how deadly it could be for the city. Chicago PD and Fire come into play as the investigation turns to arson when the person, or persons responsible try to cover up evidence by burning down a chemical lab.
Any other details?
According to Haas' Twitter, the casts were still filming scenes for the crossover event as late as Sunday, October 6! Yes, you read that right: they apparently had re-shoots for Chicago Med's portion of the crossover a mere 10 days before the actual episodes are scheduled to air. Crazy, right?
Filming for the crossover began in late August (can you imagine wearing fall clothes in all that heat?), and took place all over Chicago. Some locations include: the former Motorola Solutions campus in Schaumburg, Irving Park, as well as the financial district near the Chicago Trade Center.
One of Chicago's own may be in danger as she faces quarantine after being exposed to blood from one of the infected victims. The promo shows a concerned Dr. Will Halstead (Nick Gehlfuss) looking over Detective Hailey Upton (Tracy Spiridakos), as she said the girl collapsed on her during their rescue.
The trailer also shows firefighters being hosed down, fellow hospital staff trying to calm victims down, and the CDC (Center for Disease Control) being called in just as Dr. Halstead claims that this is "an act of terrorism." The perpetrator(s) is (are) also keen on having caused such a mass panic that the event becomes apocalyptic for the city of Chicago. See for yourself in the full trailer:
We've saved the best for last, as we have photos from the "Infection" crossover event, featuring the casts of Chicago Med, Chicago Fire, and Chicago PD. Take a look at scenes from "Infection: Part I," "Part II", and "Part III" in our photo gallery below:
The #OneChicago crossover event airs Wednesday October 16, starting at 8 PM EST with Chicago Fire; Chicago Med airing at 9, and ending with Chicago PD at 10.
---
MORE TELEVISION NEWS
50 Fun Facts about the Cast of Chicago PD
Taylor Swift & Usher Join NBC's The Voice
NBC Announces Saved by the Bell Reboot with Elizabeth Berkley and Mario Lopez
Get a Sneak Peek of Upcoming Blue Bloods Episode
Kari Highman is a Beauty and Fashion Blogger at Feeling the Vibe Magazine. Otterbein Alum (2017) – English & Psychology. Always learning & creating. Avid fan of mid 2000's TV & pop music. Comments or tips, email kari@feelingthevibe.com