After a successful debut on February 8, the popular quiz show event Jeopardy! National College Championship is back with a new episode on February 9. The multi-consecutive night event features 36 students from 36 colleges and universities battling it out in an intense competition. Get details on the contestants being featured in episode 2 below.
---
Meet the Contestants from Jeopardy! National College Championship Episode 2 airing February 9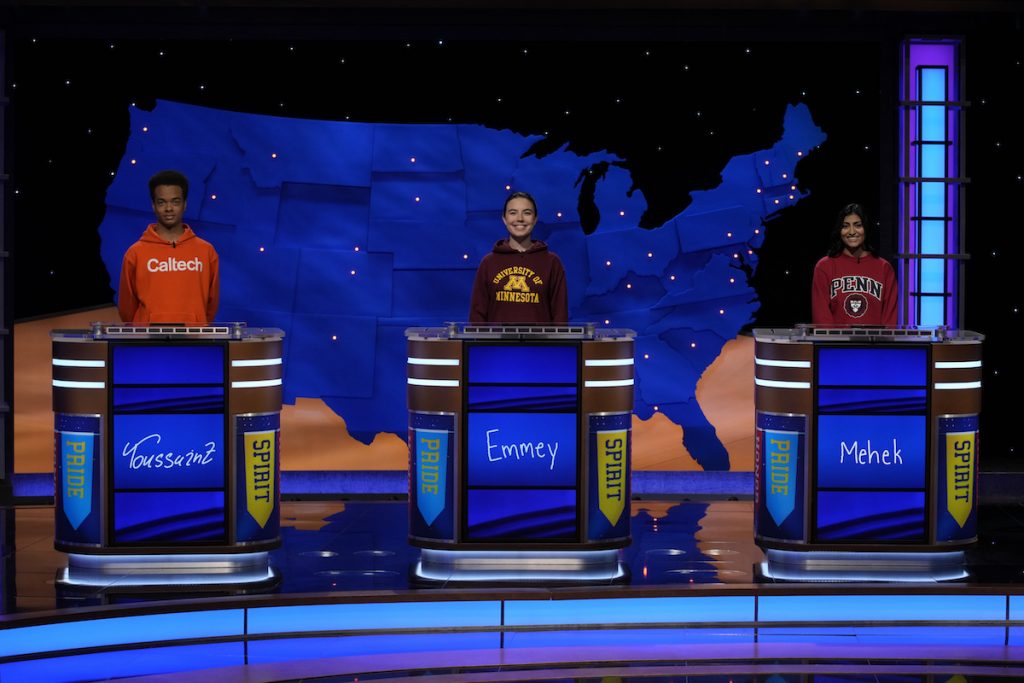 TOUSSAINT PEGUES
Toussaint Pegues is a student at the California Institute of Technology, also known as CalTech. He's the president of CalTech's residence house Ricketts, whose members are known as skurves, according to the university's website. In addition, Toussaint is quite the artist, participating in ceramics, knitting, and baking. He's majoring in mechanical engineering and is from Dallas, Texas.
View this post on Instagram

EMMEY HARRIS

Emmey Harris is a sophomore at the University of Minnesota, studying history. She's interested in archiving, museum work, and other related fields, according to her LinkedIn. Emmey even works at her university library as an archives assistant. The Lincoln, Nebraska native will graduate in 2024.

JEOPARDY! NATIONAL COLLEGE CHAMPIONSHIP – "Jeopardy! National College Championship," hosted by Mayim Bialik, debuts TUESDAY, FEB. 8 on ABC. Produced by Sony Pictures Television, "Jeopardy! National College Championship" is a multiconsecutive-night event that features 36 students from 36 colleges and universities from across the country, battling head-to-head for nine days of intense competition. (ABC/Casey Durkin) EMMEY HARRIS

MEHEK BOPARAI

Mehek Boparai is a student at the University of Pennsylvania, majoring in English. Hailing from Hanford, California, the senior is a fan of poetry, prose, and PhotoBooth. She loves documenting her collegiate adventures on Instagram. Mehek wrote about her Jeopardy! appearance, saying: "if you're bored Feb. 9th at 8 PM EST, feel free to watch me on @jeopardy representing @uofpenn for the J! National College Championship !!! or next day on hulu :)"

---

JEOPARDY! NATIONAL COLLEGE CHAMPIONSHIP – "Jeopardy! National College Championship," hosted by Mayim Bialik, debuts TUESDAY, FEB. 8 on ABC. Produced by Sony Pictures Television, "Jeopardy! National College Championship" is a multiconsecutive-night event that features 36 students from 36 colleges and universities from across the country, battling head-to-head for nine days of intense competition. (ABC/Casey Durkin) YEJUN KIM, MITCH MACEK, JOEY KORNMAN

YEJUN KIM

Yejun Kim is a student at Northwestern University majoring in chemical engineering. Originally from Naperville, Illinois, Yejun enjoys exploring nature, visiting museums, and hanging out with her friends. According to her university's news site, she's been a fan of the show for years, but never thought she'd be on it. But, she tried out on a whim anyway, and will make her debut on the Feb. 9 episode.

MITCH MACEK

Mitch Macek is a student at Villanova University who is majoring in mathematics. The Felton, Pennsylvania native has always dreamed of being on Jeopardy!, according to York Daily Record. Mitch grew up watching the show with his family, and prepared for this special event by studying up on all the subjects he wasn't familiar with. He's more of a math, science, and technology guy, but he's confident in his abilities and knowledge now.

JEOPARDY! NATIONAL COLLEGE CHAMPIONSHIP – "Jeopardy! National College Championship," hosted by Mayim Bialik, debuts TUESDAY, FEB. 8 on ABC. Produced by Sony Pictures Television, "Jeopardy! National College Championship" is a multiconsecutive-night event that features 36 students from 36 colleges and universities from across the country, battling head-to-head for nine days of intense competition. (ABC/Casey Durkin) MAYIM BIALIK, MITCH MACEK

JOEY KORNMAN

Joey Kornman is a junior at Brandeis University, majoring in Classical Studies. According to the university's website, he's a current fellow of the Classical Studies Artifact Research Collection, and is apparently double majoring in Classical Studies and Economics, with a minor in Political Science. Joey's interested in Latin language, iconography, and is part of the campus quiz bowl team.

JEOPARDY! NATIONAL COLLEGE CHAMPIONSHIP – "Jeopardy! National College Championship," hosted by Mayim Bialik, debuts TUESDAY, FEB. 8 on ABC. Produced by Sony Pictures Television, "Jeopardy! National College Championship" is a multiconsecutive-night event that features 36 students from 36 colleges and universities from across the country, battling head-to-head for nine days of intense competition. (ABC/Casey Durkin) MAYIM BIALIK, JOEY KORNMAN

Mayim Bialik of TV's The Big Bang Theory and Call Me Kat is hosting, and and did an Instagram Live to promote the show on February 9.

Tune in to Jeopardy! National College Championship on February 9 at 8 PM ET, on ABC. You can also stream episodes the next day on Hulu.

---

RELATED ENTERTAINMENT NEWS

Meet the College Students Who Compete on 'Jeopardy! National College Championship' Kicking Off February 8th

Mario Cantone, Anthony Michael Hall & Loni Love Compete on 'Celebrity Wheel of Fortune'

Jodie Sweetin & David Lipper of 'Full House' Star in New Movie 'Just Swipe' – See Trailer, Photos & More Inside

Kari Highman is a Beauty and Fashion Blogger at Feeling the Vibe Magazine. Otterbein Alum (2017) – English & Psychology. Always learning & creating. Avid fan of mid 2000's TV & pop music. Comments or tips, email kari@feelingthevibe.com