Change is coming to NBC's Chicago PD. Jesse Lee Soffer – who's portrayed Detective Jay Halstead since the show's 2014 inception – will exit the procedural drama in the fall. For more information, including his official statement and his costars' reactions, keep reading below.
---
Jesse Lee Soffer Confirms Chicago PD Exit: "This is sad but true"
Variety was the first media outlet to report the news of Jesse Lee Soffer's exit from NBC's Chicago PD. The article dropped late on Monday August 29, and it didn't sink in for many fans of the show until the actor took to Twitter to confirm his departure. "This is sad but true. Just want all the fans to know how grateful I am. You guys are why we do it! It has been an honor. Love you all ❤️," Soffer wrote.
Fans were surprised by this news, especially since earlier in August, Jesse was on set with his Chicago PD cast mates, posting on Instagram to celebrate the new season. "Season 10. Welcome Dante Torres 💥 💥 💥 @benjaminlevyaguilar," he captioned the photo with onscreen partner Tracy Spiridakos and newest addition Benjamin Levy Aguilar.
In another photo a few days later, he posed with fans outside a filming location, writing: "It ain't no Bridgeport, but I just want to thank Clearing and Garfield Ridge for coming out 😉 #ChicagoPD."
Since news of his departure broke, Soffer's been liking fan tweets. Lots of Chicago PD fans are saddened by the news, others are shocked, but overall there's a grateful nature to the tweets, thanking him for portraying Jay Halstead for almost a decade. "You are absolutely the best! Won't be the same without you," one tweet read. Another fan commented: "Thank you Jesse. Jay Halstead will be missed. 😢 Congrats on 10 years of the show and good luck in your career with whatever comes next! ❤️."
One major question that hasn't exactly been answered is why Soffer is leaving the police procedural after 10 seasons. Since no exact departure date has been reported yet, fans are wondering if there's a certain storyline or episode that will lead into the character's exit. Jay Halstead has been a central character in the series, and was actually one of the first characters to appear in the flagship series Chicago Fire before helping to create the world of Chicago PD. Plus, his brother Will (Nick Gehlfuss) is a character on Chicago Med, making the Halstead brothers the only current sibling duo that connects those two shows.
Jay was first seen in 2013 on Chicago Fire, where he played an undercover cop that struck up a romance with a firefighter named Gabby Dawson (Monica Raymund), before being shot on the job led him to pursue the Intelligence unit. Since Chicago PD's debut in 2014, the show's gone through quite a few cast shakeups, including losing Sophia Bush, Elias Koteas and Jon Seda. But, one person people never expected to leave was Jesse Lee Soffer as Jay Halstead.
One of those reasons is due to Halstead's relationship with Detective Hailey Upton (portrayed by Tracy Spiridakos). Fans waited ages for the duo to become more than partners, and they finally got married last year in the season 9 fall finale. Since then, the couple – ship name: #Upstead – has been stronger than ever, and a popular reason that fans tune in week to week. Taking away one half of that ship is something no one expected to happen, especially when they are one of the only couples on the show.
---
Jesse Lee Soffer's official statement + his Chicago PD costars' reactions
"I want to thank the incredible fans for their unwavering support during the past 10 years and want to express my deepest gratitude to Dick Wolf and everyone at Wolf Entertainment, Peter Jankowski, Matt Olmstead, Derek Haas, Michael Brandt, Rick Eid, Gwen Sigan, NBC, Universal Television, my fellow castmates and our incredible crew," Jesse began in a statement to Variety. "To create this hour drama week after week has been a labor of love by everyone who touches the show. I will always be proud of my time as Det. Jay Halstead." Beyond that, he has not given any other explanation for his exit.
His Chicago PD costars took to social media to offer their love and support. Jesse's onscreen wife Tracy Spiridakos was the first to pen a post, writing: "I guess the word is out…Jesse, what can I say, you're the absolute best. Thank you for your kindness, your guidance and your friendship. You're the greatest onscreen husband a girl could ask for. I'll miss being on set with you every day. I can't wait to see what the world has in store for you next. #upsteadforever."
Jesse for his part liked the tribute and commented a single red heart emoji, which has been liked by over 2,400 people. He and Tracy have been onscreen partners going on five years, ever since she became a series regular in 2017.
Next, Marina Squerciati (who plays Kim Burgess) posted a behind the scenes photo of she and Jesse in their dress blues, presumably from filming in season 10. "I'll never forget the smell of your noggin, Jake…because I stole your service cap so I would never forget the smell of your noggin which is a totally normal not at all stalkerly thing to do. – Kate* *in all seriousness- I love you, Jesse. #squad #family #chicagopd #jesseleesoffer #halstead," the caption read. It's an inside joke between the two costars (who only occasionally pair up onscreen) that they don't know each other's character names, hence Kate and Jake – as opposed to Kim and Jay.
While LaRoyce Hawkins or Patrick John Flueger haven't posted anything on social media, it's safe to say Jesse's absence will be felt amongst the cast. It's definitely made waves online. Twitter trends over the last few days have included: "#upsteadforever" and "#weloveyoujesse" as well as simply: Jesse Lee Soffer, Chicago PD and Jay Halstead.
Again, no exact date has been announced for Jesse's departure from Chicago PD, but Variety did report it will be occurring in the fall, which would mean anytime between episodes 2-10 since that's approximately half a normal season. Episode 1 is safe, because NBC released promotional photos on Wednesday August 31 for the season 10 premiere, titled "Let it Bleed" which yes, feature Jesse Lee Soffer as Jay Halstead. Check out a couple of those photos below: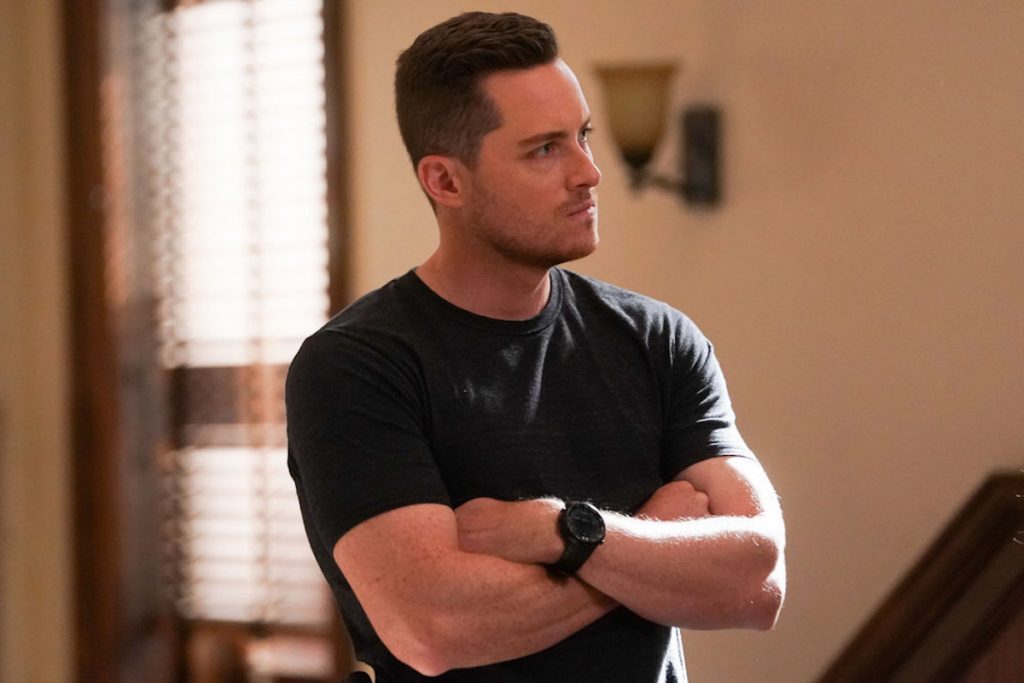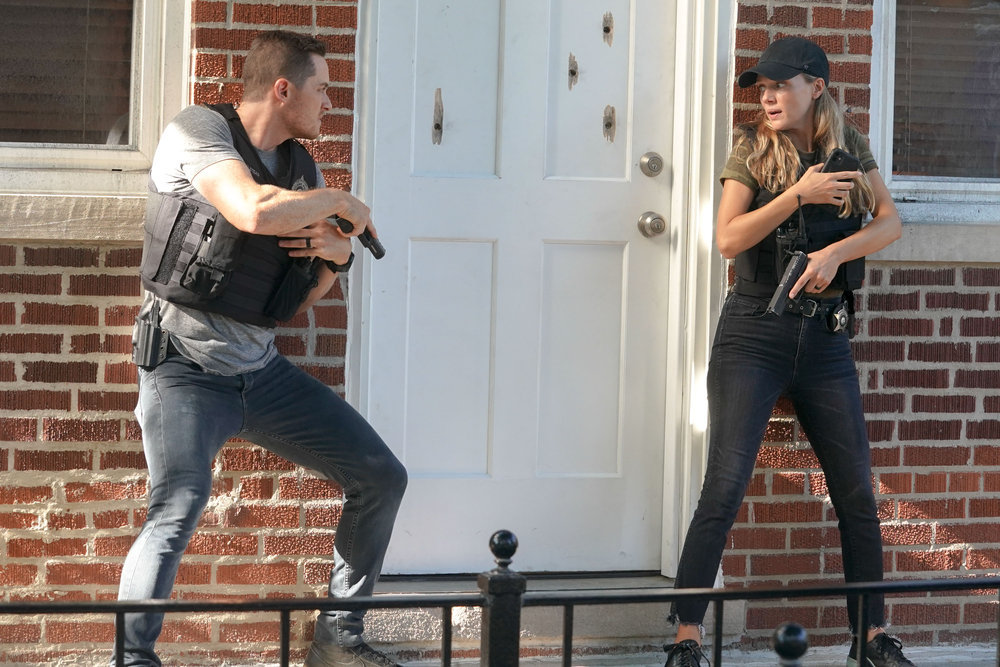 Be sure you're following Jesse Lee Soffer on Instagram and Twitter to see if he posts anything more about his exit. Season 10 of Chicago PD premieres on Wednesday September 21 at 10/9c on NBC. Episodes can also be streamed next day on Peacock.
---
RELATED ENTERTAINMENT NEWS
50 Fun Facts about the Cast of 'Chicago PD'
'Chicago Med,' 'Fire' & 'PD' Celebrated New Seasons with 'One Chicago Day' – See Photos!
NBC Released 'One Chicago' Crossover Promo — See Trailer + Photos Inside!
Kari Highman is a Beauty and Fashion Blogger at Feeling the Vibe Magazine. Otterbein Alum (2017) – English & Psychology. Always learning & creating. Avid fan of mid 2000's TV & pop music. Comments or tips, email kari@feelingthevibe.com