The hit CW series In The Dark is back for a fourth season. The police procedural follows Murphy Mason (Perry Mattfeld), a blind 20-something whose chaotic life is given a new sense of purpose when her friend, Tyson is murdered. She decides to solve it, all while juggling her dating life and job at her parents' guide dog training school. Along the way, she works with new detectives, and meets new love interests like Max Parrish (Casey Deidrick). If you're curious to learn more about the show's new season, including plot points, casting, and a possible premiere date, keep reading below.
---
When would In the Dark season 4 premiere?
In total, the show has aired 39 episodes in 3 seasons, and was renewed for a fourth in February, as reported by Deadline. In The Dark season 4 will premiere on Monday, June 6, 2022 at 8pm on the CW.
The first season premiered in April 2019, the second in April 2020, and the third in June 2021. You can see the season 3 promotional poster below for a potential idea as to what season 4's may look like.
So, based on this, it's a safe bet to assume that season 4 of In the Dark will be on the schedule for spring 2022. It could be as early as January 2022, or as late as June 2022. A happy medium would put it around April 2022, in line with its first two seasons.
---
Who's back in the cast for In the Dark season 4?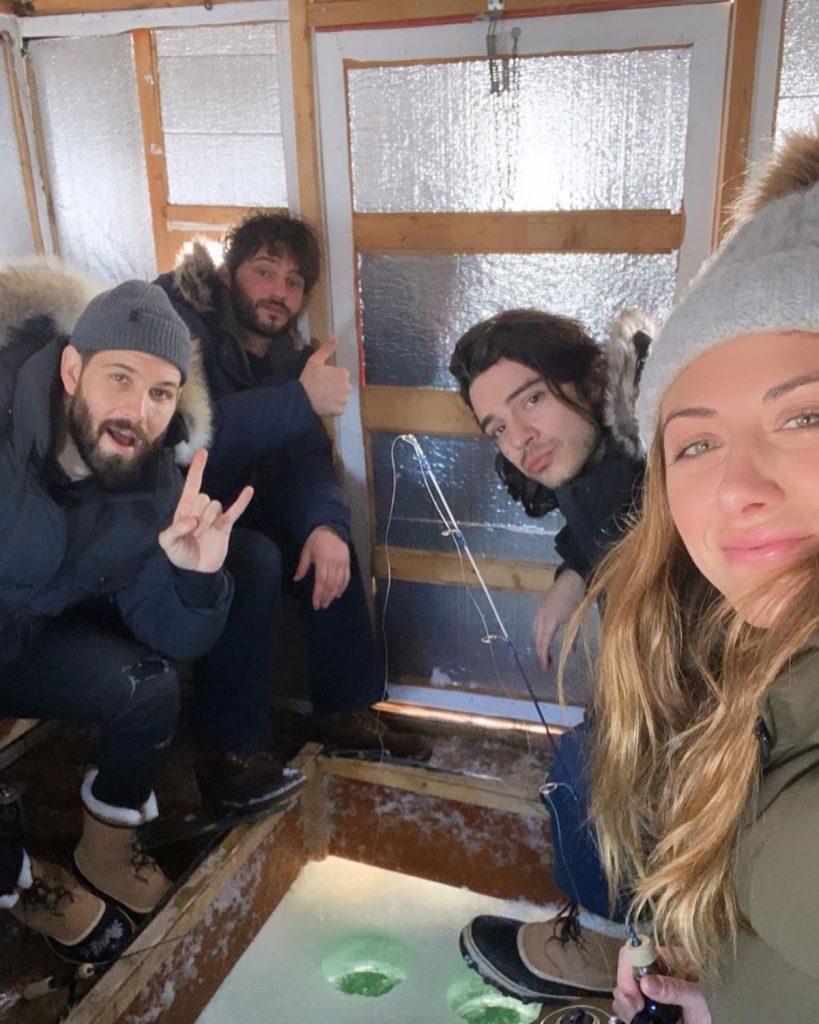 Though the show's social media accounts haven't posted anything since October 9, their prior posts feature the main cast. The main cast includes:
Perry Mattfeld as Murphy Mason
Morgan Krantz as Felix Bell
Brooke Markham as Jess Damon
Casey Deidrick as Max Parish
Theodore Bhat as Josh Wallace
Keston John as Darnell James
Matt Murray as Officer Gene Clemens (newest addition since season 3)
Perry Mattfeld's character Murphy has had a romance brewing with Casey Deidrick's character Max, but as Casey said in this season 3 teaser, they're kind of "this twisted version of true love." Even though they bring out the worst in each other, they still can't seem to keep their distance. [Read: 5 Unknown Facts About Perry Mattfeld Star of 'In The Dark']
One romance that's easier to see come to life is the one that'll be happening for Casey Deidrick and Emily Osment's characters in Hallmark's new movie A Very Merry Bridesmaid. While you wait for In the Dark season 4 to premiere, you should check out Casey in the holiday film.
---
What can fans expect from the plot for In the Dark season 4?
Warning: mentions of spoilers from season 3 of In the Dark below.
Since season 3 ended on a cliffhanger, it's understandable fans are wondering what comes next for the group. Murphy, her BFF Jess, and frankly, a lot of others need to work on themselves and on their relationships with those around them before they move forward.
But, Murphy's latest decision may have made that choice already – she turned herself in, accounting for her wrongdoings. Could she be spending permanent time behind bars for her actions? Or, given the chaotic circumstances surrounding her lately, including corruption, would the charges actually be able to stick?
Speaking of relationships, one that definitely needs to continue to be addressed is the friendship between Murphy and Jess. In October, the 13th episode (season 3's finale) showed just how toxic their friendship had gotten. Murphy's selfish ways got to be too much for Jess, which is why her disappearing act didn't leave every fan surprised. But, did Jess take it too far? Is Murphy the only one to blame? It's these kinds of questions that could be answered in season 4's return.
She's had enough. #InTheDark pic.twitter.com/AOcYuSiEr3

— In The Dark (@CWInTheDark) October 9, 2021
---
Casey Almost Wasn't Cast as Max Parrish
In an exclusive interview, Casey Deidrich who portrays Murphy's love interest, Max Parrish, he revealed that he almost wasn't cast in the CW's In The Dark. Why? He said he was just about to give up on the whole acting world when this audition fell in his lap.
He had his test screening with Perry Mattfeld (Murphy) and there was an unbelievable amount of chemistry. Casey admits he left the audition feeling really good about it. He was ultimately called back and booked the role!
---
Will Pretzel Be Back in Season 4?
From what we have heard, Pretzel will definitely be back for In The Dark season 4.
The most beloved character of the whole series is Pretzel the golden retriever guide dog of course! He and Perry Mattfeld get a lot of on screen time together (and off). She is crazy for her furry co-star and we can see why. If you have been a loyal viewer of In The Dark, you will know that sometimes Murphy got rough with her dog. Perry admits that she felt so bad after she had to do that, when the cameras stopped rolling, she would get down, hug the dog and remind him that he is doing such a good job and he is so needed on this set.
Look at all the love Pretzel gets and gives while he's on the job!
Perry posted this photo of she had her co-star in the storage unit (if you know, you know). "Ride or die @cwpretzel" she wrote.
---
Is Murphy Really Blind?
Perry Mattfeld portrays Murphy Mason, a blind woman in "In The Dark" on the CW. Fans have wondered, is she really blind in real life? No, she isn't. It's easy to believe she is because her portrayal of Murphy is spot on. She definitely did her research and worked with blind crew members that guided her on how to behave on screen.
---
Any other details to know?
While most of the other actors haven't posted anything new, Matt Murray did post this quick behind the scenes video of he and co-star Theodore Bhat from filming with their camera crew. He captioned it: "TEAMWORK MAKES THE DREAM WORK!!! I've been saying that since I was a little boy and still stand by it @katrinadespotovich @theodorebhat. Our TEAMWORK still makes me smile ☺️🙏🏽🙌🏽 @cwinthedark #moviemaking #makeupartist #fun #joy #gratitude."
Even though they've filmed in Canada, the show is supposed to be set in the Windy City, aka: Chicago. It's joined the ranks of other popular television shows to be set or actually film there, in the case of NBC's One Chicago franchise. Makes sense why the cast is usually all bundled up in coats and hats – winters are no joke!
The cast and crew are working hard to bring fans an exciting fourth season. In the meantime, you can stream seasons 1-3 of In the Dark on Netflix so you're all caught up in time for season 4. Be sure you're following the show on Twitter and Instagram for the latest information.
---
MORE ENTERTAINMENT NEWS
'Emily in Paris' Season 3 – Release Date, Plot Hints & More Inside
If you purchase an independently reviewed product or service through a link on our website, Feeling the Vibe may receive an affiliate commission.
Kari Highman is a Beauty and Fashion Blogger at Feeling the Vibe Magazine. Otterbein Alum (2017) – English & Psychology. Always learning & creating. Avid fan of mid 2000's TV & pop music. Comments or tips, email [email protected]