Shark Tank fans were treated to another exciting episode on March 31, which featured a unique product from San Francisco-based entrepreneur Jordan Stern. Stern, the founder of Ice Cream Canteen, appeared on the show seeking an investment in his portable cooler accessory designed to preserve ice cream on the go. The product has been designed to tap into the booming market for convenient and portable food and drink products. During the pitch, Mark Cuban joined Stern on set to test out the product with a blow torch, which reached up to 425 degrees. To the amazement of the Sharks, the ice cream in the canteen did not melt at all, highlighting the product's efficiency.
One of the Sharks, Daniel Lubetzky, was particularly impressed with Stern's product and felt that it addressed a significant need in the market. While Stern had initially considered selling the canteen through e-commerce channels, Lubetzky encouraged him to consider retail as an alternative. Stern reported sales of $90,000 in 2021 and revealed that he was currently netting over 50%.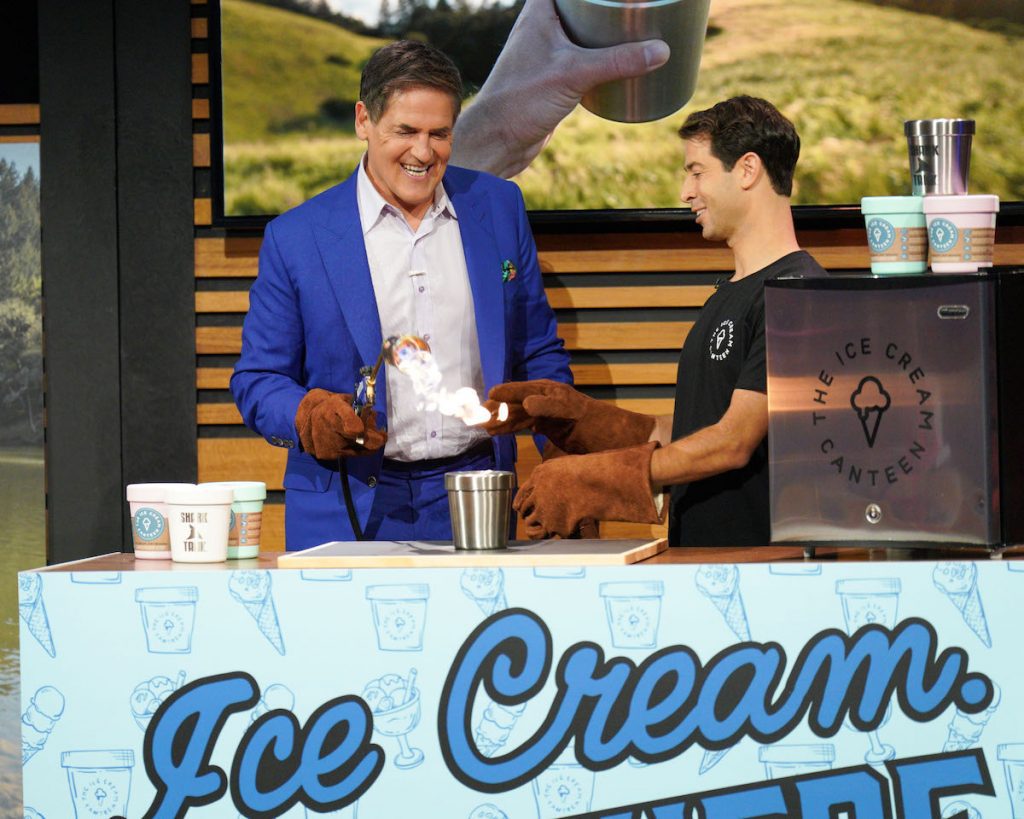 ---
Did Ice Cream Canteen Make a Deal?
Stern made his pitch to the Sharks, asking for a $100,000 investment in exchange for a 10% stake in the company. The Sharks were impressed with the product and its potential, with many of them making offers to Stern. However, Stern was looking for more than just an investment; he wanted a partner who could help him scale up the business and take it to the next level.
Kevin O'Leary, also known as "Mr. Wonderful," was impressed with the product and saw a lot of potential in it. He offered $100k for a 30% stake in the company. However, Lori Greiner was also interested in the product and saw an opportunity for a joint venture with Mark Cuban. She offered $100k plus a $100k line of credit for a 25% stake in the company. Mark Cuban then countered with a $100k investment and a $200k line of credit for a 20% stake in the company, which Jordan eventually accepted.
Lori and Mark's partnership could prove to be valuable for Jordan and Ice Cream Canteen, as Lori is a prolific inventor and has a lot of experience in product development and marketing, while Mark is a successful entrepreneur and investor who has a keen eye for spotting trends and emerging markets. Together, they could help bring Ice Cream Canteen to new heights and make it a household name.
You can check out the ice cream canteen on Amazon now.
---
Related
Shark Tank's Latest Deal with Two Sharks: Bleni Blends' Convenient Smoothie Machine
Who Will Be On 'Shark Tank' Season 14 Episode 18? LavaBox, Bleni Blends, Happi and Ice Cream Canteen Courtney Rose is an Entertainment Writer at Feeling the Vibe Magazine based in New York. Pop culture and rom-com obsessed. Studied Journalism and is up to date on all the latest entertainment news. For tips or comments, email me at Courtney@feelingthevibe.com