Hailey Bieber, 26, took to her Instagram story to express her gratitude to Selena Gomez, 30, for speaking out against online hate. The post comes after Gomez called out an Instagram account for spreading hate towards her and other celebrities, leading to the account's removal.
In the Instagram story, Bieber wrote, "Thank you, Selena, for speaking out and using your platform to spread kindness and positivity." She also shared a screenshot of Gomez's post, which read, "It's time to put an end to this culture of hate, and for all of us to come together and support one another."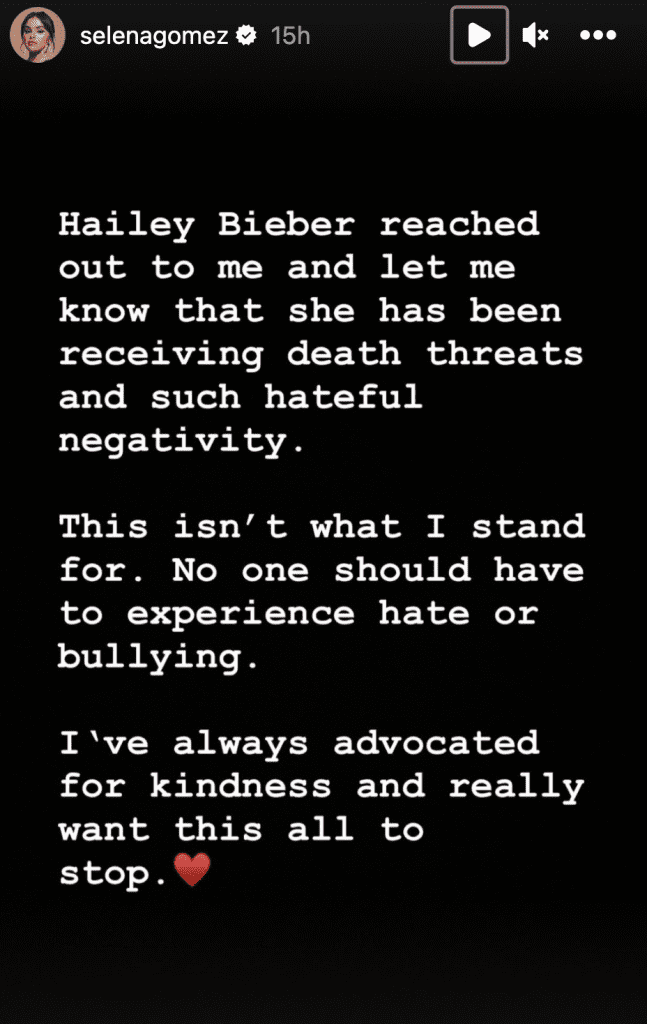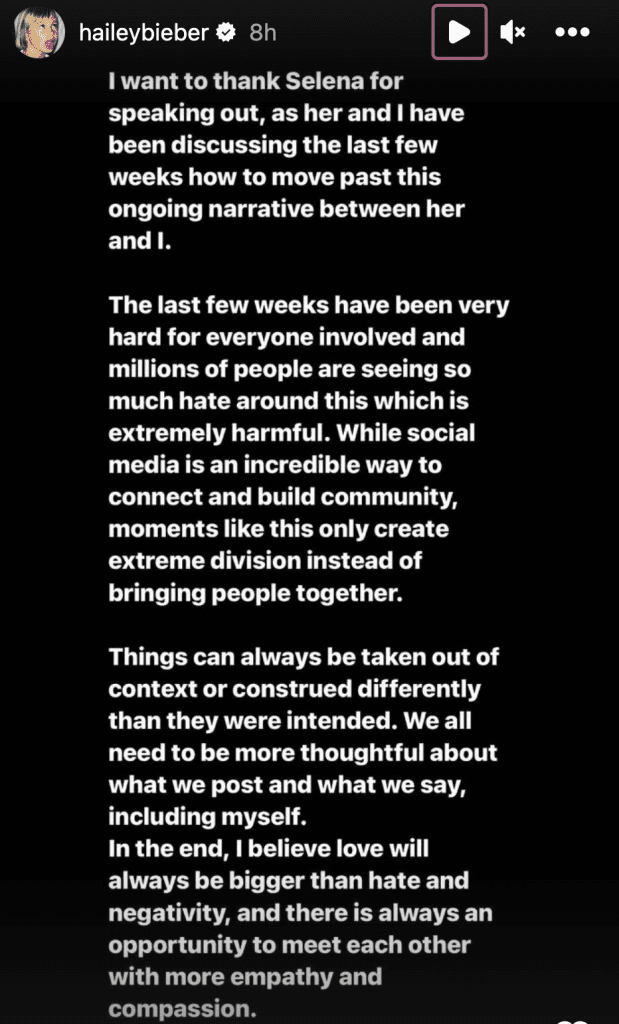 Bieber and Gomez have a complicated history, as they both have dated singer Justin Bieber in the past. However, this recent gesture from Bieber shows that the two may have put their past differences aside and are now showing support for each other.
The issue of online hate and cyberbullying has been a prevalent topic in recent years, with many celebrities using their platforms to raise awareness and encourage kindness. It is important to see individuals like Gomez and Bieber using their platforms to spread positivity and advocate for a kinder online culture.
In addition to Hailey Bieber, other celebrities have also shown their support for Selena Gomez's call to end online hate. Actress Jennifer Aniston (who recently reunited with actress Mae Whitman from Friends) commented on Gomez's post, writing, "Yes girl. Say it loud and clear." Meanwhile, singer Demi Lovato shared a message on her own Instagram story, stating, "There is way too much hate, oppression, violence, and negativity in this world. This has got to change!!!"
In recent years, both Gomez and Bieber have publicly acknowledged that they have moved on from any past drama and are supportive of each other. In a 2020 interview with Apple Music's Zane Lowe, Gomez said of Bieber, "I think she's a lovely girl. I've known her for a really long time." Similarly, in an interview with Vogue in 2019, Bieber stated that she has "nothing but love" for Gomez. The fact that Bieber publicly thanked Gomez for her message against online hate is a positive indication that the two have put any past issues behind them and are now focused on promoting positivity and kindness.
---
Related
Selena Gomez's Wedding Dress Photo Sparks Rumors of 'Father of the Bride 3,' but There's a Twist!
Selena Gomez Stuns in Wedding Gown for Only Murders on Hulu – Jessica Simpson Approves!
If you purchase an independently reviewed product or service through a link on our website, Feeling the Vibe may receive an affiliate commission. Courtney Rose is an Entertainment Writer at Feeling the Vibe Magazine based in New York. Pop culture and rom-com obsessed. Studied Journalism and is up to date on all the latest entertainment news. For tips or comments, email me at [email protected]