Vladimir Markovic, the costume designer for Hallmark Channel's newest film "Love on the Menu", spoke to Feeling the Vibe exclusively about the movie's fabulous clothing, his inspiration for the designs, and more! Keep reading below to find out more about this new movie (starring Autumn Reeser, Kavan Smith, and Barbara Niven), and where you can get the looks for yourself!
MOVIE MAGIC: GET THE CLOTHES FROM "LOVE ON THE MENU"
White Peacoat on 'Love on the Menu'
While Autumn's exact white peacoat is sold out, you can get an almost exact look with..
Italian Melton Heather Gray Peacoat or
Petite Wool-Blend Twillcoat (both are from Banana Republic, as is the original coat from the film).
The Tote Bag
You can get her exact tote bag from Michael Kors, and her gray pants from J. Crew.
Trench Coat
Jordyn Ashley Olson (far left in the first photo above) wears a vintage Oscar de la Renta coat. While you can't get your hands on her exact one – you can use this trench coat from Line & Dot to get that beige button down effect.
Floral Lilac Sweater
While Autumn's exact lilac floral sweater is sold out, you can get an almost exact print still from Karl Lagerfeld.
If you want to keep with the purple floral, try this lavender flowered sweater; if you want a sheerer look, try this 3D appliqué one.
The Skirt
You can get her exact skirt from Icône by Simons.
Barbara Niven's Wardrobe in 'Love on the Menu'
Barbara Niven wears a silk blouse by Theory, a gray trench coat from Chelas28, and a vintage Valentino bag.
While her exact coat is no longer available, if you want to mimic the gingham pattern, try this long coat from BOSS; if you like the belted look that comes with Barbara's coat, this lighter gray trench from Forever21 offers that.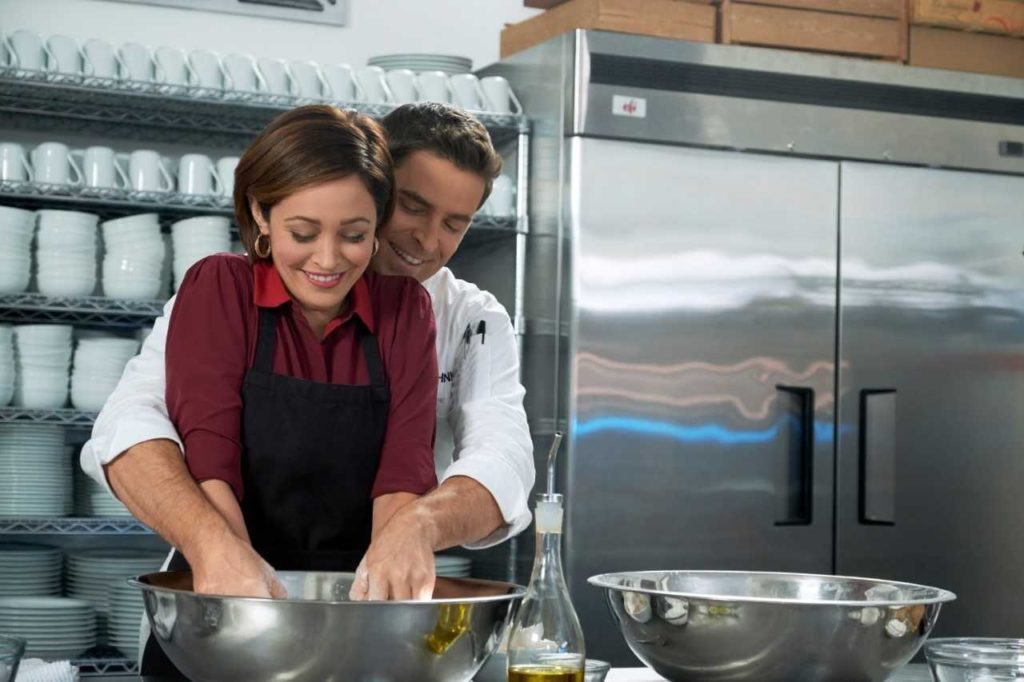 Autumn Reeser's Red Blouse and Jewelry
While the RW&Co blouse is currently sold out, we found an exact dupe for it from Daniela Corte. Her earrings are from Ruby Blue Jewelry, a Canadian jeweler where you can only shop in-store (they are located in Vancouver). But these dupes from Macy's get you a close match!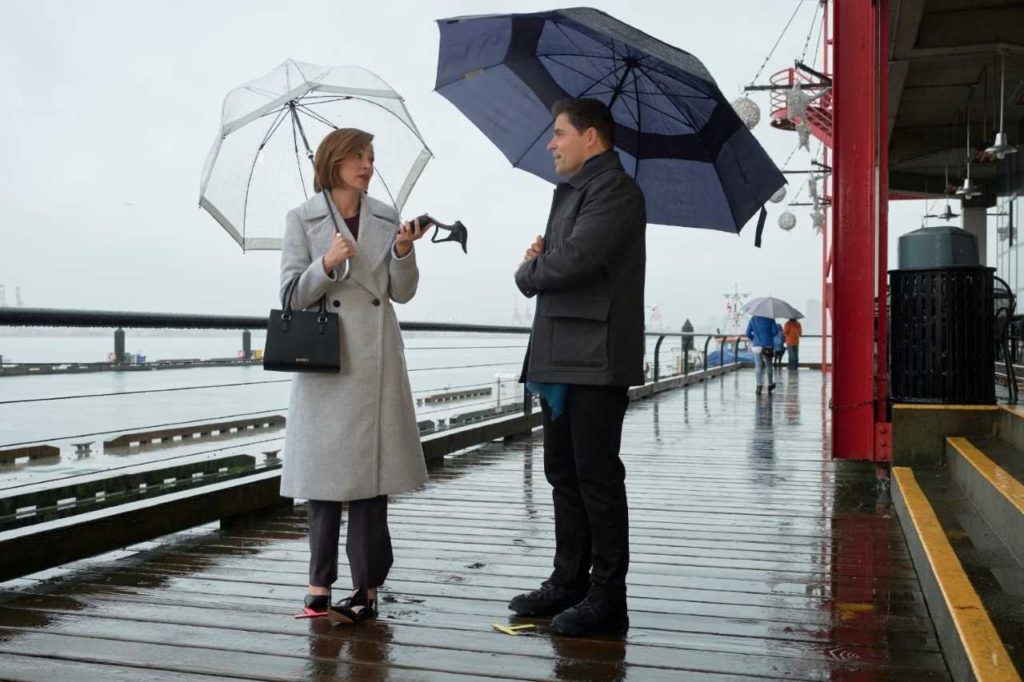 Where to Get the 'Love on the Menu' Coat & Shoes
You can get Autumn's exact coat from Club Monaco, and you can get her exact shoes from ALDO.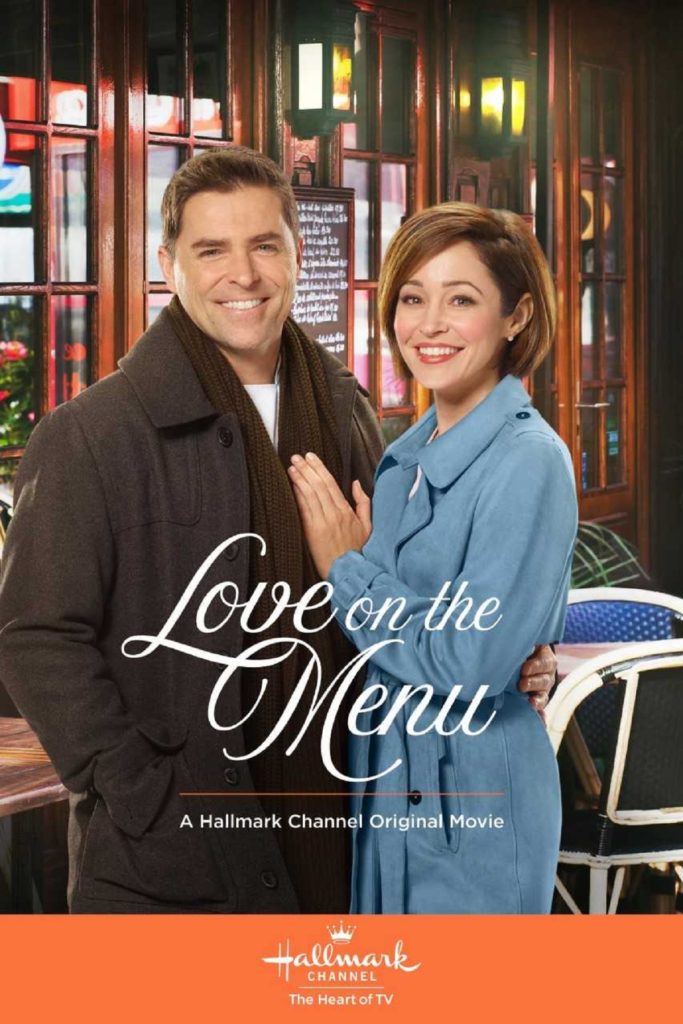 While the exact Zara coat is no longer available, you can get a super similar look with this trench coat from LK Bennett.
Q&A WITH VLADIMIR MARKOVIC – Costume Designer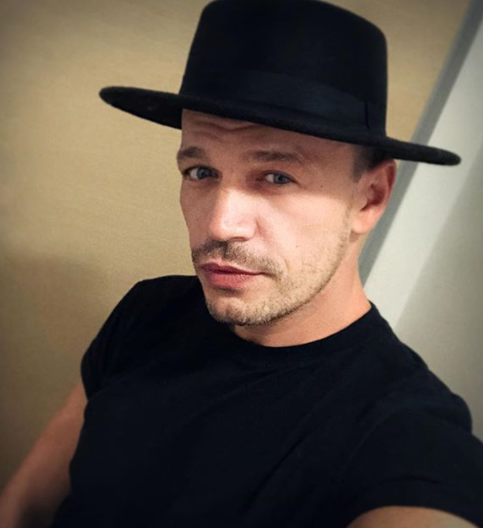 Where did you pull inspiration from for the wardrobe on "Love on the Menu?"
I start by reading the script several times before going anywhere forward with designing. The idea is to get to know the characters from the inside out. During that process I am already creating visual references in my mind, the way I see them, who those characters are and what they would wear. I am looking for patterns, colours and particular silhouettes, and textures that suit each character.
When working on the vision for each character, I like to marry fashion aesthetics with costume design, drawing on my previous background within the fashion industry. It is also important to tap into the vision of the director, in this case Elli Kanner (who was just wonderful to work with).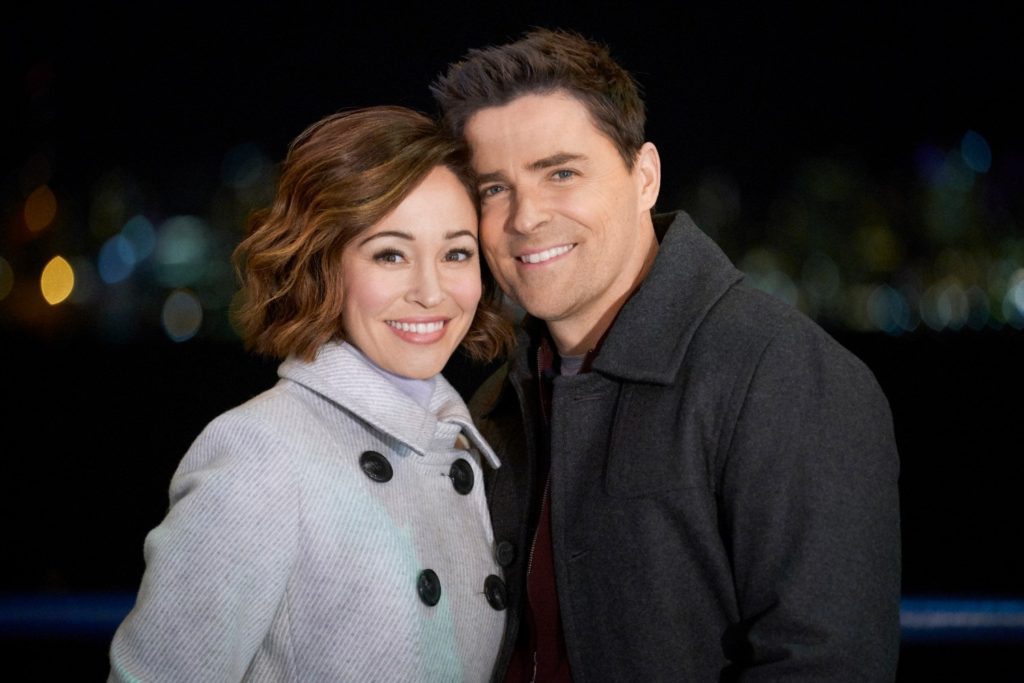 From there we start carving out the costume arcs i.e. how do we see them evolving. We create a visual board, which we revisit a number of times until we all (network, producers, director and myself) arrive on the same page.
When we are talking about evolution of the characters in "Love on the Menu", Maggie (played by the talented Autum Reeser ) is a youthful, modern professional who is career ambitious with a touch of OCD. Through the course of her story arc, Maggie's style evolves from a cold, seemingly hard corporate tone to a more soft and casual feel. Another example that illustrates the evolution of a character is when Cheff Hank's (Kavan Smith) daughter Hanna (Jordyn Ashley Olson) begins to transform from a tomboy as Maggie starts to have influence over her as a role model with feminine style.
Do the actors collaborate with you as the costume designer to get the wardrobe / style for the character they are portraying?
For me it all comes down to collaborations, which I love. It is vital to have involvement and engagement from the cast to the director and producers; in fact everyone involved in the process – hair, makeup, props, art department, etc.
I like to dress each actor from the inside out so we talk about the role they are playing as well as the outfits and style before we meet each other. However, the first time that an actor starts to really feel their character is during the fittings when they try on their costumes. At that time we see how they move in them/how they feel and we can discuss what works/what does not. I usually have my favourite costumes, as well, that align with that vision that we talked about earlier. Once in the fitting room, however, most of the time you know when the costume is right. You can see if the actor's body language changes or if the outfit/garment doesn't look right and the actor tells me (verbally or non-verbally) how they are feeling. I am the first one to discard the option if it doesn't work, as it is more important for it to be right for the scene/film than stroking egos.
How long have you been working as a costume designer?
I am fortunate and grateful, that my career has been overall diverse, creative and a lot of fun. My work in Entertainment and Fashion began while working as a stylist and creative director for brands and artists on music videos, commercials and editorials.
Through this work I was able to bring stories to life through selections used to outfit the artists on the varied productions. Costume work combines all the components that I love so that I can marry my knowledge of branding, history, trend-forecasting, textiles and fashion into each project.
Which shows/movies have you worked on in the past?
Prior to my designing for film, my European and Latin American portfolio includes primarily music videos, commercials, fashion editorials and producing for TV. Since arriving in Canada, I have been blessed with opportunities to work with ET Canada on red carpet specials, a TV special featuring music icons Anne Murray and Jann Arden (also featuring Celine Dion, KD Lang, Olivia Newton John, and Nelly Furtado) as well as live, broadcasted events. In addition to "Love on the Menu", some recent film and and TV shows include: "ICE" Seasson 2, "William" , "Gingerbread Romance" with Tia Mowry Hardrict, "Love at First Dance" with Becca Tobin and Niall Matter, "Once Upon a Prince" with Megan Park and Jonathan Keitz, and "Emma Fielding murder mystery: More Bitter Than Death" with Courtney Thorne Smith and James Tupper.
---
Tune into 'Love on the Menu' on Hallmark Channel Saturday, February 23, 2019 at 8pm EST.
Kari Highman is a Beauty and Fashion Blogger at Feeling the Vibe Magazine. Otterbein Alum (2017) – English & Psychology. Always learning & creating. Avid fan of mid 2000's TV & pop music. Comments or tips, email kari@feelingthevibe.com