Ariana Grande and Justin Bieber released their new music video for "Stuck with You" a few days ago, but, that's not exactly what's got fans so excited. It's who else that's featured in the video that has them talking. Ariana Grande appears to be dancing with her new boyfriend, Dalton Gomez! Keep reading for details on the video, and why fans are so excited for Ariana.
So, what's the music video about?
Justin Bieber and Ariana Grande announced last week that they were collaborating on a special song called "Stuck with You" that would help with relief efforts for the COVID-19 crisis. They even rallied fans to submit videos from their own homes to include in the video! How sweet is that?
Justin and Ariana got in on the fun too, as they filmed around their houses and with the people in their lives. Justin had quite a few shots with his wife, Hailey; Ariana originally featured her adorable dogs…until the very end of the video when she danced with her boyfriend!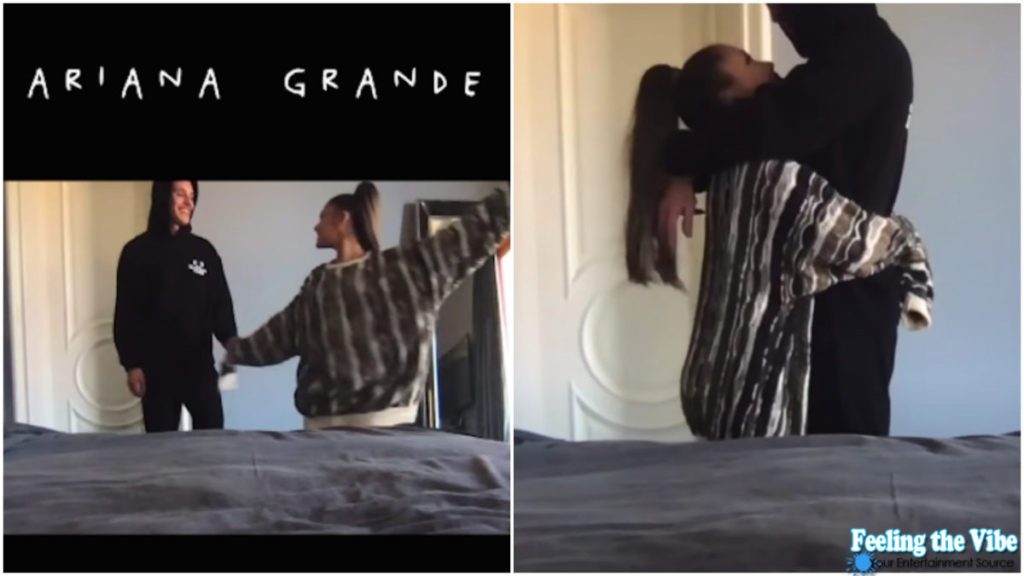 So, what does that mean for Ariana's new relationship?
Ariana hasn't publicly commented on her relationship with Dalton Gomez, although the two have been reported to have been dating for a couple months now.
Fans have taken to social media to share their excitement in Ariana's way of confirming her romance. At the very end credits of "Stuck with You," Ariana is seen cozying up to a taller man, as his head is not in frame of the camera at first. It's not until she's been spun around that we can see the face of her new beau, Dalton Gomez.
Knowing how important music is to Ariana, fans have interpreted it to mean that she's letting everyone know she's taken with Dalton. If you're curious as to who exactly Dalton is, you can check out our other article for some fun facts! We're excited for the two, as they seem to make a cute couple.
---
MORE NEWS ON ARIANA GRANDE
5 Fun Facts About Jami Alix – Ariana Grande's Lookalike
10 Fun Facts About Ariana Grande's New Boyfriend Dalton Gomez
&MUSIC Featuring Ariana Grande: Everything We Know About the New Quibi Show
Kari Highman is a Beauty and Fashion Blogger at Feeling the Vibe Magazine. Otterbein Alum (2017) – English & Psychology. Always learning & creating. Avid fan of mid 2000's TV & pop music. Comments or tips, email kari@feelingthevibe.com