Juliette is spilling some major details to a burning question. In the upcoming scenes for the new episode of 'Siesta Key,' we notice a familiar face visiting Alex at his home.
Cara Comes Over to Alex's House
Who was it? Cara – the girl Juliette has been worried about since the start of season 2 when she arrived back in the Key.
We can't blame her. With Alex's track record and the thought that Cara came back to Siesta Key just to get her ex-boyfriend back, this would worry any girlfriend.
Cara Sparks a New Flame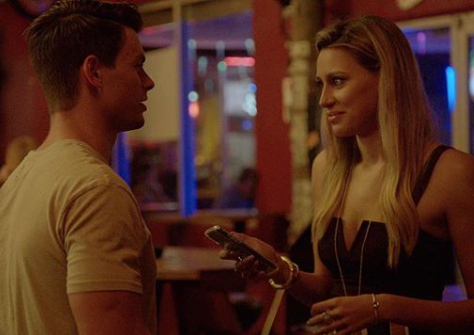 Cara has sparked a new romance with Garrett (Kelsey's ex) and the two seem very content and rather happy together. It appears Cara swore off Alex but it doesn't look like it'll be for long.
When Alex invites his ex-girlfriend, Cara over for a late night talk, he was sending out major vibes and getting a little flirty too.
Alex asked how she and Garrett are, "pretty good, I can't complain," said Cara as she dipped her feet in Alex's gorgeous outdoor pool.
In response, Alex starts reminiscing and gushing over his failed romance with Juliette. "I never get bored of her," he tells Cara, admitting that hasn't been the case with most of his ex-girlfriends.
Did Alex and Cara Hook Up?
Alex Kompo invites Cara over.

Cara goes to Alex's House on Siesta Key Episode
According to Juliette, something did happen though the details aren't clear.
"I never thought they were actually going to hook up (referring to Cara), I just thought it was rude that she was coming around and the things she said about me and my boyfriend at the time were terrible. I never thought he would do something like that, but I guess I was wrong," she told Us Magazine.
Catch 'Siesta Key' on MTV Tuesdays at 9pm EST.
Are you surprised by Juliette's confession? Tweet us @feelingthevibe. Courtney Rose is an Entertainment Writer at Feeling the Vibe Magazine based in New York. Pop culture and rom-com obsessed. Studied Journalism and is up to date on all the latest entertainment news. For tips or comments, email me at Courtney@feelingthevibe.com