'Always Be My Maybe' star is dishing on all the kissing going on in her latest movie.
Ali Wong, 37, sat down with Ellen DeGeneres to talk about the new Netflix movie she wrote with her good friend Randall Park who she has known for around 16 years.
Wong plays a celebrity chef who falls back in love with her childhood friend (Randall Park) many years later. But he is not her only love interest, she has a number of others.
Always Be My Maybe
DeGeneres said, "you kiss a lot of guys." "I kiss a lot of sexy men, Daniel Dae Kim, Keanu Reeves..," said Wong.
Can you imagine being in Ali's shoes? She joked around saying, "I basically made Netflix spend all this money on a movie just so I could kiss Daniel Dae Kim and Keanu Reeves."
Wong excitedly pointed out a photo from the movie, "you see that? What you see on my face is a grown woman experiencing joy right there, pure joy," she says about her kiss with Daniel Dae Kim.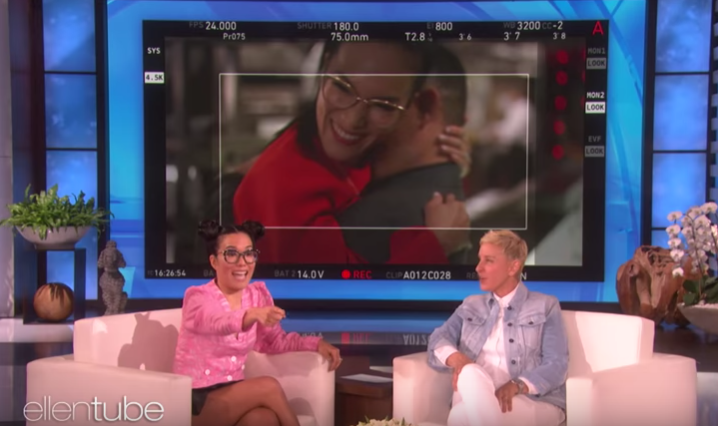 Ali's IRL BFF's wanted her to spill all the details. "My best friend was like 'was it exciting, did you have chemistry with Daniel Dae Kim?'" Wong says. "I've kissed the same man for 10 years, I would have chemistry with a turtle," she jokes.
How Did Keanu Reeves Get His Role on 'Always Be My Maybe'?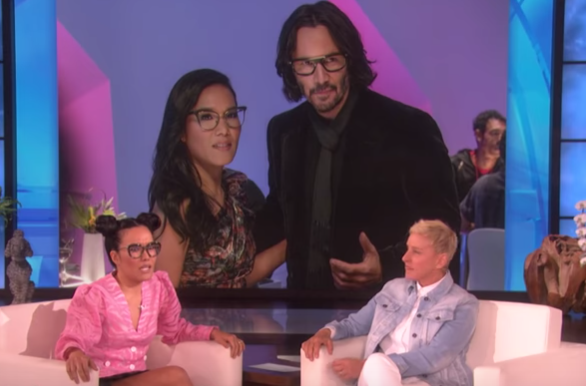 "Keanu got involved because you just asked him to do it and he's a huge fan of yours," Ellen relayed. "Yes! It was amazing. I couldn't believe he did it," Wong confessed.
Reeves was actually a recent guest on Ellen's show where he spilled his feelings about another famous co-star he had years ago.
Check out the full Ellen DeGeneres interview clip with Ali airing on NBC Tuesday, May 28th.
Always Be My Maybe

Always Be My Maybe

Always Be My Maybe

Ali Wong and Randall Park in 'Always Be My Maybe'

Ali Wong and Randall Park as Sasha and Marcus in 'Always Be My Maybe'
'Always Be My Maybe' is currently out in select theaters and will make its premiere on Netflix on May 31st.
MORE ON ALWAYS BE MY MAYBE
From 'Fresh Off The Boat' to 'Always Be My Maybe': 10 Memorable Roles Randall Park Has Had
Keanu Reeves Reveals Crush on 'Speed' Co-Star Sandra Bullock
If you purchase an independently reviewed product or service through a link on our website, Feeling the Vibe may receive an affiliate commission. Courtney Rose is an Entertainment Writer at Feeling the Vibe Magazine based in New York. Pop culture and rom-com obsessed. Studied Journalism and is up to date on all the latest entertainment news. For tips or comments, email me at [email protected]