Keanu Reeves , 54, is spilling major secrets to Ellen DeGeneres.
The Canadian born actor visited the set on Friday, May 17th to sit down for a one-on-one first time interview with the TV host.
25 years ago he starred in a movie alongside actress, Sandra Bullock, 54, in action/adventure movie 'Speed' in 1994.
Sandra Bullock was also a guest on Ellen's show in December 2018 where they talked about her time on set for 'Speed.'
Bullock said, "I think about how sweet Keanu Reeves was and how handsome he was." "It was hard for me to really be serious," she continues, "he would look at me and I would giggle."
Did Keanu Reeves and Sandra Bullock Date?
"Did you date him?" asked Ellen DeGeneres. "Never dated him," Bullock revealed. "There was something about me that I guess he didn't like," she said laughing.
DeGeneres said, "He was probably intimidated." "Not at all, I'm not that," Bullock responded.
We get major matchmaker vibes here with Ellen! Back to Keanu Reeves' segment, she asked, "did you know she had a crush on you?"
He covered his mouth and shook his head no. "She obviously didn't know I had a crush on her," he reveals resulting in screams from the audience.
Why Didn't Sandra and Keanu Date?
Reeves explains that they probably didn't date at the time because they were focused on the movie and working together.
DeGeneres said, "I believe she's in a relationship now, so the window closed."
Sandra Bullock has been dating photographer boyfriend Bryan Randall since 2015. Keanu Reeves was married briefly for 2 years from 1998 – 2000 to Jennifer Syme.
Watch the full clip with Ellen below:
Keanu in New Movie on Netflix
Get ready to see Keanu Reeves make his presence known in the brand new Netflix rom-com coming out on Friday, May 31st. He will play the main character Sasha's (Ali Wong) boyfriend.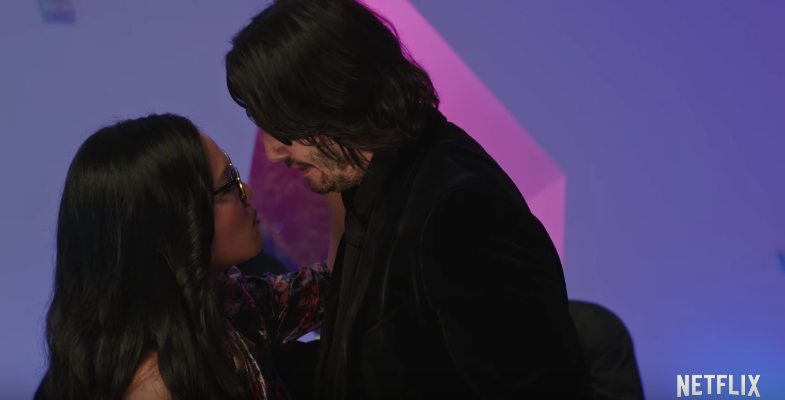 Fans are super excited to see him make his appearance in the Netflix movie, "Always Be My Maybe" which will also be out in select theaters around the country.
Watch the Trailer for 'Always Be My Maybe' Below (Keanu's appearance is towards the end)
Sandra Bullock Celebrates 54th Birthday with Boyfriend & Children
Sandra Bullock Recalls Her Not-So Memorable Experience Meeting Prince Courtney Rose is an Entertainment Writer at Feeling the Vibe Magazine based in New York. Pop culture and rom-com obsessed. Studied Journalism and is up to date on all the latest entertainment news. For tips or comments, email me at Courtney@feelingthevibe.com