Jodie Sweetin is famous for her role as Stephanie Tanner on Full House, the Netflix's reboot of 'Fuller House' which is in it's 5th season, and her Christmas movies on the Hallmark Channel.
We are going to take a look inside who Jodie is off-screen including who her family is, if she's married, and how many children she has.
Who is Jodie Sweetin's Spouse?
Jodie Sweetin, 37, has been married four times. She was first married to Shaun Holguin from 2002 to 2006. Her second marriage was to Cody Herpin from 2007 to 2010. After Jodie and Cody divorced, her last marriage was to Morty Coyle for four years from 2012 – 2016. She just got married to her boyfriend, Mescal on July 30, 2022.
Does Jodie Sweetin Have a Boyfriend?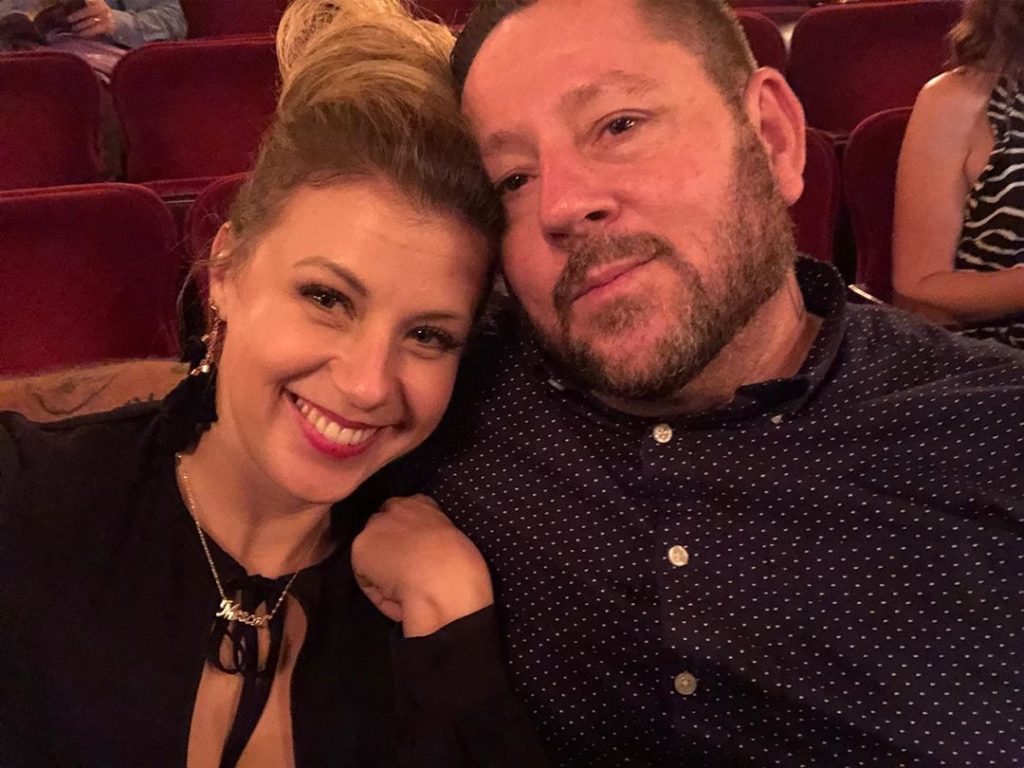 ---
Yes! Even though Jodie keeps her personal life pretty private, she did share a photo a few months ago of her date. Mescal and Jodie attended Hadestown the musical at the end of September. She captioned the photo, "Enjoying our anniversary date night with an amazing meal, looking forward to an amazing show and the best company I could ask for! @hadestown was absolutely fantastic!"
Jodie and Mescal became engaged on January 17, 2022, announcing this to her Official Instagram. Jodie wrote…
"In all the world there is
No heart for me like yours.
In all the world there is
No love for you like mine"
~Maya Angelou
I love you Mescal, for always.
You're my person.
I can't wait to see the life that lies
ahead for us.
Here's to us, @ghostfacelito and our life of adventures. Together.
I think I'm really gonna like turning 40 ❤️❤️❤️💍
Jodie Sweetin married Mescal on Saturday, July 30, 2022. She captioned the wedding pictures she posted to her Instagram page, "So…. About last night ❤️❤️". Her longtime Full House co-star, Andrea Barber was one of the first to comment on her friend's happy night. "Absolute perfection! What a beautiful night! Love you so much, Jodes!" Andrea wrote.
John Stamos's wife, Caitlin also commented, "Radiating Joy! Love to see it."
Jodie's TV sister, Candace Cameron Bure gushed, "Gorgeous Bride. Handsome groom. Beautiful evening. Every detail was perfection. Even your dad's speech 🎤 😂. Love you ❤️ little sis. Congratulations."
---
Jodie Sweetin's Friends React to Engagement
Her TV sis, Candace Cameron Bure was quick to congratulate the almost 40 year old. She said, "Congratulations sis ♥️❤️♥️ Love you"
Marla who played Gia, Stephanie's friend on Full House also commented on the happy selfie. She said, "JODIE!!!!! Omg congrats mama!!!!!❤️❤️❤️❤️"
Beverly Mitchell from 7th Heaven commented, "Yeah!!! Congratulations my friend! So happy for you two! You deserve all the love!!!! ❤️❤️❤️"
John Brotherton who played Matt on Netflix's "Fuller House" said, "Congrats!!!! Woohoo! My ladies and I send buckets of love and cheers!!!"
Caitlin Stamos, wife of John Stamos who played Uncle Jesse wrote, "Love to see you smile! ❤️"
Christine Lakin who played Al on Step by Step wrote, "So so happy for you both! We need a psychotically large Italian dinner to celebrate! Xoxo
---
Jodie Sweetin's Kids
Jodie has two daughters. In 2008, Jodie gave birth to her oldest daughter Zoie with her then husband Cody Herpin. Two years later in 2010, Sweetin gave birth to her second born, Beatrix. Beatrix's father is Morty Coyle.
Jodie Sweetin is officially a soccer mom! This past fall she sat on the sidelines at her daughter Zoie's game, sharing the cute mom/daughter selfie on Instagram. She said, "Saturday soccer in the nice cool weather (and by that I mean a lovely 90 degrees), but ready to watch my Zo get it on the field!"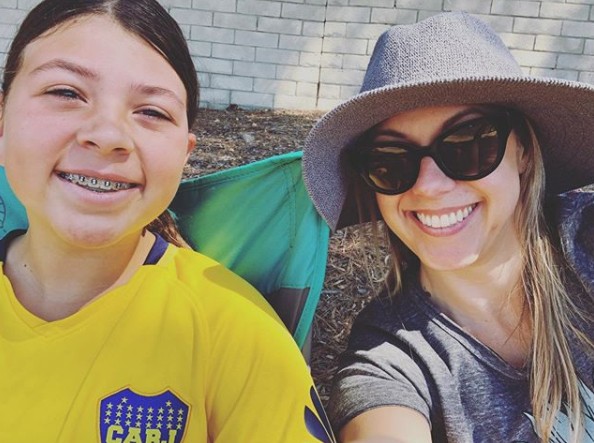 ---
Jodie's Daughter is a Mini-Me
Beatrix just celebrated her 9th birthday and we must say this mother/daughter duo are looking quite alike. For those of you who were big Full House fans, you can't help but notice Beatrix looking a lot like a young Jodie Sweetin aka Stephanie Tanner.
"Someone is thoroughly enjoying her birthday! New skates, new American Girl doll, new clothes (current outfit was Zoie's present to her) and off to her favorite restaurant for prime rib tonight!!" Sweetin captioned the photo.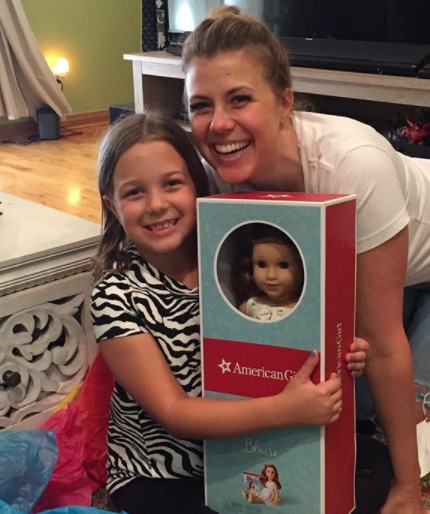 ---
Jodie Sweetin's Childhood
Jodie booked her role of Stephanie Tanner on 'Full House' at the young age of 5 years old. She is a California girl, having been born and raised in Los Angeles. According to Wikipedia, Jodie's parents were in jail when she was an infant so her Uncle Sam stepped in and adopted his young niece at only 9 months old. Sam and his second wife Janice became Jodie's parents.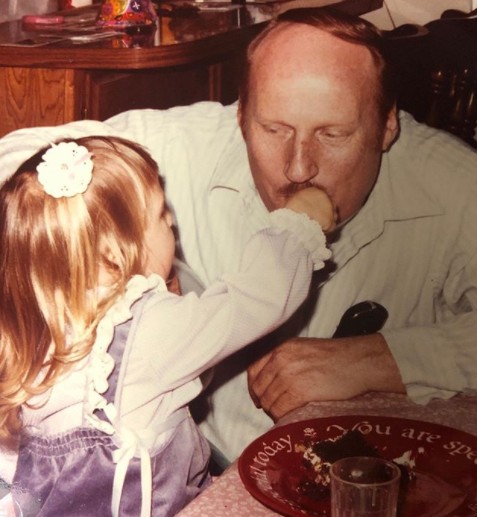 ---
In August of 2019, her parents Sam and Janice celebrated their 40th wedding anniversary with a big party filled with loving friends and family.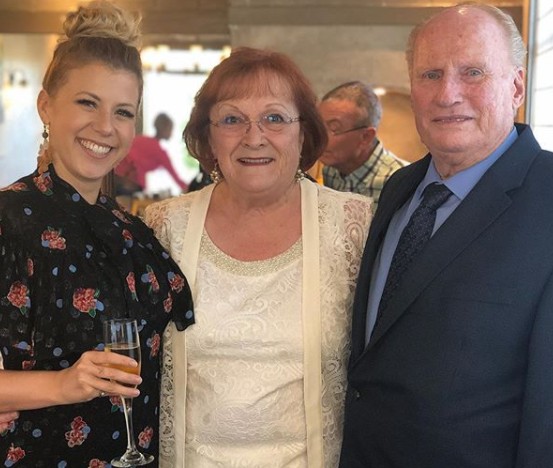 ---
We hope you enjoyed learning about Jodie's family! Are you curious who her 'Fuller House' co-star Andrea Barber married and if she has children? Check it out here!
MORE ON FULLER HOUSE
EXCLUSIVE: 'Fuller House' Actor Michael Campion on Which Castmate He Hangs With the Most, Season 5, & More!
Want to Make Eggnog from Jodie Sweetin's Merry & Bright Movie?
Val and Maksim Chmerkovskiy Coming Back to 'Fuller House' According to Candace Cameron