Larissa Wohl, journalist and resident animal expert on Hallmark Channel's Home & Family recently stopped by for an interview. Larissa has had quite the career thus far, having worked at various news outlets like NBC Bakersfield and Fox 5 in San Diego prior to joining the Hallmark family.
She has covered everything from traffic reports to hard hitting news pieces on national disasters. She also hosted and produced the Scripps show The List, where she gave viewers an inside look into the hottest restaurants, shows, and studios in San Diego.
Larissa started at Hallmark Channel's Home & Family as a producer before becoming on-camera talent as their animal expert. She currently lives in LA with her 3 rescue dogs.
In the interview, Larissa discussed everything from her love of animals to her biggest dating woe. Keep reading below to find out all the details!
---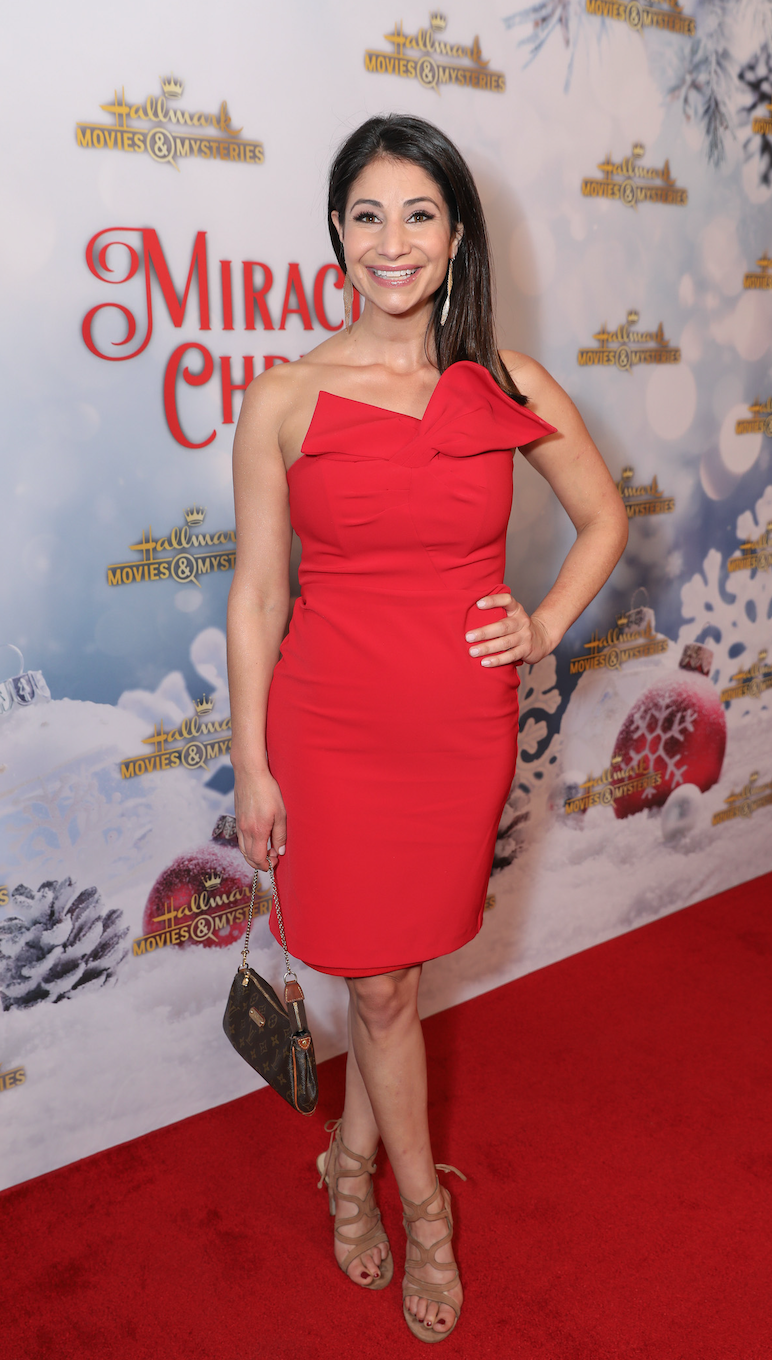 Can you tell us what was your very first job…as in, your very, very, very first job?
I worked for a clothing store, near where I lived in Los Angeles. It was an interesting experience, because I got to help people pick clothes out, which I had no idea about. I'm not a fashionista. I remember people calling me into the dressing room, and I was like: "Yeah, that looks great!"
Were you always interested in working on television?
It's funny, I always wanted to be a therapist. I went to therapy when I was younger, and it helped me so much, so I thought, 'Why don't I do this?' I was a psych major for years, and there's a lot of psychology in television as well. But it wasn't until the last few years of college, I thought, 'You know, I want to do something with more entertainment.' I thought I was going to go into radio…then I switched to television news.
Now on Home & Family, you went from producer to on-air. What was that transition like and how did that come about?
It's interesting. When I went to school and got my degree in journalism, I always wanted to be in front of the camera. I wanted to be a reporter, I wanted to be an anchor. I wanted to join people in their living rooms every morning and do morning news or maybe midday news, because I liked the genre a little bit better. I did go into news for about 7 years. I did some general assignment reporting, and then became the go to animal reporter wherever I ended up, because that was always my love – rescue animals and educating people.
I kind of gravitated toward that community of people, and they gravitated towards me. So, when I ended up here, it was solely for producing, while I was searching for another job. It all kind of fell into place…I loved it. I loved the people, I loved the town. This is comfortable…it's an amazing opportunity to be in my hometown. I worked as a producer, I learned a lot. Then they wanted to do more animal content…and I was like "CHOOSE ME!"
Have you always been an animal lover?
My mom was kind of the original rescuer, before 'rescuer' was even a term. We would just happen upon a stray dog or something while we were along the road. We were always bringing home random animals. It never would have occurred to me, to not make everyone and their mother stop and help them…. that's just me.
Congratulations on all these successful adoptions…we were told 650 rescues, that's amazing! So, if someone sees a pet up for adoption, and yet, they don't live in California, let's say they live in another state – do they have to fly out to you? Or can the pet be flown out to them? How does that typically work?
That's a great question. Since Hallmark airs across the country, it was really important to the network and our initiative, Adoption Ever After, to make sure we showcase animals in all 50 states. We want everybody watching to have access to these animals, or at least set off a little alarm in their heads that there are these amazing animals. We often do FaceTime adoptions…it's great. We try to target rescues in every state…we're working on it. The bigger picture is: even if you can't get that specific dog, there is most likely one just as amazing at your local rescue or shelter.
Now, if someone wants to adopt a dog locally, is there a website they should look at or names of rescues?
I do have all of our animals on my website, which is savedbythel.com. We have them up on Hallmark Channel's website too. That's where we showcase the ones we have on [the show] every day. There's also Adopt a Pet, Pet Finder, Get Your Pet, there's so many rescue oriented websites that are so well done…you could put in "I want a schnauzer" and they'll be able to pull up all these amazing options. Maybe you'll find that one today, or in a week, maybe it'll pop up. The other thing I recommend is join rescue groups on Facebook because that's where they post up to the minute rescues.
How many dogs are currently living with you right now?
At my house, right now there's 3. I usually have a foster as well. Pigly's my newest one…she's albino and has a little pink nose. Muppet is my little Maltipoo. Then I have Maple, she's about 5 pounds, she's a Shitzu mix of some sort. Pigly's about 5 pounds as well.
What are some tips you could offer new dog owners?
There's a couple things you should do before you get a dog if possible. You should learn the breeds. You definitely, definitely, don't want to go based on looks. There are so many beautiful dogs, but if they don't match your activity level, then there's going to be a problem.
Shepard, Labradors, retrievers…those dogs have a lot of energy. Those are great if you have a bustling family, a big yard, if you travel a lot…. that's great. But if you're a single gal or guy living in an apartment, then that's not going to be your type of dog. It all depends on your living situation. Can you only go on 10 minute walks during a lunch break? Do you have neighbors that are super close to you, so if there's a dog rapping on the door all the time, would they complain? Are you an older couple and have grandkids coming in and out of the house all the time? Those are things to think about.
If you're thinking about getting a dog, but don't have all of that figured out, foster a dog. You get to learn so much about various sizes, male and female, breeds, you can sort of test it out…but it's not to be taken lightly. It's a commitment you're making, but not a lifetime commitment.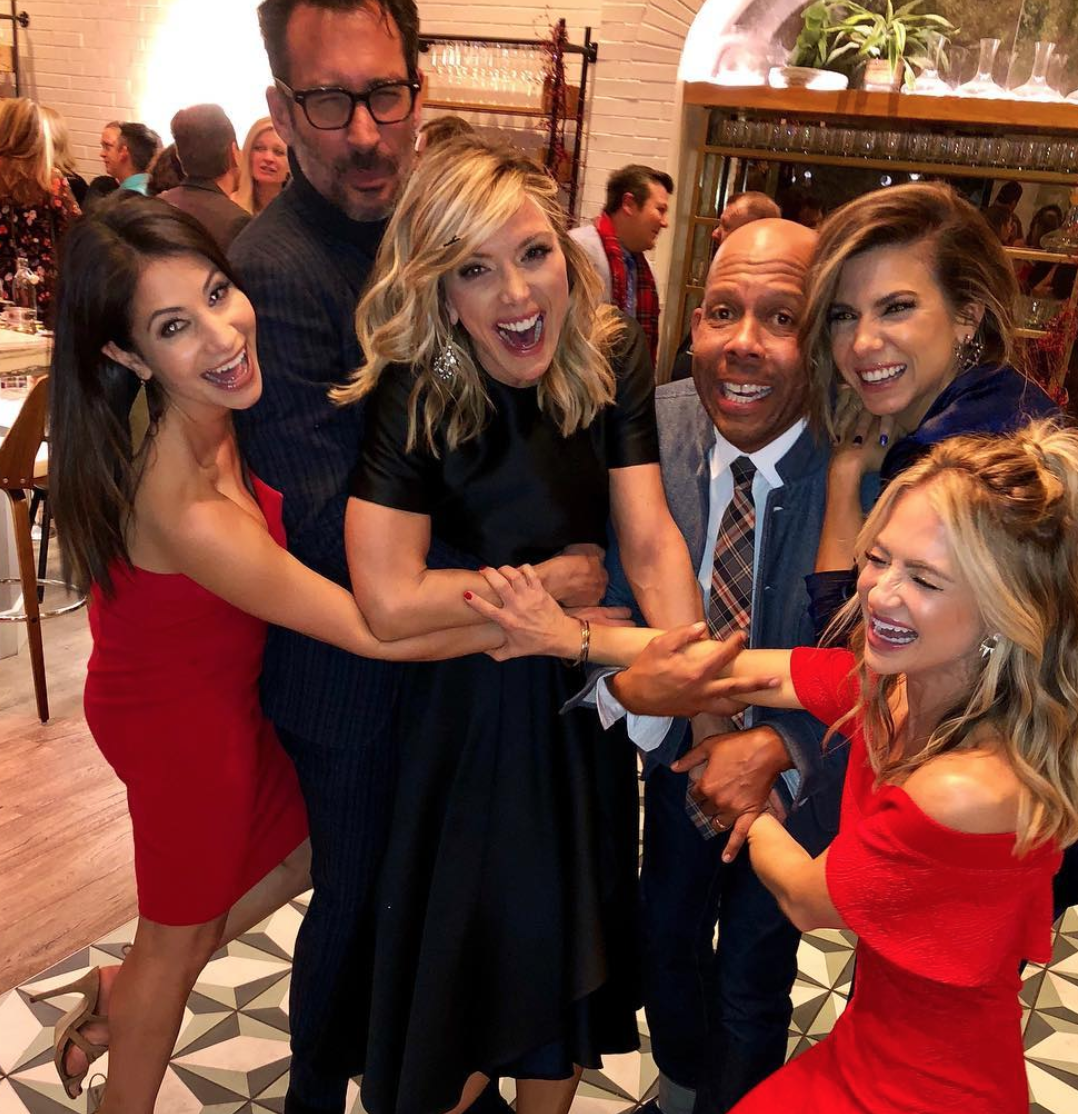 Has there been any talk about getting a Home & Family dog?
We do have Hallmark Channel ambassador pets: Happy the dog, and Happy the cat. I think their official title is "Ambassadors of Positivity" because they're both named Happy, and they are fun loving animals that come to set every now and then.
What dog breed have you noticed to be the best with children?
It honestly comes down to the environment the dog grew up in, or had experience in. I wish I had a specific answer for you, but there are so, so, so many amazing dogs out there. You do have to be careful with very, very young kids. You have to make sure they know how to interact with the dog. Golden retrievers and Labradors are by far, very good family dogs. You just want to kind of, educate your family and friends about the dog. You want to give the dog a chance. Most dogs aren't aggressive because they don't like you. It's all fear based. That can happen with any kind of dog. You just have to be very cautious, but give them all a chance.
Are there any plans to follow up with the adoptions that have taken place on Home & Family?
We try to do our "Happy Tail" follow ups. They are honestly, to me, some of the most heartwarming stories. They showcase, but also educate people, how much animals can bring to you. You may think you're initially doing them a favor, but they really give something to you. We're trying to do more follow ups! There are all these little things that you can look back and see the dog has done for you.
We're going to switch topics a little bit. Our readers love to learn about dating from others. We know you've been very vocal about your experiences on Home & Family.
One of our wonderful viewers who writes all the Chicken Soup books gave me the Miracle of Love. It was to help me find love. It's so funny because I've had long term relationships…I was engaged at one point. The industry – the news industry I should say –derailed things a bit. It's hard to balance it; it's hard to maintain that one relationship that can live through all that. I would like to find that one person.

What would you say is the biggest struggle in the dating world today?
Honestly, I think the apps have made it so that everyone is so replaceable. When you're on these apps, everyone's a "swipe left" and "swipe right" – they're not a person [anymore]. If you do go on a date, if there's one thing you don't like about them or they don't like about you, instead of letting things unfold in a timely manner, we're so quick to say "Eh, swipe!" I think that's one of the problems. More than ever we're so connected, but we're not learning about the person like we used to.
What would you say is the best thing about working on Home & Family?
There are two things: my job. I absolutely love and live for what I get to do every day. I'm thankful every day. The other thing I would say are the people. The day in, the day out, the family members, the crew, the hosts…everyone from the lighting, the wardrobe department, they are all so amazing! I have made lasting friendships on this show that I have not made in the past. That's something I cannot put a price on. We're here so many hours…there's always going to be little things, but everything works itself out.
Most people probably don't even understand – it's not just the two hours you're there for the show. It's a lot longer of a day, right?
So, we get here about 7:30-8 am, we have a morning meeting for that day's show. We have a card reading to go over the segments with the hosts so they're in the know. We get our own hair and makeup done, we maybe have lunch for like, 10 minutes. You check with the editors to make sure the photos and videos that are shown pop up at the right times. We may have rehearsals…then we start it all over again for the next day. It does not end. And then for me, I have to schedule all the adoptions. I'm always finding new stories or new rescues to run with…. it's a lot of time.
Now on this season of Home & Family, are you only with the pet adoptions? Or are you being placed into any other new areas?
For the most part, all pet stuff. However, because I'm a part of the "family", I get thrown into who knows what on any given day. The fashion, the panel discussions, doctors, dating…. who knows! One day you're a hair model, a bathing suit model, the next day you're the patient [for a health segment]. It's awesome, I love it.
Bonus: Larissa attended a live taping of the recent season of Dancing with the Stars – she used to work there! Would she ever go on it? Yes – she took ballroom for a while! If ABC is listening, Larissa is ready for you!
Thank you so much Larissa! We have learned so much from you and encourage all of our readers to consider pet adoption – there are so many wonderful pets out there looking for their forever happy homes!
---
Be sure to follow Larissa on Instagram for more behind the scenes looks at H&F, her adorable dogs, her killer fashion sense, and so much more! And of course, catch her segment on Hallmark's Home & Family, which airs every day at 10 AM EST.
Kari Highman is a Beauty and Fashion Blogger at Feeling the Vibe Magazine. Otterbein Alum (2017) – English & Psychology. Always learning & creating. Avid fan of mid 2000's TV & pop music. Comments or tips, email kari@feelingthevibe.com