Kristin Cavallari has come a long way ever since her beginning on the MTV hit show "The Hills" and "Laguna Beach".
Fast forward over ten years and she now she has her very own reality show called "Very Cavallari" on the E! Channel as well as her own product line for Uncommon James, and books True Roots and Balancing in Heels.
Kristin has always been a go-getter and we've got the top 10 beauty and fashion tricks from Kristin herself that you can start using right now.
With Kristin juggling kids, work, home life, as well as keeping up with her appearance she knows how to look beautiful and flawless effortlessly and so can you.
Kristin's skin is beautiful and clear which is the goal for many of us. She uses Sunday Riley's clay face wash in the morning which she says "helps keep her skin clear."
Kristin's barley there, yet stunning makeup is another tip.  She uses Giorgio Armani's Luminous Silk Foundation, Giorgio Armani's Sun Fabric Powder Bronzer, and Nars' Blush in Orgasm for her every day face makeup
Kristin also talks about how important it is to apply a face mask. She says "twice a week after the kids are in bed, I'll do back-to-back masks. Fresh's is purifying, Sircuit's is hydrating — and my absolute favorite — and Clarins' is great for anti-aging."
Being an on the go mom, Kristin knows that people don't always have the time to slap on foundation, concealer, and everything else. With that being said, on the days where she finds herself with no time for herself she uses Revision's tinted mosturizer
Kristin's skin as mentioned before is flawless and she has said she will never get Botox and hasn't yet because her "mom has never done anything with her skin and she looks great, so hopefully I'll be OK, but that's my goal. I'm going to do everything I can to not get any injections". To help with aging and wrinkles, she uses "red light therapy twice a week to prevent lines and wrinkles."
Kristin's minimal life doesn't just pertain to her beauty routine but also her clothing.  She is a minimalist as well as being very petite.  She says "I'm drawn to any form-fitting type of clothes, just because it's really easy to lose my shape. Shorter skirts or dresses on me are better. I can't wear a length that's even remotely close to my knee—even slightly low or above it.


Kristin Cavallari's Full Glam Look. Image Credit: IG @KristinCavallari.

Keep it basic. Kristin said, 

"

If I want to put a little effort into [my outfit], I'm going to go for my favorite pair of skinny jeans…I'm going to do a great pair of booties, probably some sort of simple tank top or T-shirt, depending on what's going on, and maybe just a great blazer or jacket."
Adding to her minimalism, Kristin says to stay neutral. That way, "everything kind of goes together, which is nice."
Kristin's loves simplicity.  Kristin will always go for a romper because it can go "from day to night in just one look."
Finally, Kristin recommends to get a good pair of shoes.  Kristin loves shoes, so it's no coincidence that she owns her own shoe brand through Chinese Laundry.  Getting a simple bootie that can be paired with many different outfits is very important to Kristin and a look that you can totally rock!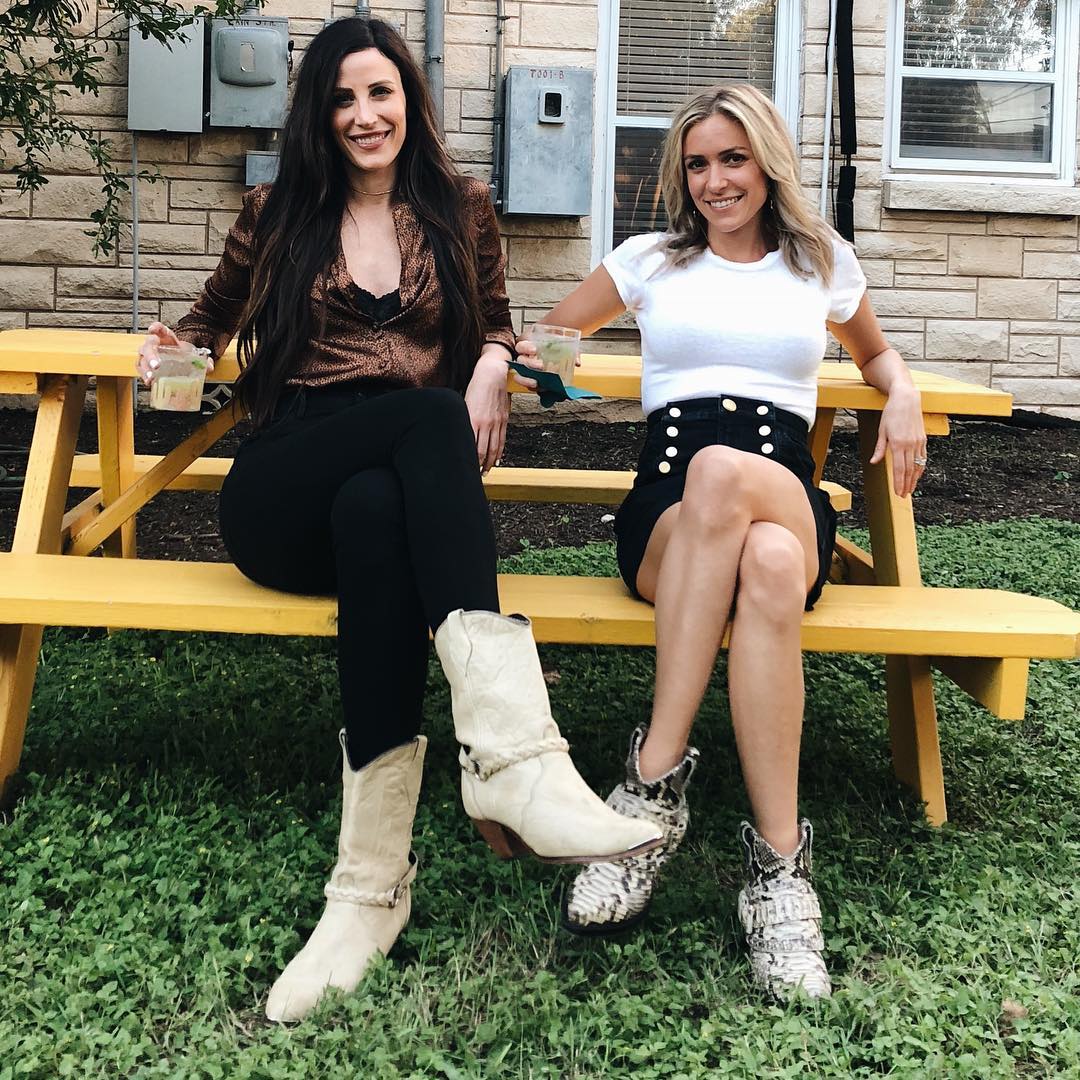 [BEAUTY] Kristin Cavallari's Makeup Eye Care Secret to Remove Dark Circles and Puffiness
Kristin Cavallari's Beauty Regimen: Skincare, Makeup, & What's In Her Bag!
Copy Kristin Cavallari's Makeup, Hair & Entire Look from The Golden Globes
Kristin Cavallari Shares Lip Plumping Secret – Product Inside