Soleil Moon Frye, George Stults and Jaleel White star in 'Staging Christmas' on Lifetime as part of their 2019 holiday lineup.
Are you ready for this one? What a treat to get two famous child actors in one film and during the Christmas season! We spoke to the awesome costume designer, Nancy Cannon who was in charge of dressing these actors. If you want to copy these looks, keep reading to find out where you can get the same outfits as you saw during 'Staging Christmas.'
SPARKLY IN RED
---
Soleil looks absolutely stunning in this sparkly red full length gown. The color and style are perfect for the holidays. You can get this dress by MAC Duggal straight from Nordstrom.com.
RED BOSS BABE
---
Soleil Moon Frye looks like a total boss in charge in this bright red slim suit. You can get this exact suit straight from Express.com.
BLACK BLOUSE
---
Soleil wears this slinky lightweight top under her red suit which pairs just right. Get it from BananaRepublic.com.
LEATHER JACKET
---
Did this black leather coat from 'Staging Christmas' catch your eye? Soleil looks super cool in this soft moto jacket. You can get this exact same look! The black vegan leather moto jacket is available on Express.com.
STACKABLE RINGS
---
Nancy Cannon, the costume designer for 'Staging Christmas' accessorized her cool outfit with these stackable rings. Get a similar look as Soleil with rings from Lucky Brand.
COOL RED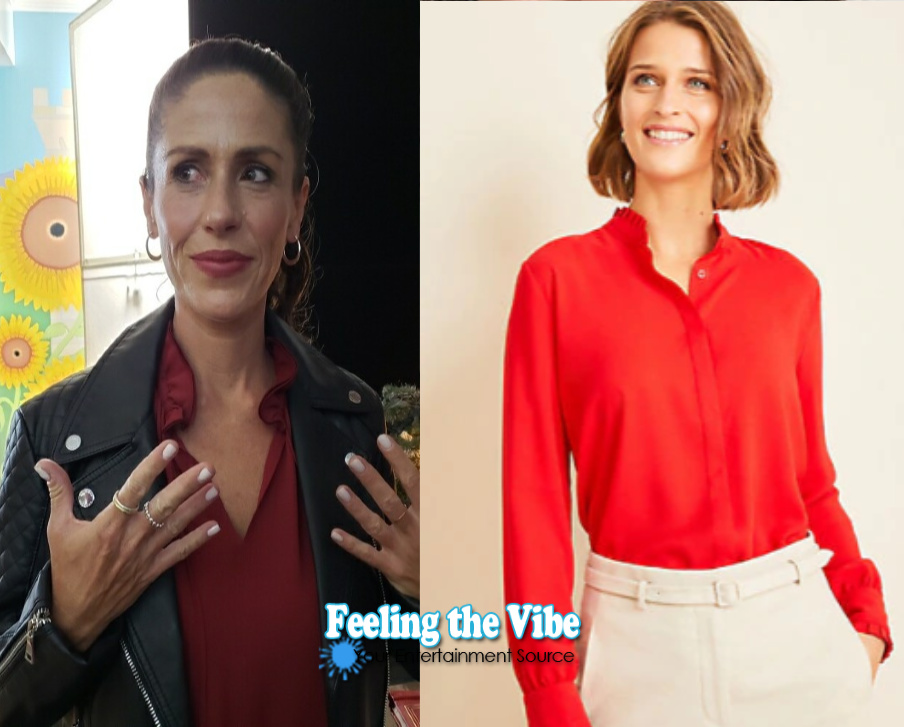 ---
Red and black always looks great together. Soleil's exact red blouse is sold out. However, you can get a similar look from the same store with this ruffle blouse.
SLINKY BLACK
---
Soleil looks awesome in the red and black pairing! Her exact black blouse is sold out. However, you can get a similar look from Express. Try the Smocked Collar V-Neck Top. Soleil is also wearing black high heels from Sam Edelman.
WIDE LEG PANTS
---
Soleil dresses up her black moto jacket and blouse with these wide legged black pants. She got her pants from Ann Taylor and they are still available for you to purchase now!
DENIM DELIGHT
---
This denim look is adorable on Soleil in 'Staging Christmas.' If you want this cute and casual look, the shirt is from American Eagle. You can get your Oversized Denim Button Up Shirt here. It was paired with a pair of jeans from White House Black Market.
Q&A with The Costume Designer, Nancy Cannon
What was your inspiration behind the wardrobe choices for Soleil?
Staging Christmas was an interesting process. I received the script eight days before I knew who was going to play the character Lori. After reading the script for the first time, I wanted Lori to have business looks but with a artsy/organic feel to them. I wanted to incorporate leather into her looks, trendy crop wide leg pants, softer fabric tops, trendy patterned shoes, and honoring Kate Spade. I started creating my lookbook based on the following image I found by accident on the internet: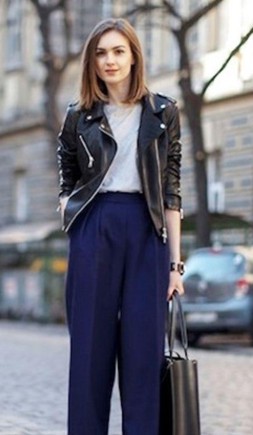 When Soleil Moon-Frye was cast for Lori, I gave her a call, sent her my Pinterest lookbook and off we went! She was incredible to work with and am very grateful and honored to be able to call her friend.
Did the actors give their input into what they wear for the movie?
I strongly believe any creative endeavor is collaborative in nature and especially with the costume designer/actor relationship. As a costume designer, I strongly feel that the actor needs to be comfortable in their looks, feels great in their wardrobe, and doesn't need to think about anything other than being their best self to create their character.
Soleil was on board with the looks for Lori – which was amazing. Soleil and I made several adjustments in a few of the outfits during filming due to a few of the locations and her actions in a particular scene – which worked out great. We had an open dialogue which was fantastic.
George Shults was so fantastic to work with. He is the perfect Ken doll and everything looked great on him. George gave a few ideas in terms of his character arch, but he trusted his looks which was also amazing.
What stores do you tend to get your clothing from for these productions?
My go to brands are Banana Republic, Gap, J Crew, Ann Taylor, Calvin Klein, Guess, Express, Talbots, White House Black Market, Madewell, H & M, and Zara. I tend to look to Mac Duggal, Adrianna Papell, Nicole Miller, Pamela Roland, and Carmen Mac Valvo for formal gowns as well. I also turn to Steve Madden, Tommy Hilfiger, Sam Edelman, and Jessica Simpson for shoes. These particular brands tend to fit a wide range of body shapes, large color ranges, and a diverse menu of items to choose from.
Tune into 'Staging Christmas' on Lifetime Friday, November 29th at 8pm EST.
Join the community for more style guides on Facebook!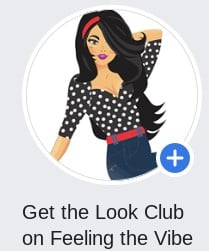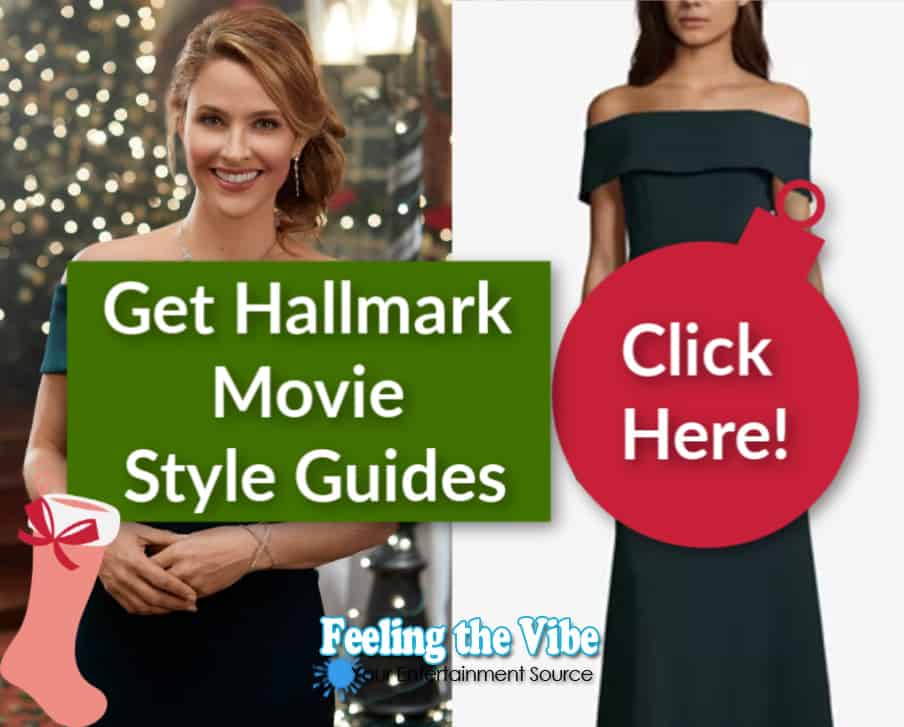 MORE MOVIE NEWS
First Look at Jodie Sweetin's New Hallmark Movie Merry & Bright with Andrew Walker
See Hallmark's 2019 Countdown to Christmas Movie Schedule
Candace Cameron Bure To Release New Line with Dayspring + Shares Details on New Movie Christmas Town
Get Candace Cameron's Hallmark Movie Style for 2019 Courtney Rose is an Entertainment Writer at Feeling the Vibe Magazine based in New York. Pop culture and rom-com obsessed. Studied Journalism and is up to date on all the latest entertainment news. For tips or comments, email me at Courtney@feelingthevibe.com