The new season of Fuller House means more of our favorite fictional family – and more of their fun fashions! Candace Cameron Bure's character DJ has had a variety of looks over the season, and we have the breakdown from every episode, including exact pieces from the show! Keep reading below to get the looks for yourself!
PRETTY IN PURPLE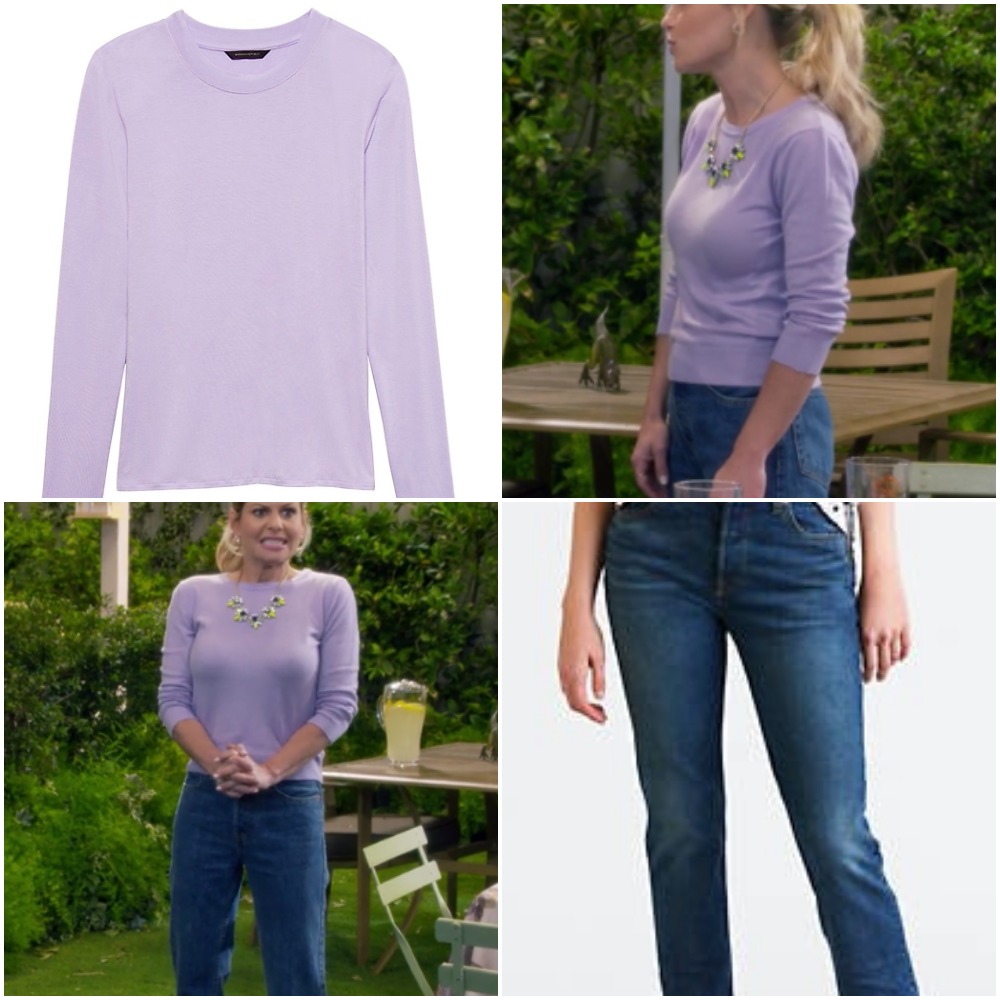 Candace wears a pale lavender crew neck shirt with some relaxed jeans. Mimic her look with this top from Banana Republic and these jeans from Levi's.
LUXE LEATHER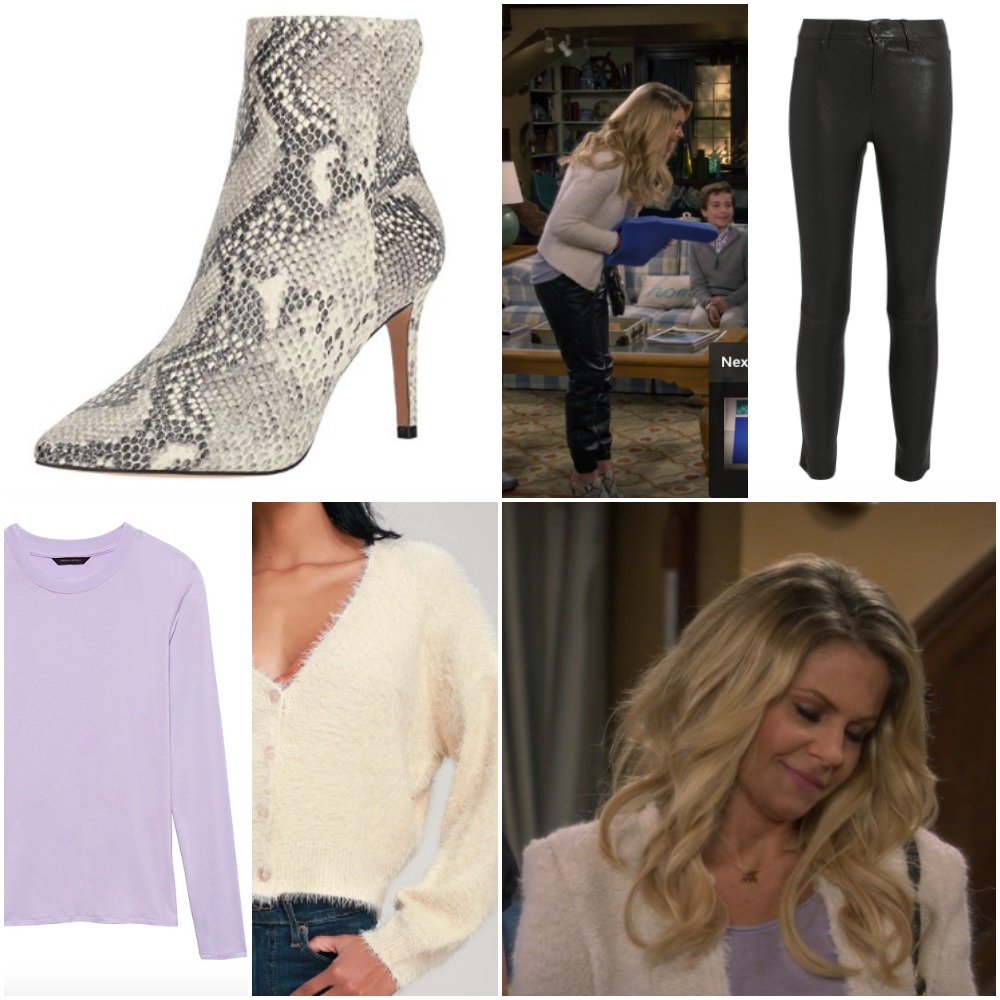 Candace has a textured cream cardigan, a lavender top, some cool faux leather pants, and a pair of snakeskin booties on in the photos above. Get her look with this sweater from Lulu's, the same top from Banana Republic (above), plus her exact pants from L'Agence, and her same snakeskin booties from Steve Madden.
WILD AND FREE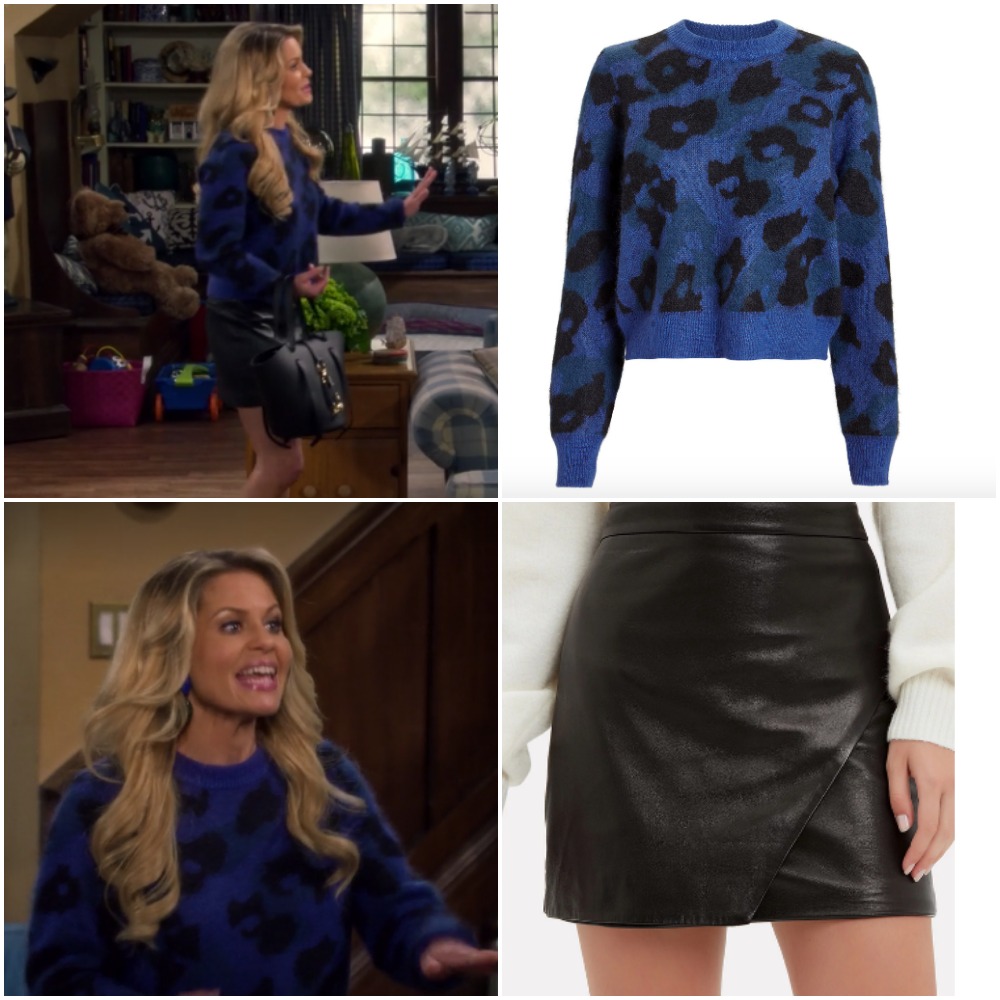 Candace rocks a navy blue leopard print sweater from Rag & Bone with a faux leather mini from Intermix. She looks edgy and cool in this fun look!
LIME ON THE ROCKS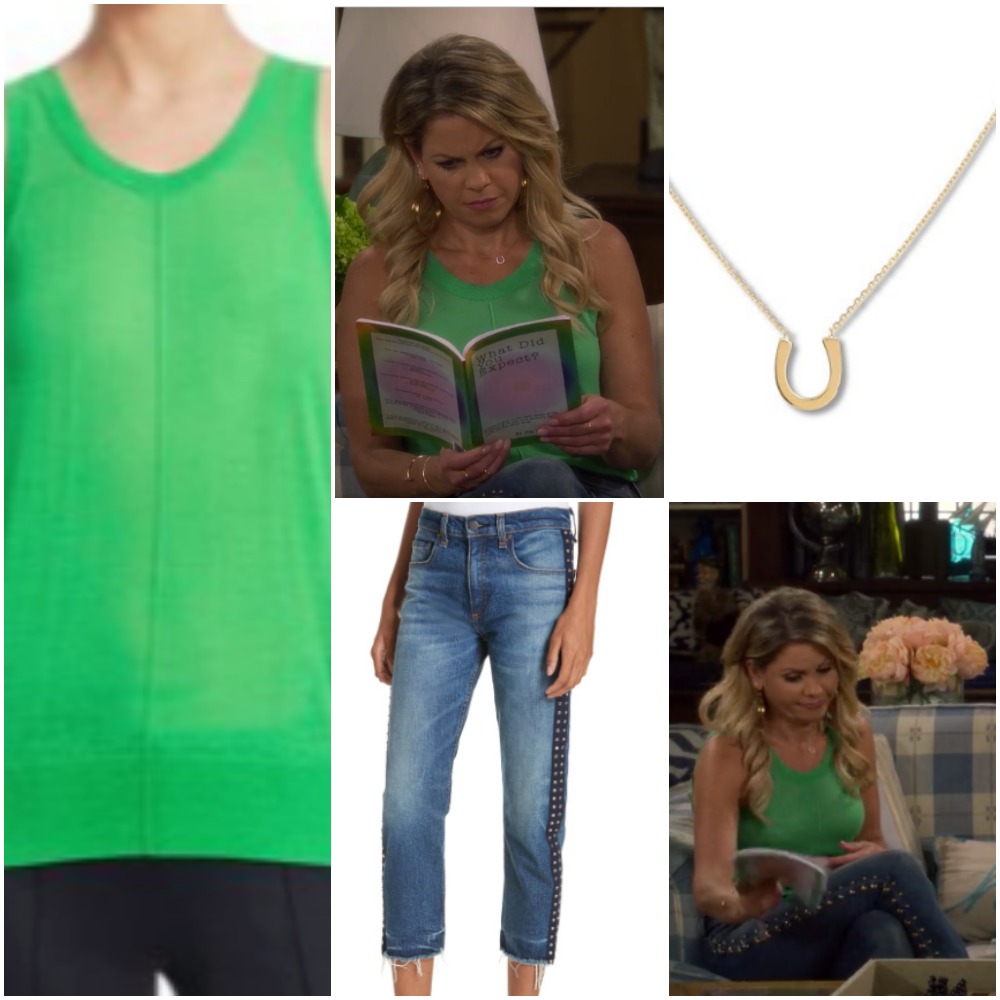 Candace sports a lime green tank top with some artfully studded jeans. If you look closely, you'll also see she wears a horseshoe necklace. Get her top from Helmut Lang, the jeans from Veronica Beard, and an almost exact necklace from Kay.
MAUVE MAVEN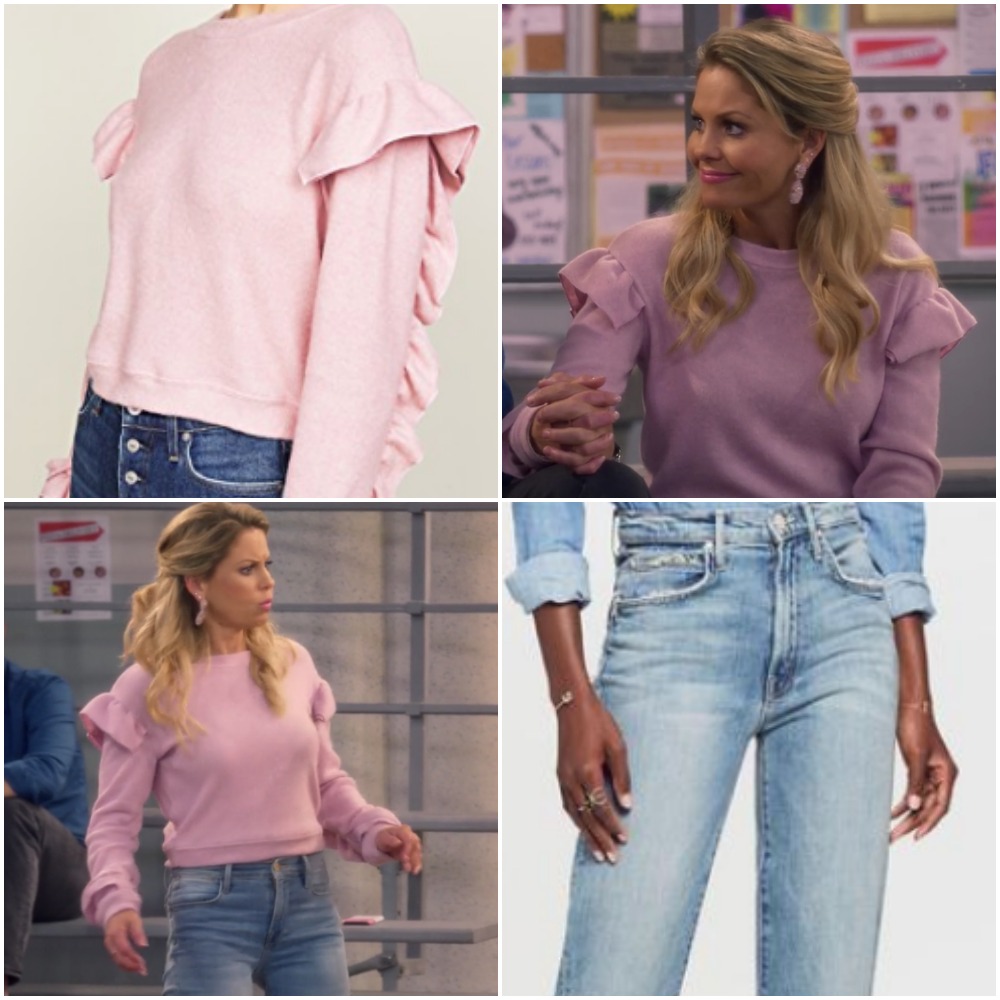 Candace wears a mauve long sleeve top with an exaggerated ruffle, plus some lightwash jeans. Get her top from WAYF and a pair of jeans from MOTHER Denim (one of Candace's favorite brands!)
WINTERMINT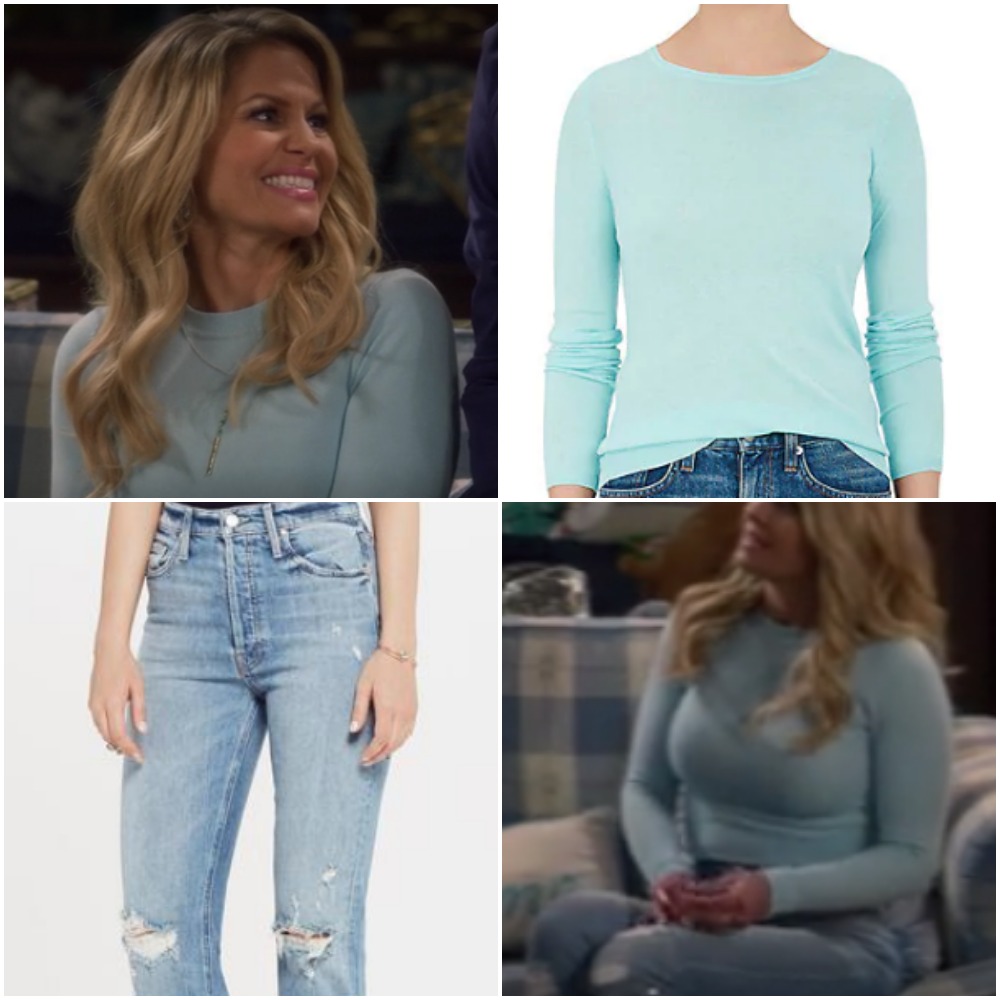 Candace is wearing a thin mint sweater that is paired with some slightly distressed denim. Get the jeans from MOTHER Denim and an almost exact top from Barney's New York.
WESTERN COAST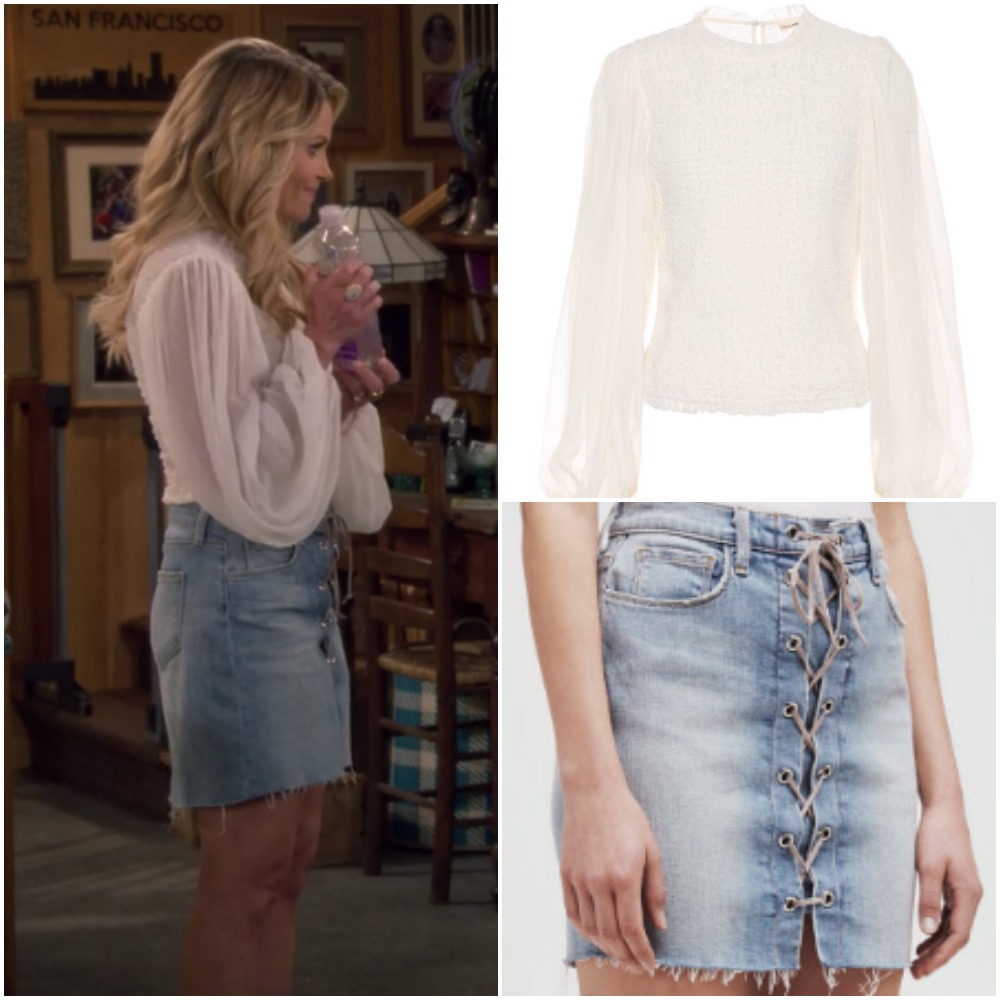 Candace wears a flowy, almost peasant-like top, which is paired with an equally unique lace up denim skirt. Get her exact top from Ulla Johnson, and the skirt from L'Agence.
Candace Cameron Bure Has the Cutest Line of 'Kind' Products Coming Out!
STRIPED STYLE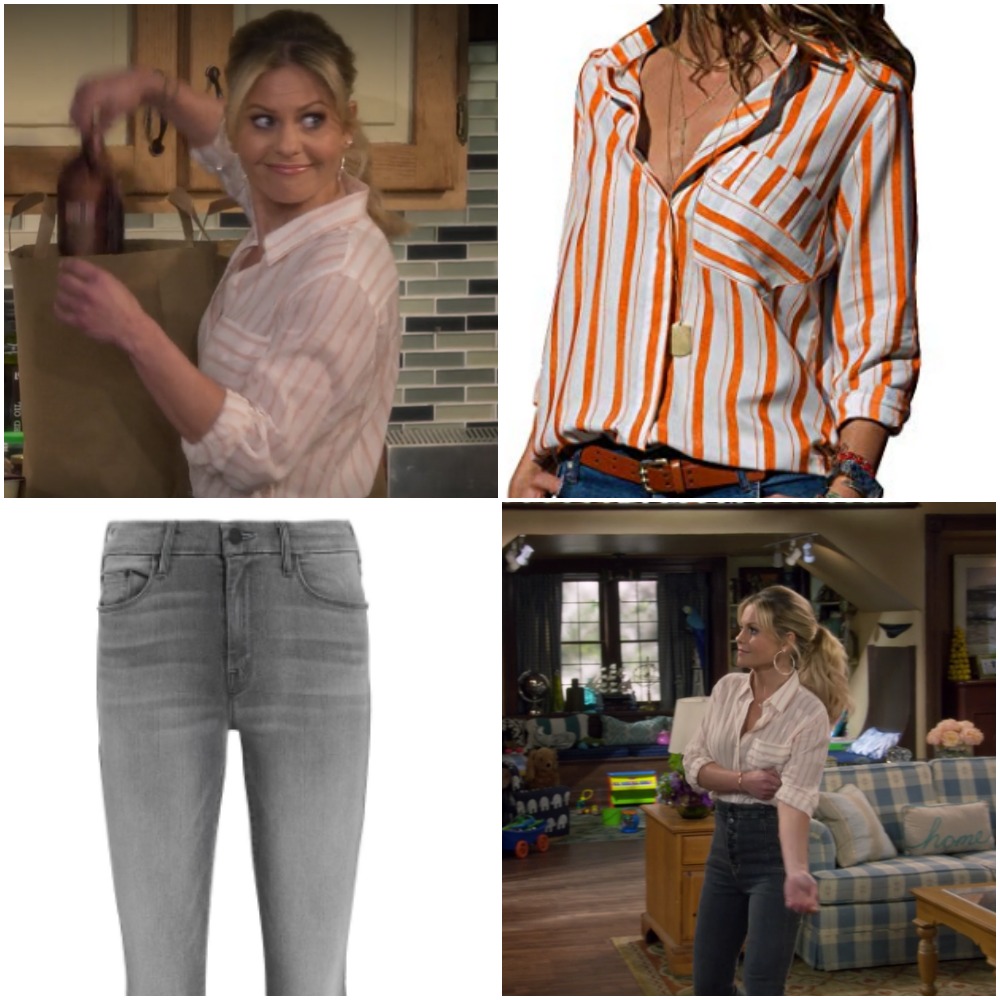 Candace wears a polished button down top that features a pale orange stripe, and that is paired with some gray jeans. Get a similar top from Amazon, and jeans from MOTHER Denim.
TWO SHADES OF GREY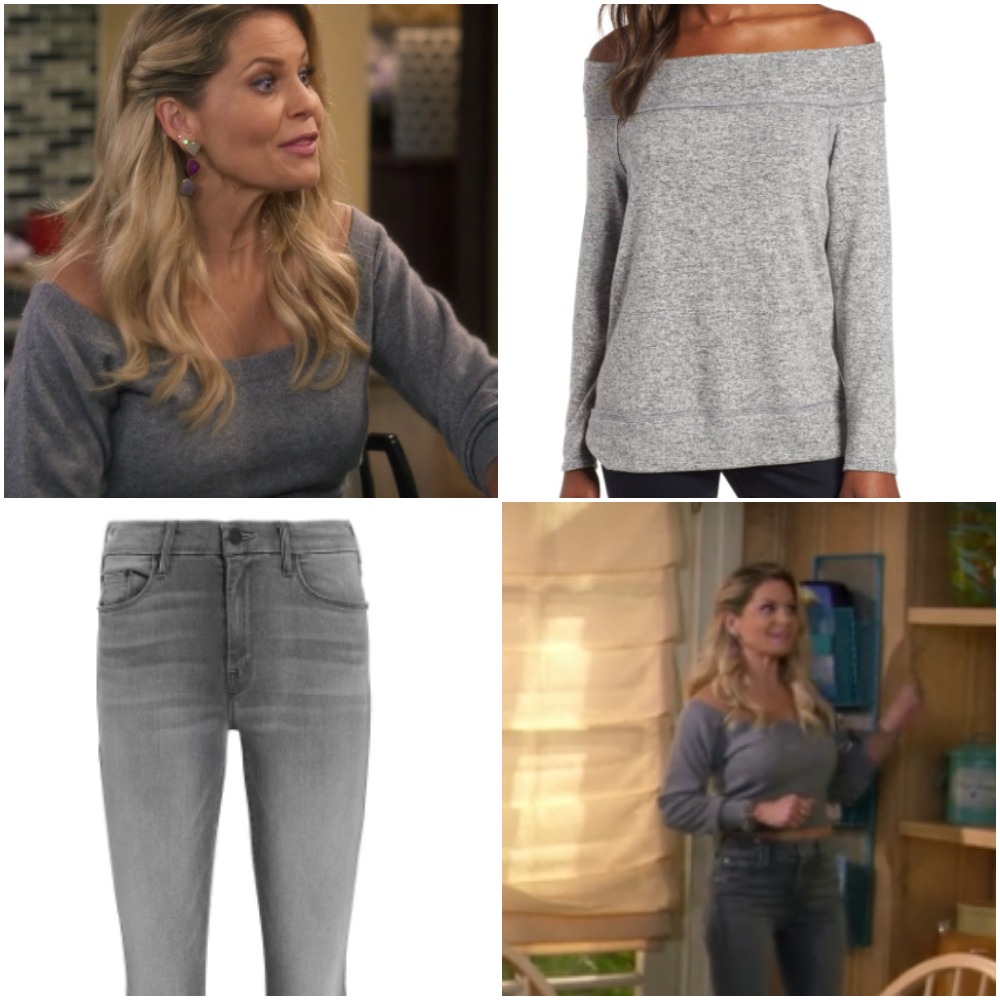 Candace rocks a grey off the shoulder top with grey jeans. Her actual top from Alexander Wang is sold-out, but this dupe from Nordstrom gets you an almost exact look. Use the same jeans as above and there you have her look!
PRETTY IN (PALE) PINK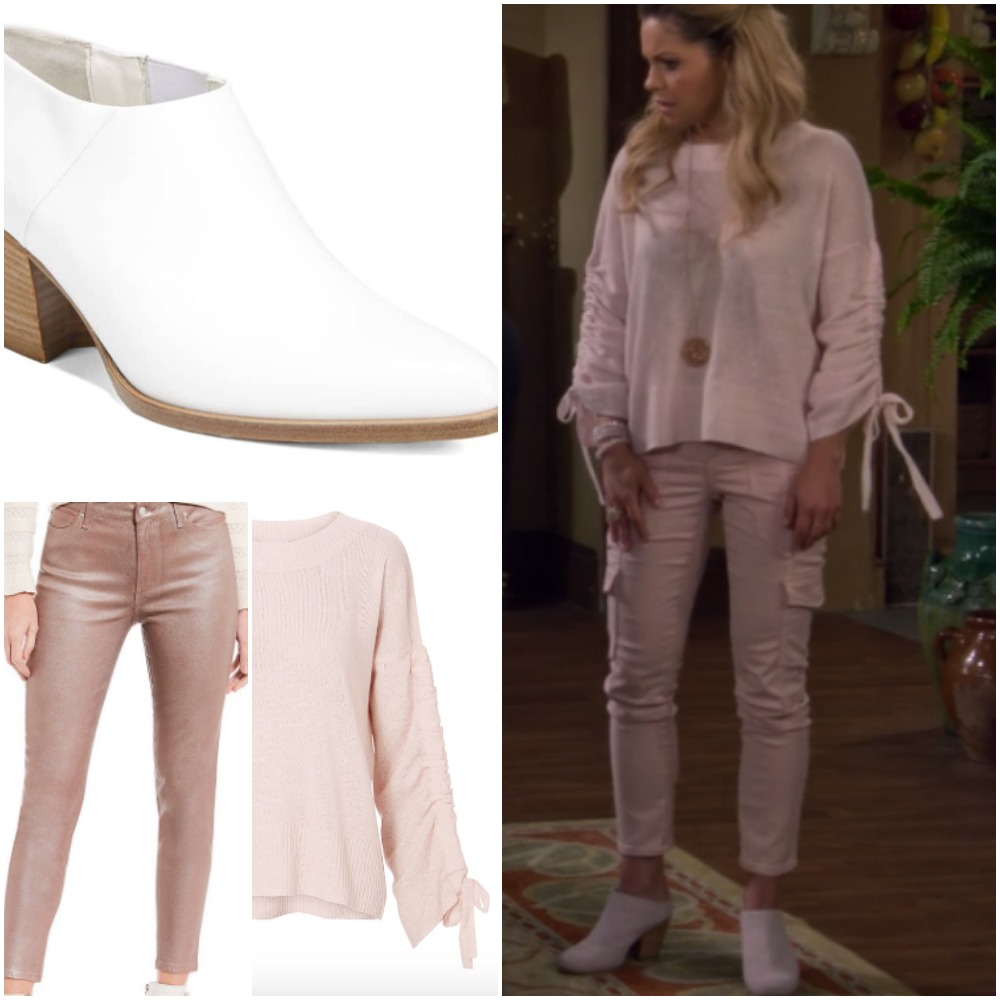 Candace wears another ruffled top, this time in a pale pink shade. She pairs it with some almost metallic looking jeans, and some fun white booties. Get her top from ALC, almost exact jeans from Dillard's, and her shoes from Vince Hamilton.
A JEAN-IUS OUTFIT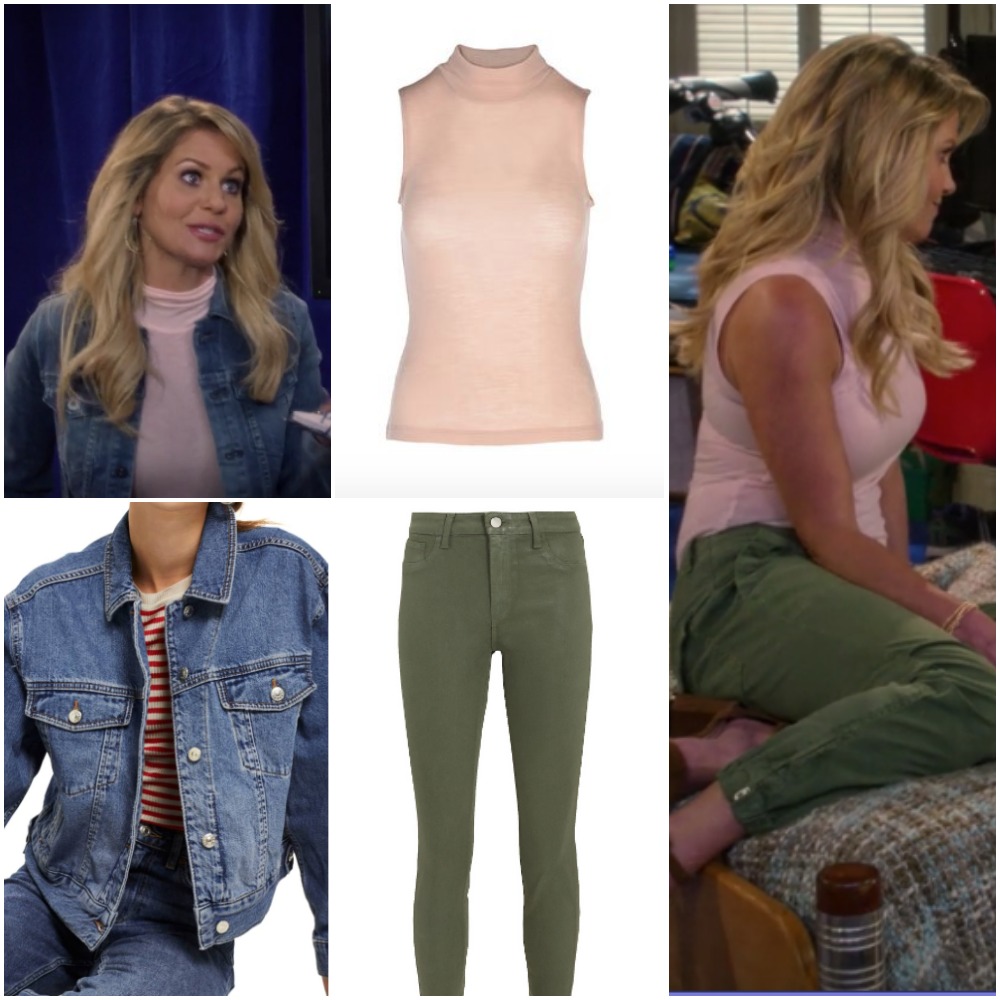 Candace rocks a pale turtleneck top underneath a jean jacket, with some olive green fitted pants. You can get an almost exact look with this jacket from Topshop. Get her top from Alexander Wang, and the pants from L'Agence.
LEGALLY BLONDE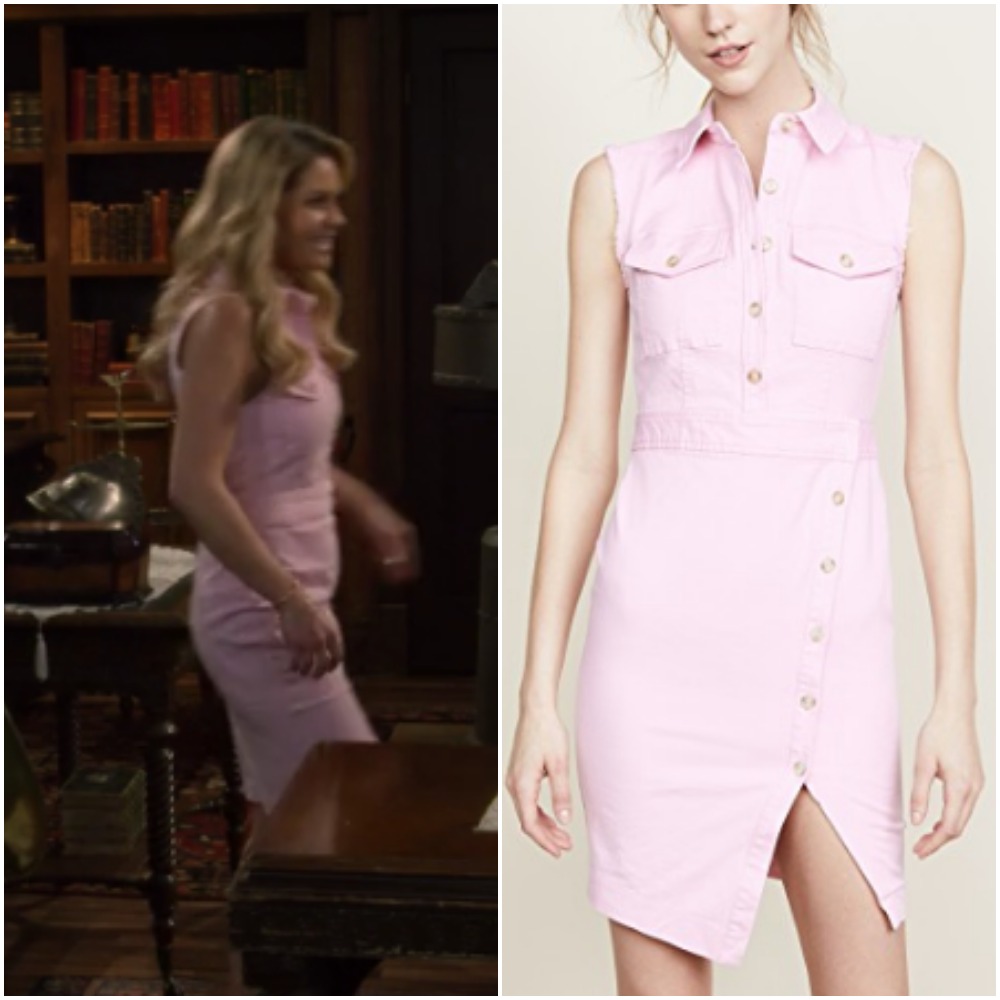 Candace wears a light pink denim dress that's almost "Elle Woods" inspired. Get your own from Veronica Beard.
MIDNIGHT MAGENTA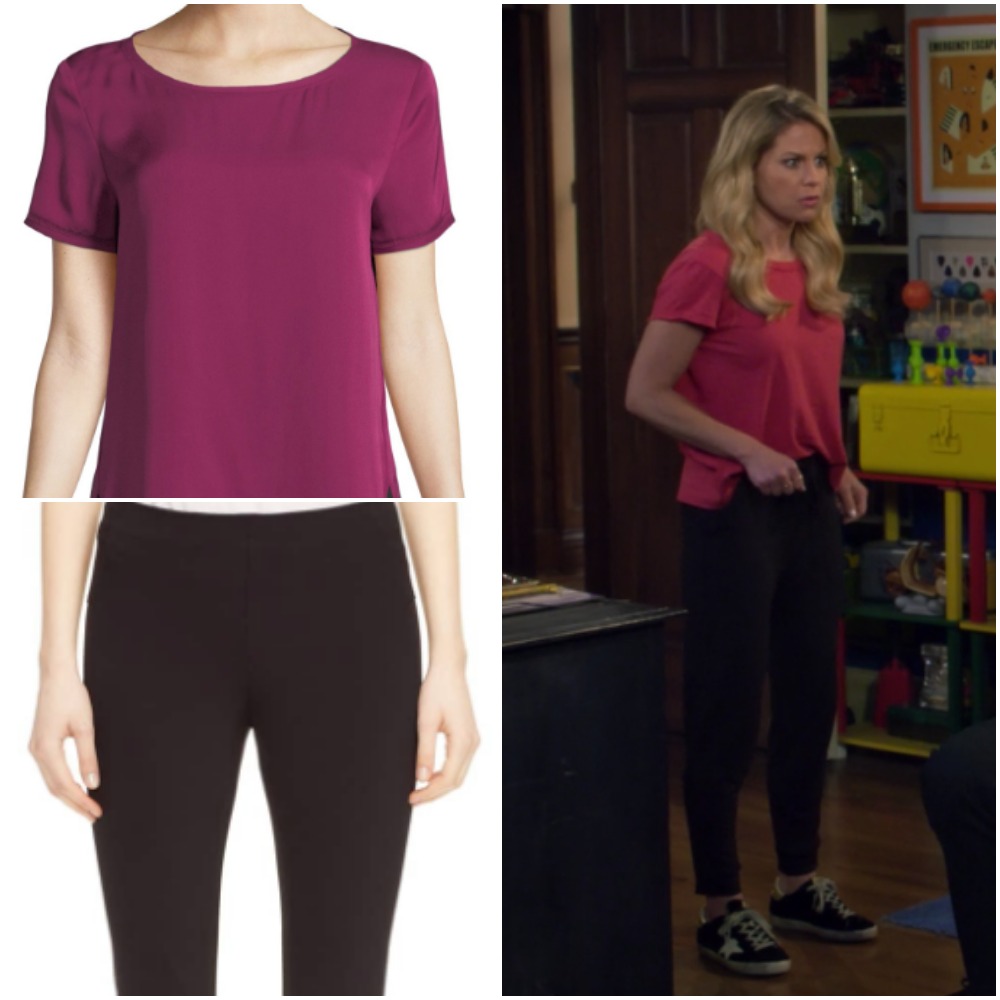 Candace wears a bright fuschia t-shirt blouse with some plain black pants. Get an almost exact shirt from Theory and pants from Veronica Beard.
DENIM DARLING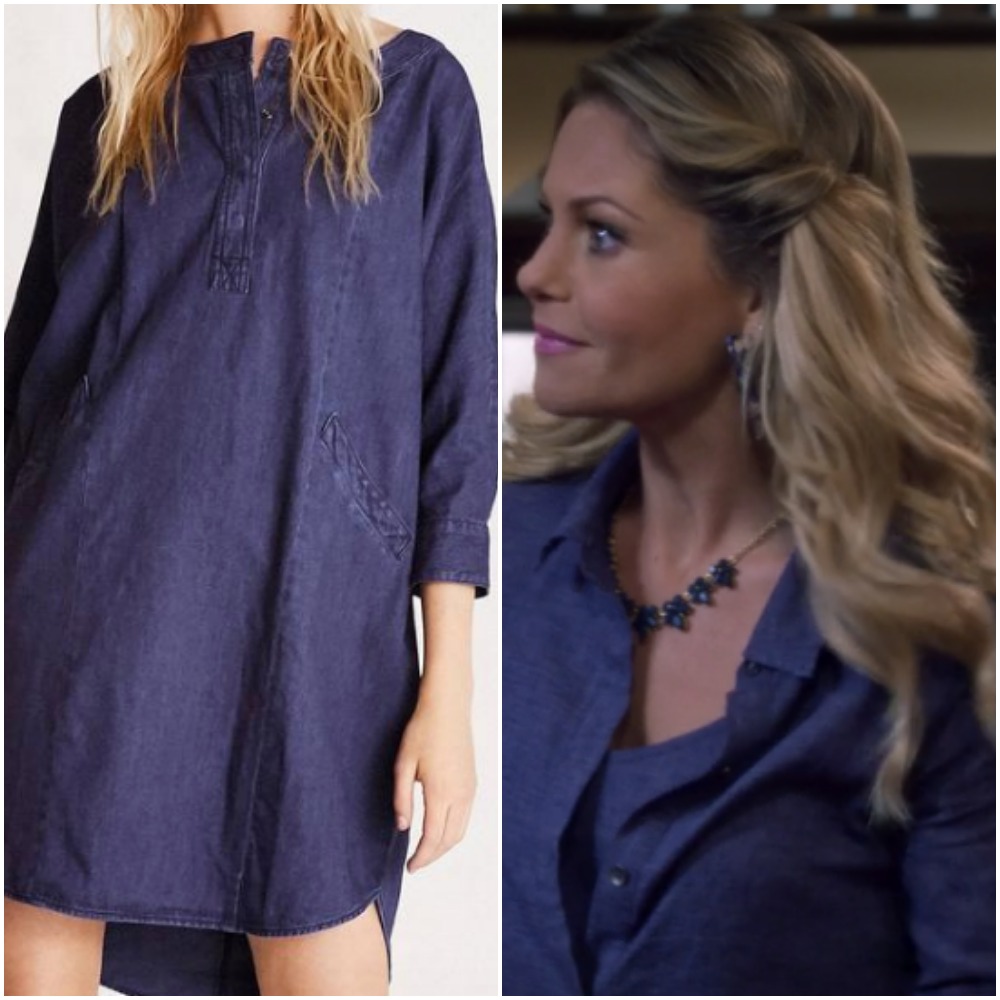 Candace rocks a denim like dress in an interesting indigo color. Get a similar look to hers with this dress from BDG.
REGAL RUFFLE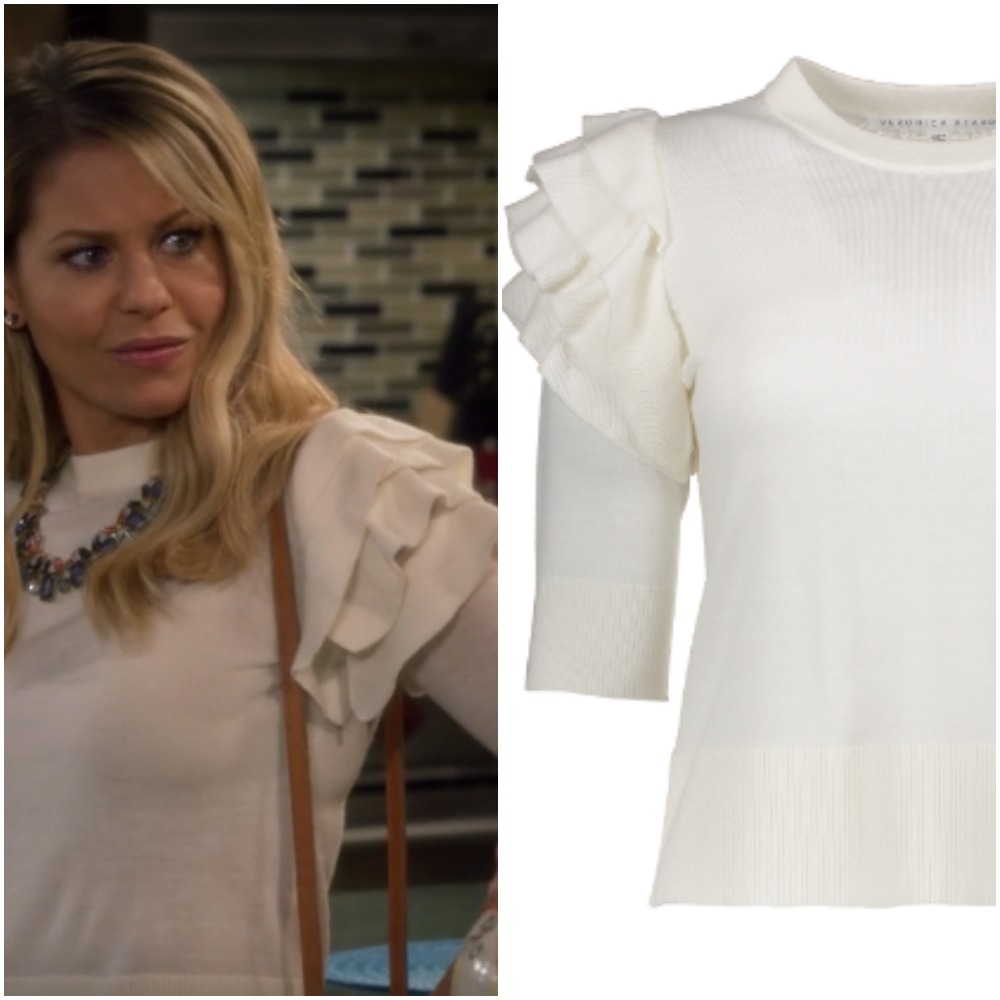 In the still above, Candace is wearing another pretty ruffled top, this time in cream. Grab your own from Veronica Beard.
YOGA #OOTD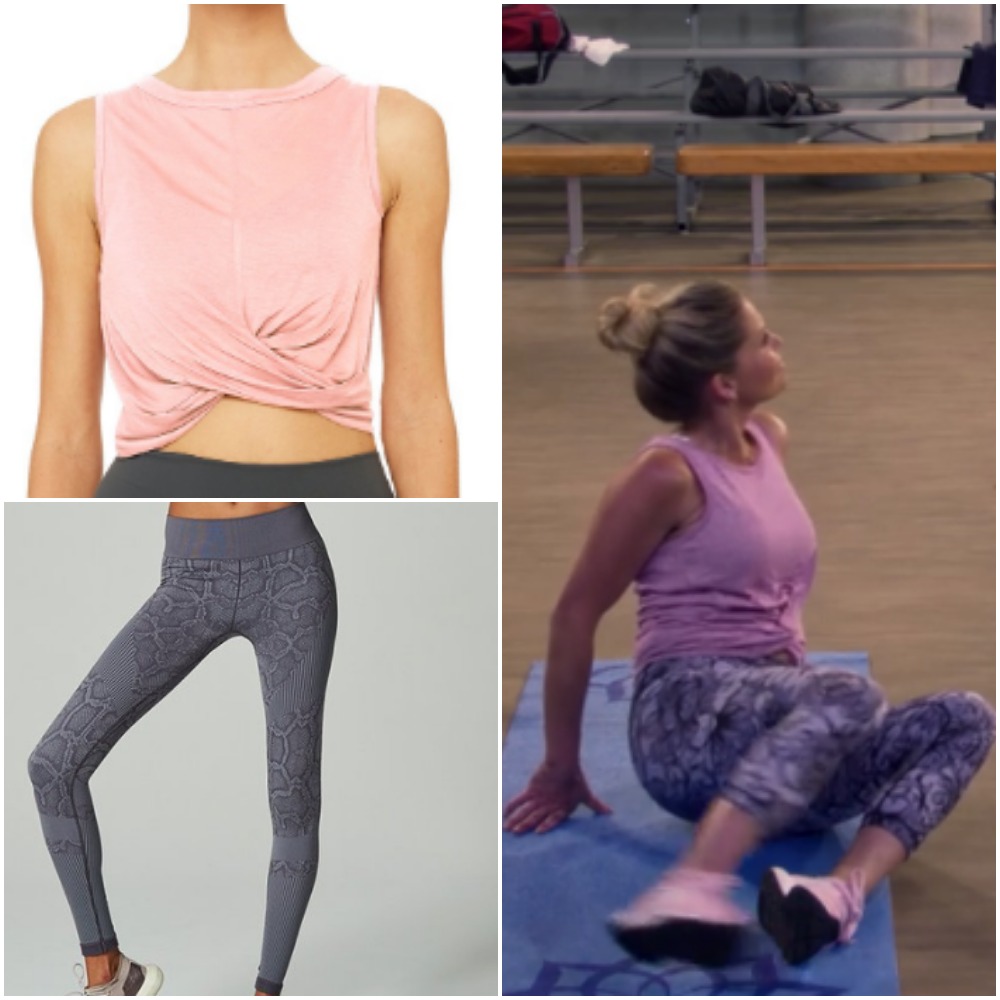 Candace wears a pink tank top and some cool patterned leggings. Get a similar look to hers with this top from Alo Yoga, and these leggings from Varley.
---
Catch Candace on Fuller House – Season 4 is now streaming on Netflix! And lookout for part 2 of this fashion article next!
Get Candace Cameron Bure's "Fuller House" Style (Part 2) – Clothes Inside!
Get Candace Cameron Bure's Hallmark Movie Jewelry and Shoes from 'A Shoe Addict's Christmas'
Kari Highman is a Beauty and Fashion Blogger at Feeling the Vibe Magazine. Otterbein Alum (2017) – English & Psychology. Always learning & creating. Avid fan of mid 2000's TV & pop music. Comments or tips, email kari@feelingthevibe.com