The 90's Con, a convention dedicated to all things 90s, recently took place in Connecticut and drew in crowds of nostalgic fans. Attendees were treated to appearances by a variety of stars from the decade, including members of the cast of beloved TV show Full House. Fans of the show were thrilled to see the cast reunite at the event, posing for photos and chatting with attendees.
One of the standout moments of the convention involved Candace Cameron Bure, who played DJ Tanner on Full House. Bure received a number of special gifts from fans at the event, including handmade bracelets that she shared on her Instagram story today. The bracelets were a touching reminder of the impact that Full House had on fans during its original run and the enduring love that viewers have for the show and its cast.
Candace posted a photo of herself wearing three homemade bracelets. One said, DJ Tanner, DJ, and the other had symbol beads on it. "Still wearing the cutie bracelets my sweet fans made me at 90's con," she wrote.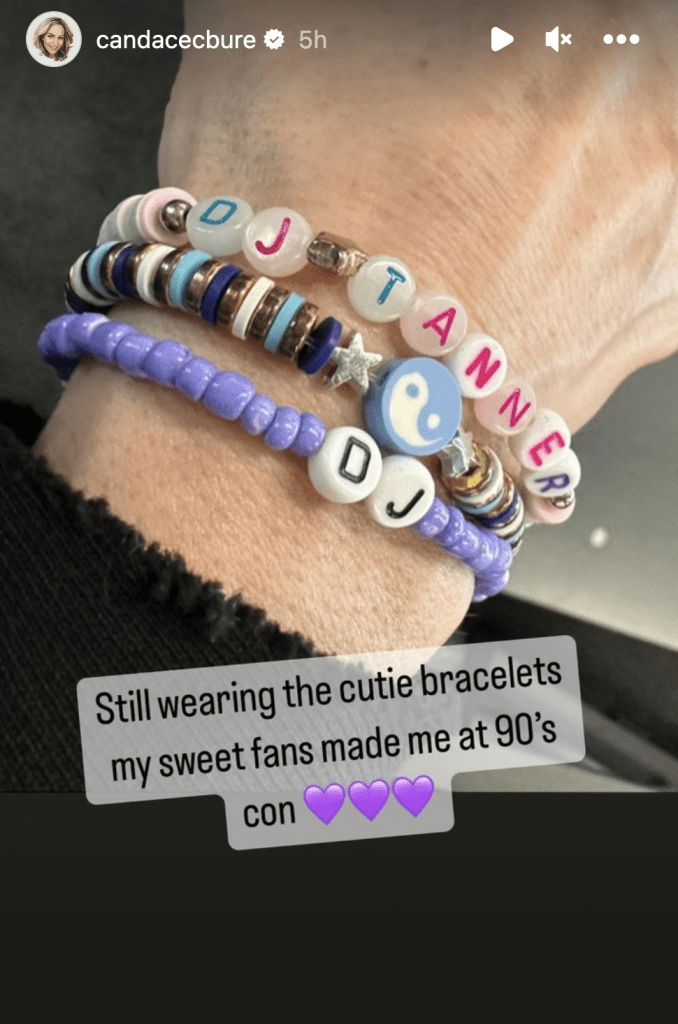 Bure's decision to wear the bracelets also speaks to the close relationship that she has maintained with her fans over the years. Despite her many other projects and commitments, Bure has always remained accessible to fans and dedicated to maintaining a connection with them. Her willingness to wear the bracelets that fans made for her is just one example of the thoughtful and generous way that she interacts with those who have supported her throughout her career.
Overall, the 90's Con was a great opportunity for fans of the decade to come together and celebrate the things that they love about this particular era. With appearances from a wide range of stars, including the Full House cast, attendees were able to relive some of their fondest memories from the 90s and make new connections with others who share their love of this unique period in pop culture history.
---
Related
90s Con 2023 Fashion: Candace Cameron Bure, Andrea Barber & More Looks Inside
Candace Cameron Bure Sets the Record Straight on Skincare: "I Don't Use Botox or Fillers"
If you purchase an independently reviewed product or service through a link on our website, Feeling the Vibe may receive an affiliate commission. Courtney Rose is an Entertainment Writer at Feeling the Vibe Magazine based in New York. Pop culture and rom-com obsessed. Studied Journalism and is up to date on all the latest entertainment news. For tips or comments, email me at [email protected]