Candace Cameron Bure will star in Hallmark Channel's original movie, Switched for Christmas this holiday season (alongside her real life daughter, Natasha!). The movie will premiere November 26, 2017 at 8PM EST on Hallmark Channel and is full of fun holiday cheer! Candace It also has plenty of cool clothing options – perfect for the colder weather! Check out where you can get some of the exact and similar pieces featured in the movie below!
(This post contains affiliate links)
---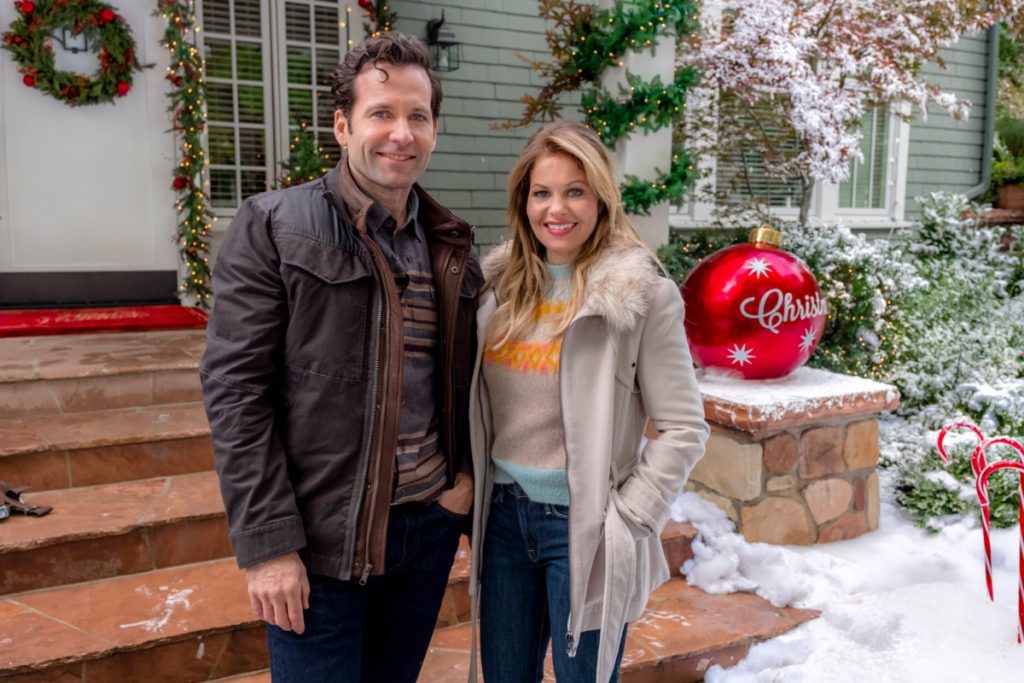 Taupe Coat and Medium Wash Jeans
This coat will keep you cozy, thanks to the faux fur collar and tie-strap closure. The jeans add a bit of an effortless vibe. Throw on your favorite festive sweater and you've got a perfect outfit! Get a similar coat at Macy's and the jeans from Macy's.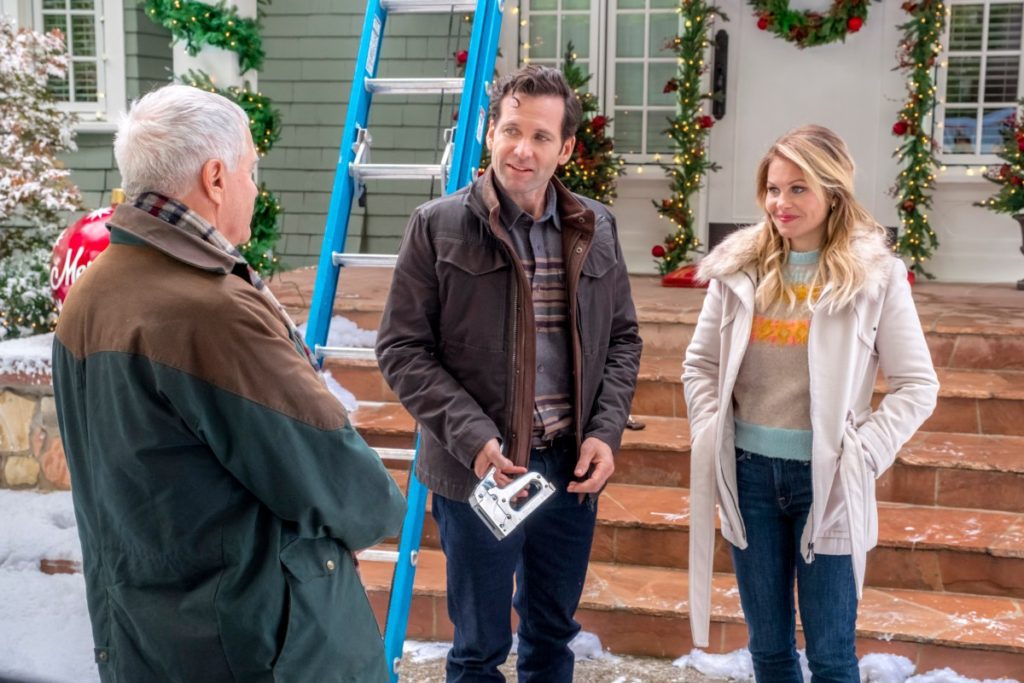 Orange and Blue Sweater
Get the exact sweater Candace was wearing from Anthropologie. It has been sold out everywhere except it is for sale in Extra Small and Large. It's cozy and will keep you warm in the cold winter weather. Throw on a pretty taupe winter jacket with this taupe sweater with blue and orange accents and you will be good to go!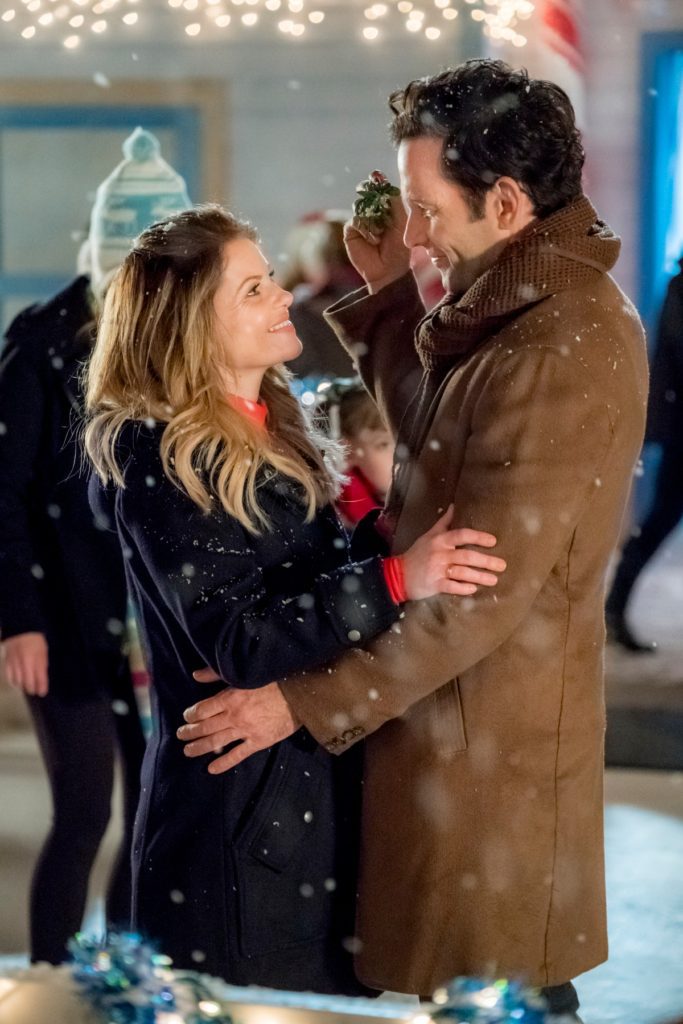 Black Jacket
Recreate Candace's look in this snowy scene from "Switched for Christmas." Who doesn't need a little black coat to go with everything? Get this Hooded Wrap Coat from Venus or this one here from Macy's.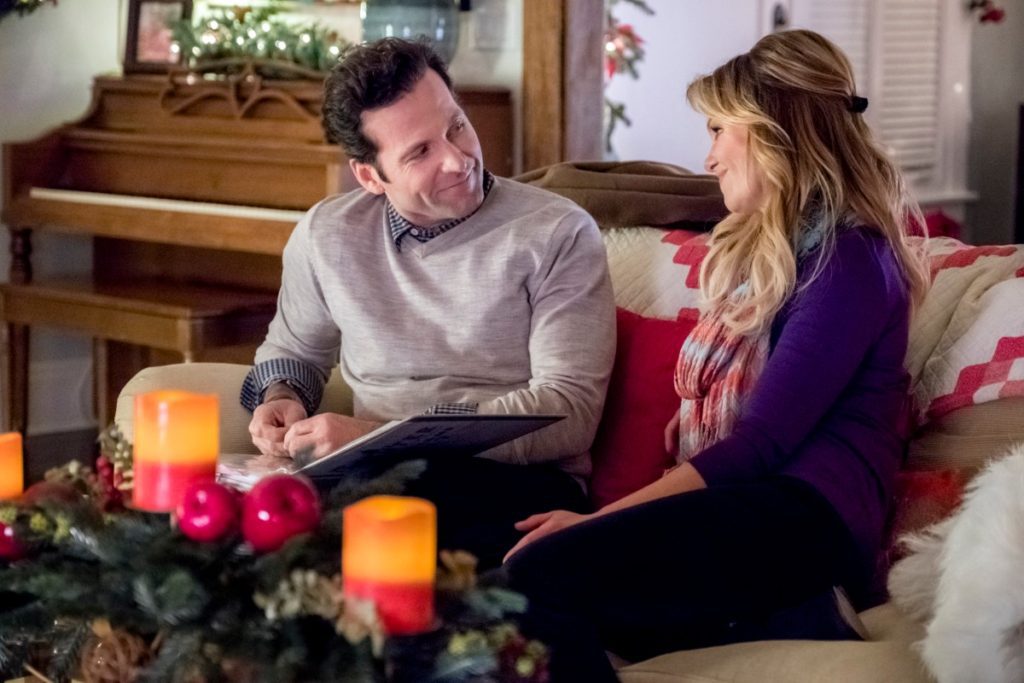 Black Velour Pants & Purple Sweater
These soft textured pants are equal parts chill and sophisticated. They add polish to any sweater or blouse you'd pair with it, and they also anchor your look, which keep things from getting too crazy. Get yourself a pair at Banana Republic.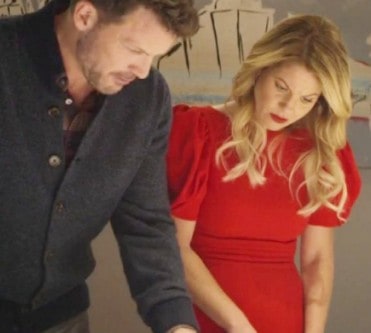 Red Dress
Candace dazzled in a bright red puffy sleeve dress, perfect for Christmas! It was available on ASOS.com and called "Puff Sleeve Midi Pencil Dress." Pair it with a black strappy shoe and you're all set for the festivities! The red dress featured above is currently sold out but you can get a very similar style here.
Cold Shoulder Dress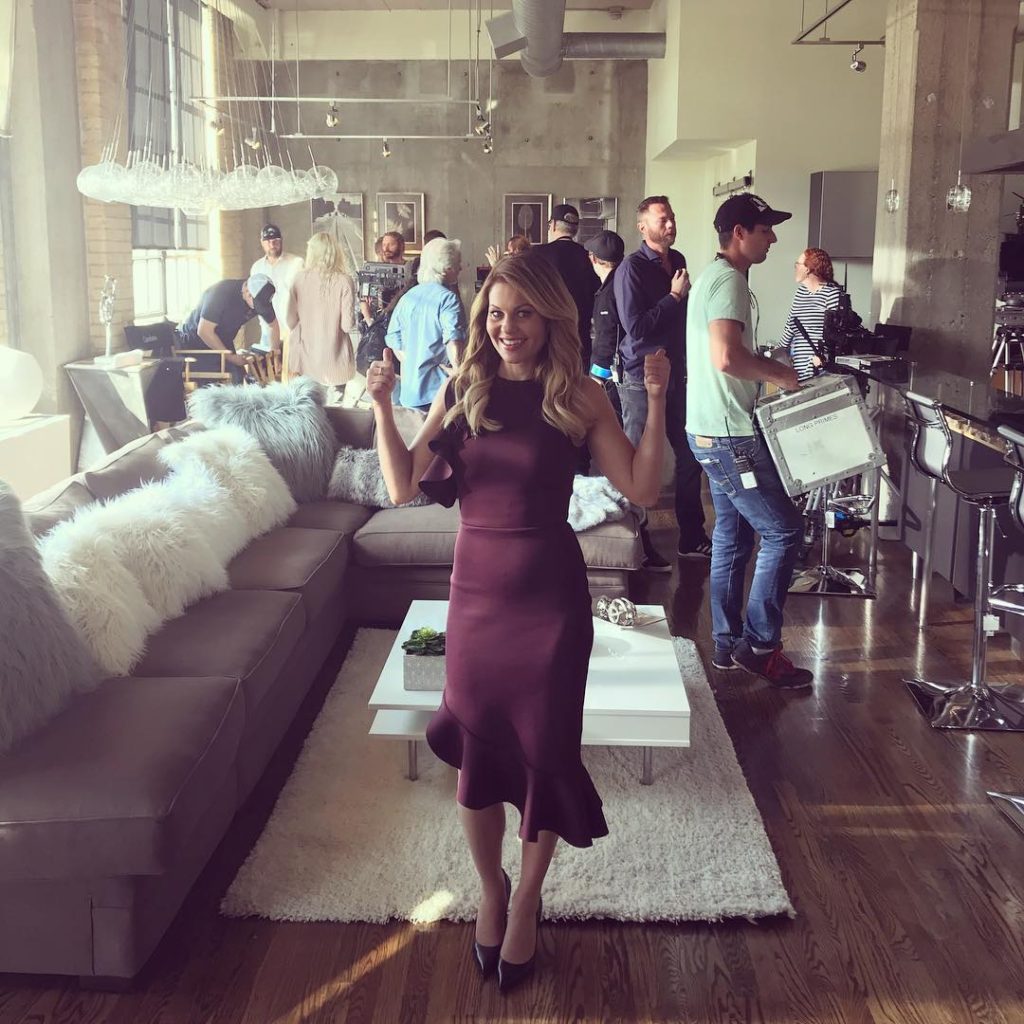 This super feminine and flowy Cold Shoulder Ruffle Pephem Midi Dress was worn by Candace in Switched for Christmas. You will surely stand out at your holiday parties in this beautiful color and cut. The original dress was sold at ASOS.com. (Currently sold out). You can get a similar style here.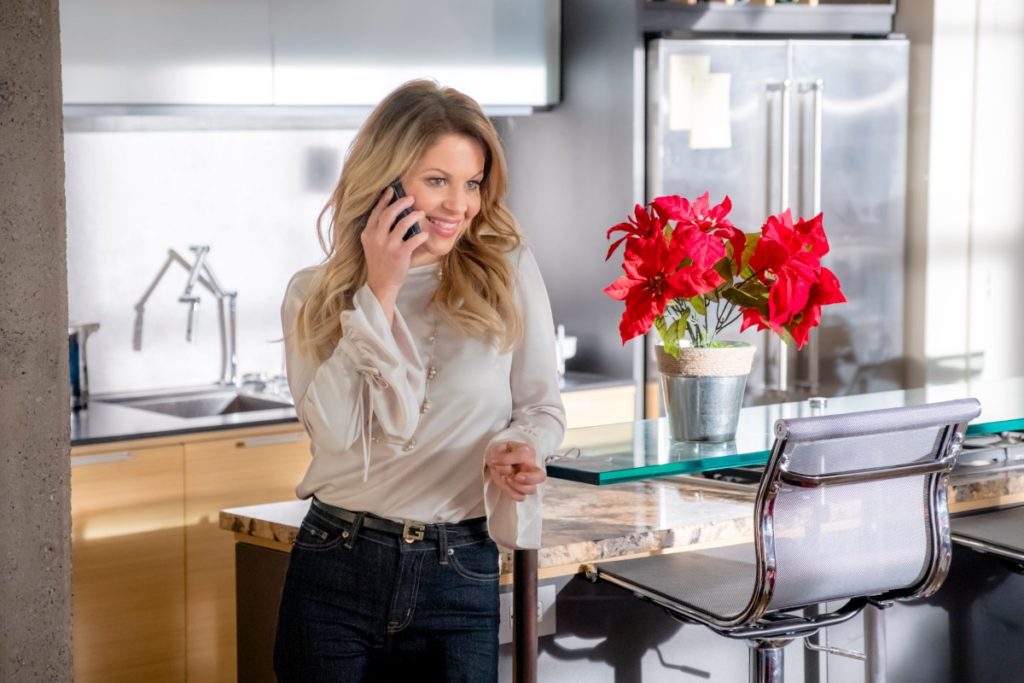 Bell Sleeve Top and High Waisted Jeans
This dressy top is flowy and fierce, especially when tucked into some high waisted dark wash jeans. You could add some dainty jewelry like Candace did, or keep it clean with some simple stud earrings. Get the a similar shirt from Venus , jeans from Macy's and belt from Gucci.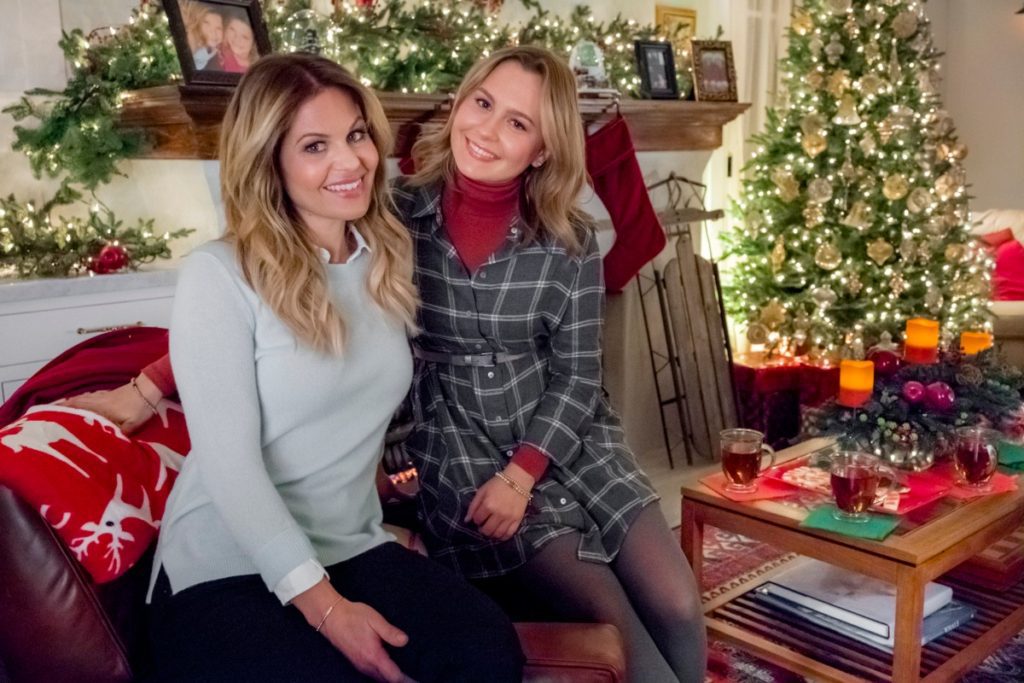 Light Blue-Grey Pullover
This light blue-grey sweater is the perfect layering piece: wear it overtop a collared shirt like Candace does, or pair it with a pop of color for a fun twist. Wear it with those black velour pants from above to get Candace's exact look! Get a similar look with this Crewneck Cashmere Sweater.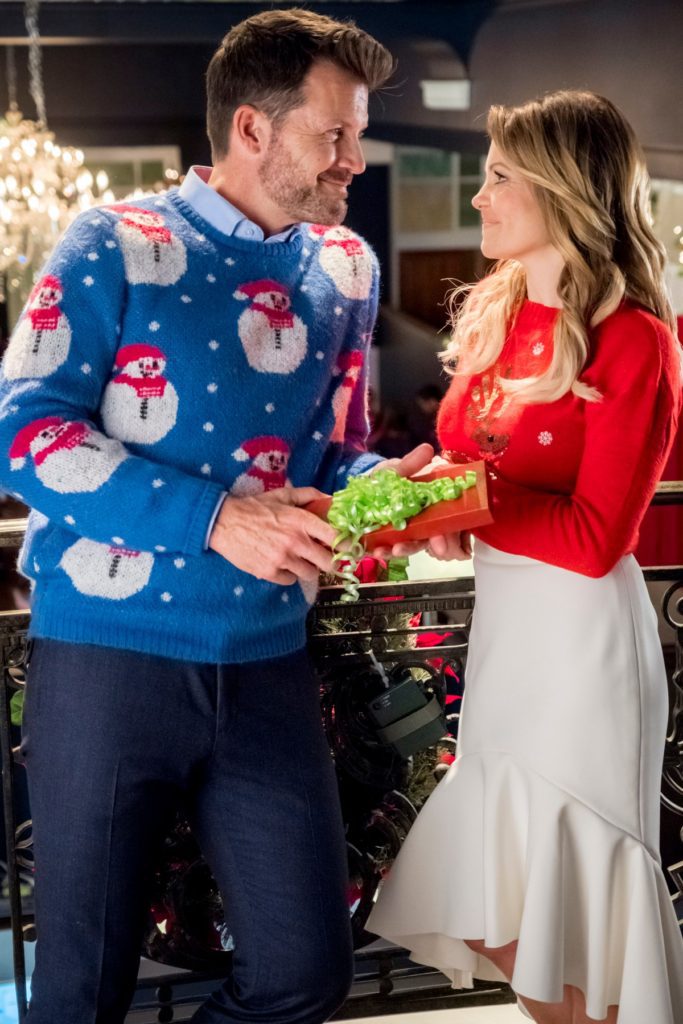 Red Christmas Sweater and White Skirt
If you want to look extra festive, then grab this red reindeer sweater. Paired with a cream midi skirt, it looks sweet and effortless. Plus, the ruffle on the skirt makes your body look super lean – and who doesn't want a little extra definition? The exact skirt Candace is wearing is called Italian Cady Asymmetrical Charlotte Skirt from Shop Bop, however it is sold out at the moment. You can find a similar style from Shein.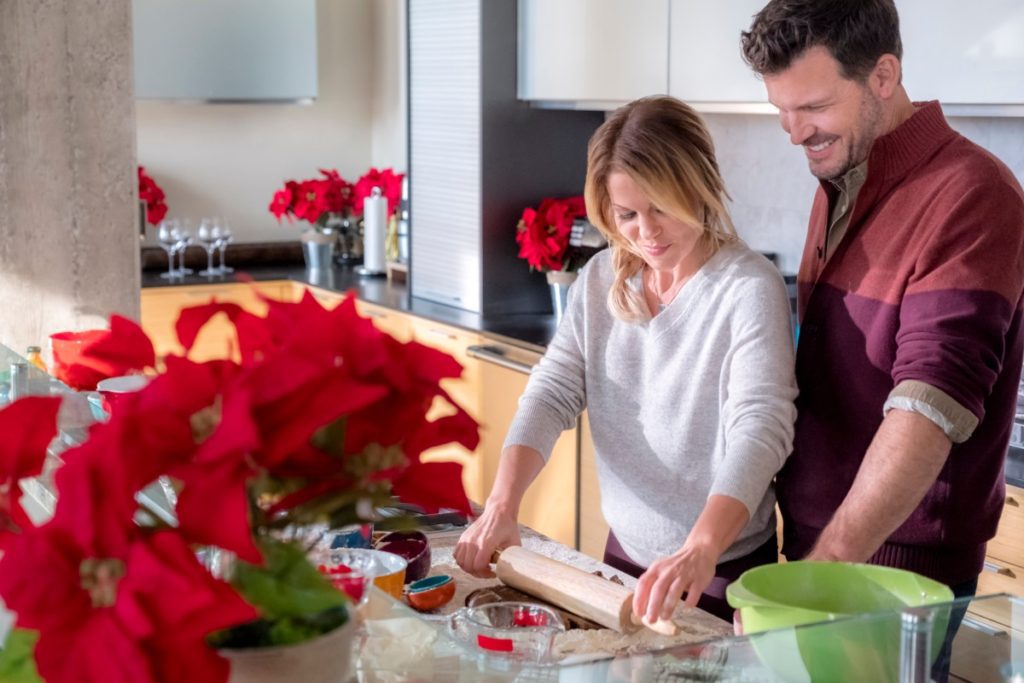 Grey Sweater
If you're in need of something that's comfortable, but isn't your average tee shirt, then go with this light knit sweater. You can roll up the sleeves like Candace did for an uncomplicated look, or wear it regularly for a classic look. Get this sweater at Macy's.
Bonus!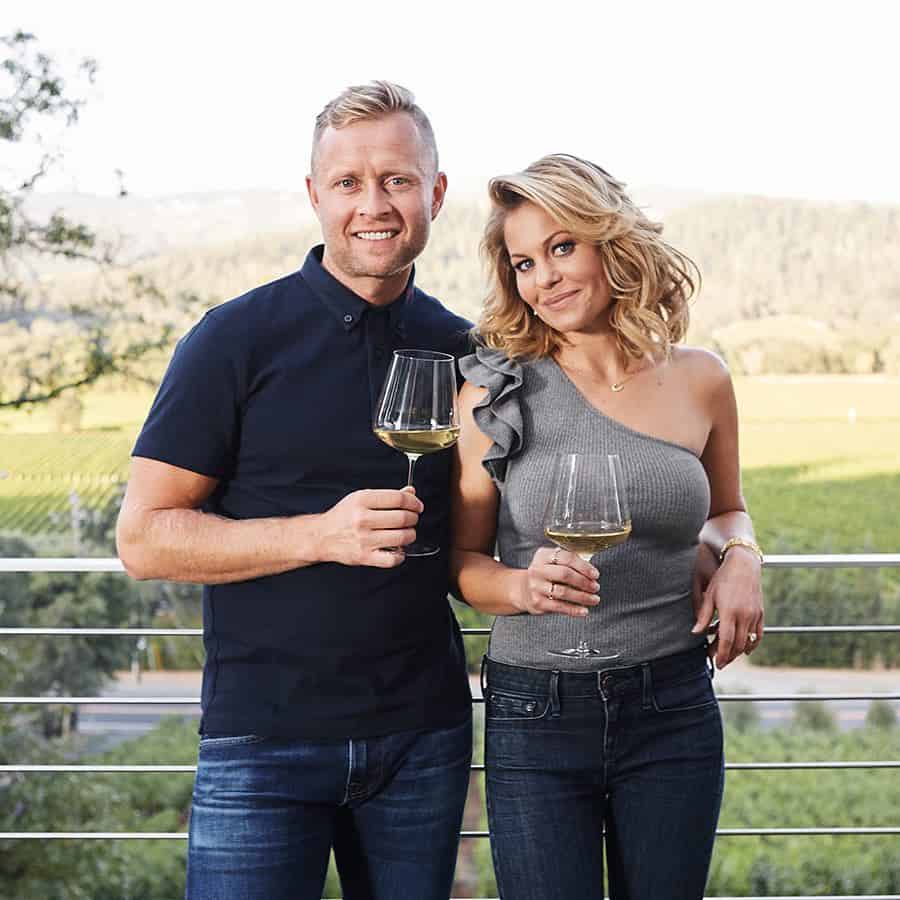 ---
Gray One Shoulder
This one wasn't seen in Switched for Christmas, but it was featured on Candace's Instagram. Candace poses with her husband for the Wine Spectator Magazine. She is sporting this feminine gray one shoulder top. Pair it with dark wash jeans or black pants, and you're ready for a great day or night out. Candace's exact top is sold out- "Rebecca Taylor One Shoulder Gray Ribbed Fitted Jersey Top" from Neiman Marcus. but you can get a similar style here!
Tune in! What is Switched for Christmas About? (Hint: Candace plays twins!)
Identical twins Kate and Chris Lockhart plot to be the other sister — at Kate's office and Chris' school. They take on planning their sister's Christmas events. One rule, though: no romance. Can the sisters pull off their big events? And what about no romance? Will their little game of deceit take two hearts with it?
Make sure to catch Candace, daughter Natasha (pictured above) and Happy the Dog in Switched for Christmas on the Hallmark Channel. It airs November 26th at 8pm EST.
Join the community for more style guides on Facebook!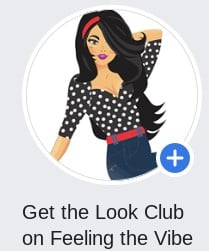 MORE OF CANDACE'S STYLE
Get the Looks 'If I Only Had Christmas' Starring Candace Cameron Bure on Hallmark's Clothing
Candace's Clothing from: Hallmark Channel's "A Shoe Addict's Christmas"
Candace Cameron's Accessories from: Hallmark Channel's "A Shoe Addict's Christmas"
Candace Cameron's Style for: Miracles of Christmas Special on the Hallmark Channel
Kari Highman is a Beauty and Fashion Blogger at Feeling the Vibe Magazine. Otterbein Alum (2017) – English & Psychology. Always learning & creating. Avid fan of mid 2000's TV & pop music. Comments or tips, email kari@feelingthevibe.com