Super sassy, always classy, and a whole lot of fun: that's the Chrisley's to-a-tee. The beautifully chaotic family is full of hilarity, charm and of course, hijinks – but what else do you know about Todd, Julie, Chase, Savannah, Grayson, Chloe, and Faye? Keep reading to find out more about your favorite family from Chrisley Knows Best!
TODD CHRISLEY
1. Full name? Michael Todd Chrisley.
2. He was born on April 6th, so he's an aries!
3. He was born in Georgia and raised in South Carolina.
4. He married his second wife, Julie in 1996. He was first married to Teresa Terry, who was his high school sweetheart.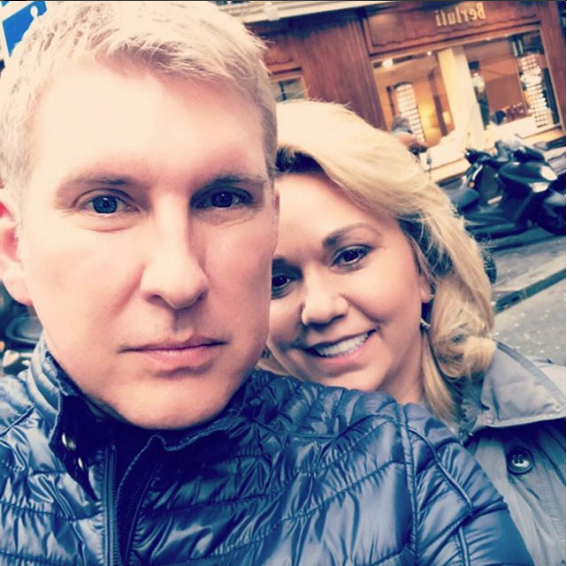 5. He has a net worth of 46 million.
6. He's often known for being a little bit of a micromanager. One of his more famous sayings? "Perfect is something you should strive to be."
7. He was in real estate and had his own company prior to becoming an entertainment personality.
8. He loves posting tweets on Instagram. Check out one below!
9. He's a fan of the inspirational quote. Check out one below!
Quit telling yourself, "It's too big. It's been this way too long and I can't take it anymore." You are well able. No weapon formed against you will prosper. That difficulty didn't come to stay; it came to pass.

— Joel Osteen (@JoelOsteen) June 5, 2020
10. He co-hosted E!'s Red Carpet Countdown 2 years in a row with his daughter, Savannah.
11. He likes supporting country music artists.
12. He's on Snapchat! Follow him @Todd.Chrisley.
JULIE CHRISLEY
13. Maiden name? Hughes.
14. Her father is a Baptist minister.
15. She was born in South Carolina, but raised in Georgia (coincidentally the opposite of her husband, Todd!)
16. She was a pageant girl.
17. She too, was married prior to wedding Todd.
18. She is a breast cancer survivor. She's been cancer free for 6 years.
19. She has an estimated net worth of 3 million.
20. She's 47 years old and is a Capricorn.
21. She has her own cooking website (thechrisleykitchen.com) and show (What's Cooking with Julie Chrisley).
CHASE CHRISLEY
22. He's 24. (His birthday is June 1, 1996).
23. He's a huge Grey's Anatomy fan. His favorite TV character of all time is Derek Shepard.
24. His perfect night? Ordering in food and watching Grey's.
25. He loves to make jabs at his father Todd Chrisley on social media.
Sometimes i wish i could mute my dad #ChrisleyKnowsBest

— Chase Chrisley (@ChrisleyChase) May 23, 2018
26. He is very close to his grandmother, Nanny Faye.
Nanny is my ride or die! #ChrisleyKnowsBest

— Chase Chrisley (@ChrisleyChase) May 16, 2018
27. Something he has in common with his dad? They both worry a lot.
28. He can bit a bit of a jokester or troublemaker, as seen with his hijinks on Chrisley Knows Best.
29. His heroes are his grandfather, Chipper Jones, and Jay-Z.
30. He can quote anything from the movie, The Best of Me.
31. The best advice he's ever received? "Don't sweat the small things."
SAVANNAH CHRISLEY
32. Savannah loves her family. Check out a couple fun Instagrams below!
33. She's a makeup fanatic. She loves doing a smokey eye and nude lip. Check out a beauty breakdown of her makeup below!
34. Some of her favorite skin care products are Dr. Nassif's MD line and Dr. Kay's Hydrating Serum.
35. She used to have long hair, but has been rocking the short angled bob since late 2014.
36. She loves food! Some of her favorites include: the Southern classic "Chicken and Waffles", chocolate lava cake and chips with salsa.
37. Her favorite emoji is the laughing face because she's always making a joke out of everything.
38. She believes in true love.
39. She's currently engaged to professional ice hockey player Nic Kerdiles.
Check out more fun facts about Savannah in this article!
GRAYSON CHRISLEY
40. He got his first phone when he was 4 years old.
41. He loves video games, so much so that he pitched an idea to his dad to do his own gaming channel on YouTube!
42. He does have his own Twitter account, which is run by his dad. Follow him @GraysonChrisley.
CHLOE CHRISLEY
43. Chloe is Todd's granddaughter. Her father is Todd's son, Kyle, who no longer appears on the show.
44. She's 7 years old. Chloe was born in 2012.
45. Todd and Julie actually have full custody of Chloe, since Kyle and Chloe's mother had some personal and legal issues.
46. She likes wearing headbands and bows in her hair.
FAYE CHRISLEY
47. She's 75 years old.
48. She loves to have fun! She's known for going out a lot to the casino on the show.
49. She's never afraid to say what's on her mind, no matter how blunt it may be.
50. She loves antiques and keepsakes.
---
Now you know some fun facts on America's favorite sassy Southern family! Be sure to check out the Season 8 premiere of Chrisley Knows Best this July at 10pm EST on USA Network.
Kari Highman is a Beauty and Fashion Blogger at Feeling the Vibe Magazine. Otterbein Alum (2017) – English & Psychology. Always learning & creating. Avid fan of mid 2000's TV & pop music. Comments or tips, email kari@feelingthevibe.com