FOX's Beat Shazam is back for an all-new season later this month. With the new season comes the return of host Jamie Foxx and his daughter, Corinne Foxx as the deejay. Fans have been eagerly awaiting the return of the show, and are curious to know who Corinne is. We have details on her for you below, including age, height, occupation, family, relationships, and more. Keep reading to learn more about Jamie's daughter Corinne Foxx.
---
10 Fun Facts About Corinne Foxx
1) She is 28 years old and is 5′ 7″. She has a birthday surrounding a love holiday. Her birthday is the day after Valentine's Day, February 15.
2) She attended Sierra Canyon High School and the University of Southern California.
3) As mentioned above, her father is famed actor and singer Jamie Foxx. Notable works of Jamie's include the WB sitcom The Jamie Foxx Show, and the biographical film Ray, for which he won an Academy, BAFTA and Golden Globe Award. You might remember Jamie's 2008 song "Blame It," which won a Grammy in 2010 – that's only one of many examples of his musical talent. Corinne certainly got some of her love of music from her father!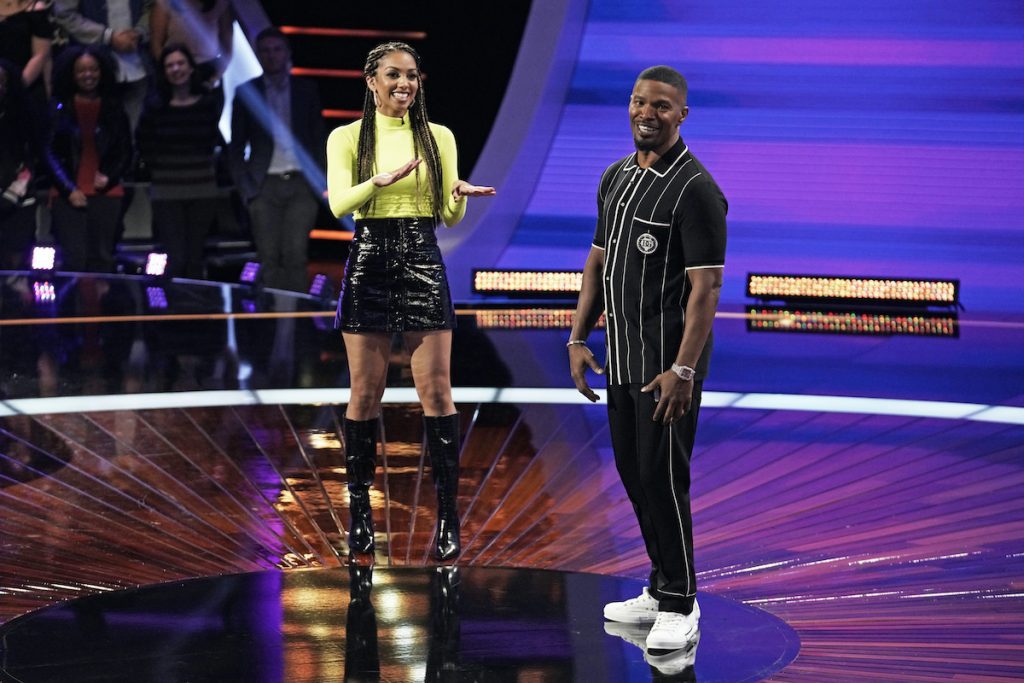 Corrine Foxx's Mom
4) Corinne's mother's name is Connie Kline. Connie is an Air Force veteran, and her daughter is very proud of that. "I could not be more honored to say that my mother served for the United States Air Force. She glows with pride and strength for her country & service. So proud of you Mama 🇺🇸 #veteransday," Corinne's post read.
Connie and Jamie dated for a while in 1993, and in 1994, Corinne was born. Nowadays, Connie works in the finance industry and keeps a low profile. You can see a Mother's Day 2021 photo featuring Connie alongside her daughters – Corinne is on the right, her sister Annalise is on the left.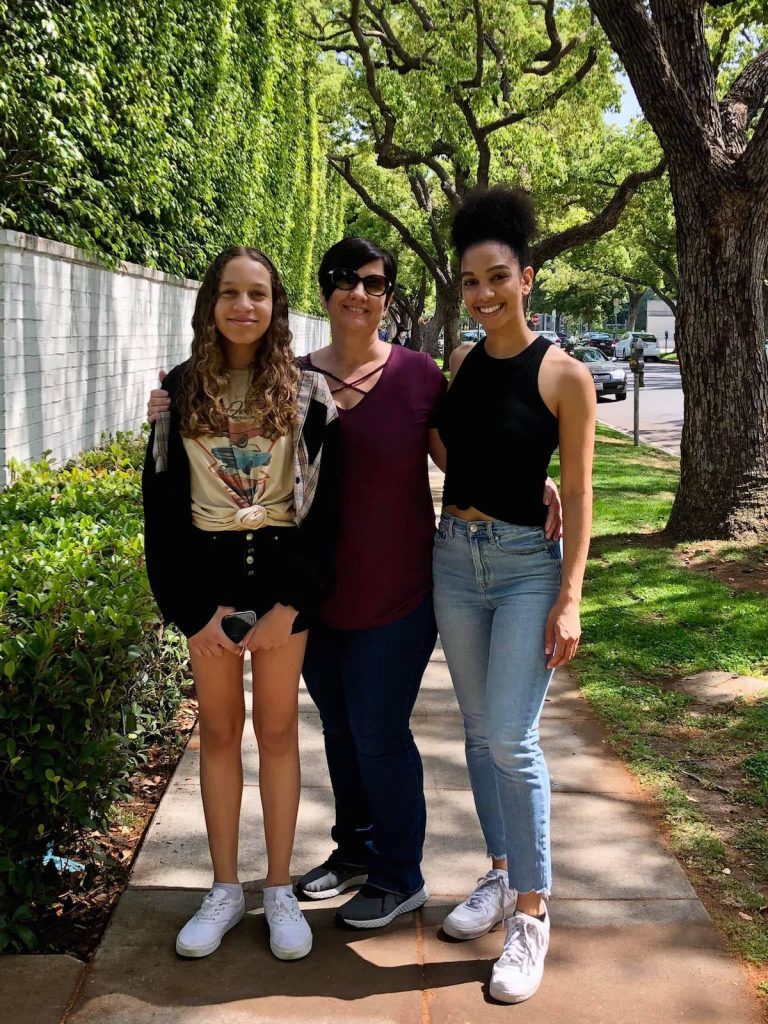 5) Aside from her deejay gig on Beat Shazam, Corinne is also a model. From working with Los Angeles photographers to posing for magazine cover stories, she's done it all.
6) Did we mention she's an actress too? Most recently, Corinne can be seen on season 2 of Hulu's hit show DollFace. Her character's name is Ruby, who apparently has a wardrobe worth stealing. "Officially stealing Ruby's wardrobe @dollfaceonhulu ❤️," Corinne joked on Instagram. See the selfie from her trailer below!
7) As if her resumé wasn't impressive enough, Corinne co-hosts a podcast with her good friend, Natalie McMillan. The podcast is titled Am I Doing This Right? where the duo discuss different topics of young adulthood each week. From taxes to buying your first home, the friends make these subjects easy to understand as they "cheers to the uncertainty of adulthood" – literally. A drink or two and they're all in, asking questions every young person wants to know. They don't have it all figured out either, which is what makes it relatable. You can listen wherever podcasts are available for download.
8) She's very active in important partnerships. From working with Chanel's Through Her Lens: The Tribeca Women's Filmmaker Program to being an ambassador for NAMI (National Alliance on Mental Illness), Corinne knows how much of an impact she has. So, she chooses to post about crucial issues like health and women empowerment.
9) It appears that she has been dating a guy named Joe Hooten, starting in 2019. The duo have been seen at the beach, swimming, riding horses, and enjoying the great outdoors together, all documented on Instagram. In the Instagram photo, the couple is seen gazing at one another on the at Indian Rocks Beach in Florida. See some of the photos below.
"Spent the weekend with a couple of studs 💕🐴," she wrote on Instagram.
In April 2021, Corinne spent time in Miami with her family, and Joe was along for the vacation too. That's the last post he's seen in, so it's unclear if they've simply gone more private, or if they called it quits sometime between then and now.
10) Between her Instagram and Twitter social media accounts, Corinne has over 524K followers. For a 28 year old, that's impressive!
Catch Corinne Foxx on Season 5 of Beat Shazam, premiering May 23 at 9/8c only on FOX.
---
RELATED ENTERTAINMENT NEWS
FOX Airing Beat Shazam Episode Tonight "Playing for the Million Again"
Cassadee Pope vs. Jana Kramer & Mel B. vs. Tituss Burgess on FOX's 'Name That Tune' – See Photos!
Shaggy, Margaret Cho, and Rachael Harris Appear on FOX's 'I Can See Your Voice' – See Photos!
Kari Highman is a Beauty and Fashion Blogger at Feeling the Vibe Magazine. Otterbein Alum (2017) – English & Psychology. Always learning & creating. Avid fan of mid 2000's TV & pop music. Comments or tips, email kari@feelingthevibe.com