I recently had the opportunity to test out Skin Laboratories neuLASH enhancing serum and neuHAIR enhancing formula. These two products are designed to get you your very best lashes and most luxe hair. I used each product every night (as instructed) for a week, and here's what I have to say about them. Below are photographic results (aka: before and after pictures), what I like or dislike about the products, and specific details on each.
Note: I have medium-thick hair to begin with, as well as relatively long eyelashes, so you may see a more dramatic change if you have finer hair or shorter lashes.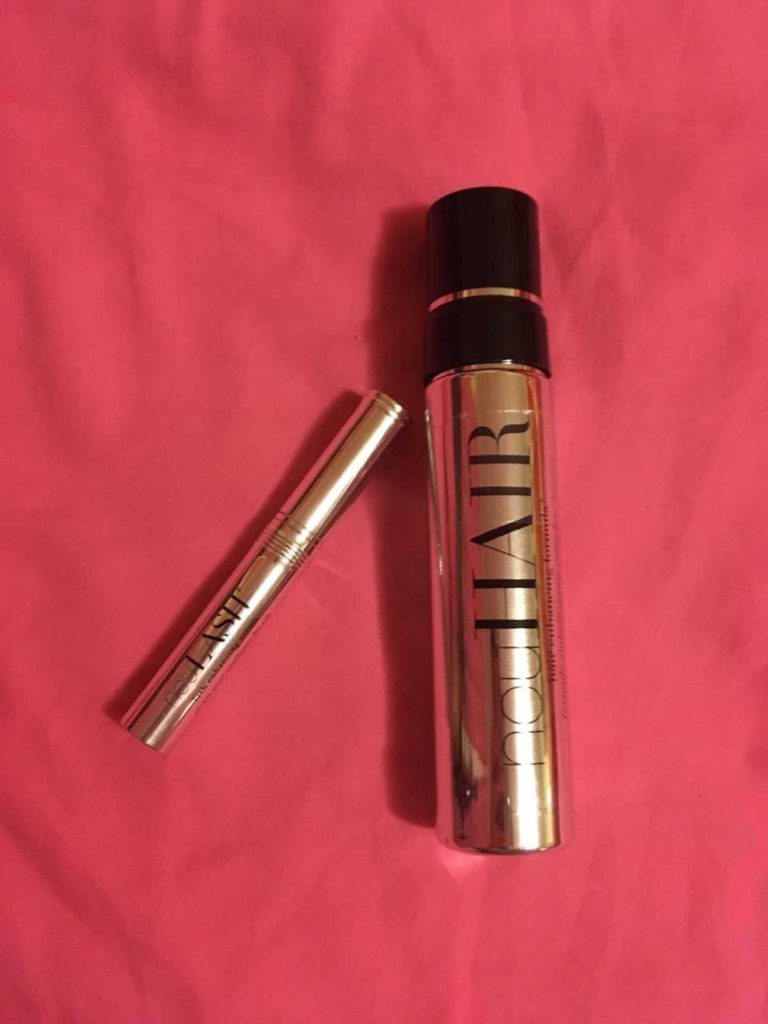 ---
I'll admit, I'm not big on change, so trying new things (even if they are fun beauty products!) is not something I'm always a fan of. But, I was pleasantly surprised when I applied the products on the first night.
I was so glad that there were no side effects for the lash serum (no redness or irritation), which was great since my eyes can be sensitive at times.
At first when I looked at the hair formula, I thought it was going to be a mousse-like consistency (insert 80's gel-like hairdos here – that's the result I thought I'd get) – but I was amazed to find a light, almost bubbly texture. It was so light it practically absorbed right into my scalp and hair before I could really work it in!
It Worked for My Long Hair
Even after a few minutes I could already see results in my hair. While I have a lot of hair, I also have very long hair, which can make it difficult to hold volume (due to all that weight). My roots were lifted and actually stayed that way into the next morning.
The Best Part..
No crispy or crunchy feeling that you can sometimes get with foams. I was so impressed I decided to try some in my dry hair the next day (it can be used on towel-dried or styled hair). Even with second day hair, the foam helped to give my roots some lift, which really helped me as I tend to switch up my parting a lot.
Boy Was I Wrong! (In a Good Way..)
For the lash serum, since I already have pretty long lashes, I didn't know if I would see tangible results, but boy was I wrong! See, since I wear glasses, often times my lashes will hit against the frames (even if I curl them). The lash serum helped to lift my lashes, and helped them to actually hold that curled effect with or without mascara. I also noticed an improvement in the look of my lashes – they looked more separated and glossier, more conditioned if you will. The only thing I will say is that the product can come off the wand a little bit quickly, so you'll have to just do one swipe down the base of your lashes before it sets in place.
My Final Thoughts
Nevertheless, for both the lash serum and the hair foam, the gold and black packaging was a major plus for me – I love sleek typography and am a sucker for luxe-looking products! All in all, I would definitely recommend trying out these products if you want to give your hair and lashes a boost!
Scroll through the gallery below to see my 'before and after' results!
NeuLash Before & After Results
Before

After
NeuHair Before & After Results
Before

After
---
Get NeuHair & NeuLash For Yourself!
If you want to try out the neuLASH Serum and/or neuHAIR Formula, they are available for purchase on Amazon and Nordstrom – click the product names above to buy!
MORE ON BEAUTY
Beauty Secrets of Vanderpump Rules Stars Ariana Madix and Stassi Schroeder
Get Glowing Skin and Have Fun with your Makeup – Trends Inside!
Learn How To Get Chloe Lukasiak's Mermaid Hair – Details Inside!
Kari Highman is a Beauty and Fashion Blogger at Feeling the Vibe Magazine. Otterbein Alum (2017) – English & Psychology. Always learning & creating. Avid fan of mid 2000's TV & pop music. Comments or tips, email kari@feelingthevibe.com