These famous high school friends reunited!
Nearly 30 years in the making and the gang is back together again.
Mario Lopez who played A.C. Slater was one of the first to share the photo from dinner on Saturday night. "Friends Forever…" read the caption.
Big fans of Saved by the Bell will instantly know that is a nod to Zack Attack's infamous song from the 90's hit show.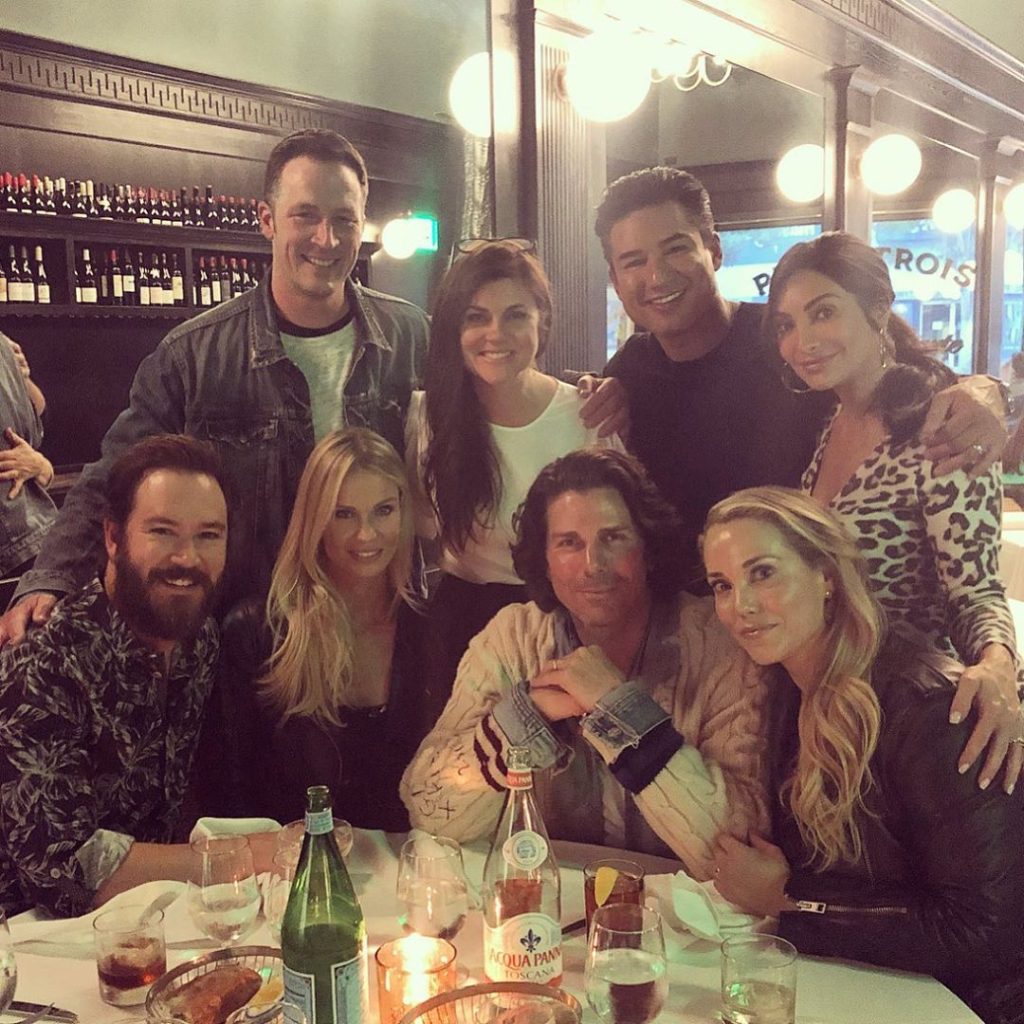 In the photo above you will see four original members of "Saved By The Bell," Mark Paul Gosselaar (Zack), Tiffani Thiessen (Kelly), Mario Lopez (A.C. Slater), and Elizabeth Berkley (Jessie Spano) along with their spouses.
Mark Paul is almost unrecognizable in his bushy brown beard, far from the Zack Morris blonde locks he used to don.
Where Did they Go to Dinner?
The gang dined at the posh Petit Trois Le Valley French restaurant in Sherman Oaks, California.
Mario Lopez commented on his former TV-girlfriend Elizabeth Berkley's Instagram post following the dinner referring to what we believe is an inside joke from the night.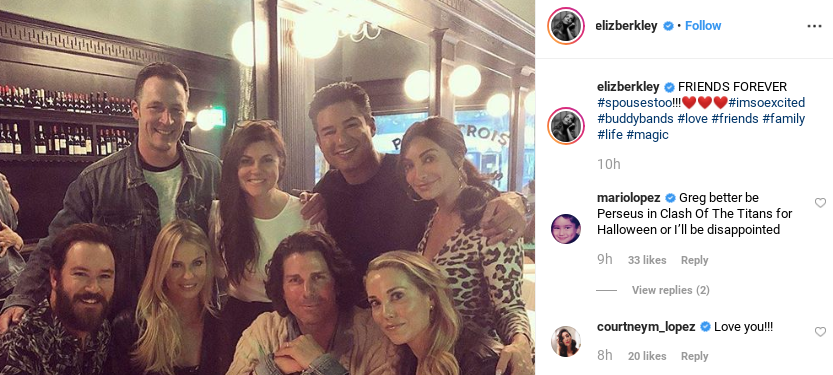 "Gregg better be Perseus in Clash of the Titans for Halloween or I'll be disappointed," said Lopez referring to Elizabeth's husband Greg Lauren who is the nephew of famous designer Ralph Lauren.
In a short video from the night, Mario Lopez (Extra Host) shared how they all ate so much food because everything was so good. He ended by saying "now it's time to play credit card roulette to see who's going to pay."
Who Are the 'Saved By The Bell' Spouses?
We are sure you're wondering who ended up marrying Zack, Kelly, Slater, and Jessie. Here is a quick rundown:
Mario Lopez is married to former Broadway performer Courtney Mazza, 36. The couple have two children with a third on the way.
Mark Paul Gosselaar is on his second marriage to advertising executive, Catriona McGinn since 2011. The couple have two children together. Mark Paul has two children from his previous marriage.
Tiffani Thiessen is married to actor Brady Smith from 2005. They have two children together, a daughter Harper and son Holt.
Elizabeth Berkley is married to artist Greg Lauren, nephew of Ralph Lauren since 2003. The pair had a son Sky Cole in 2012.
There has been talk of a 'Saved by the Bell' reboot and we hope it gets picked up! Keep checking back for updates on that.
MORE ON SAVED BY THE BELL CAST
Mark Paul Gosselaar Had First Kiss on "Saved by the Bell" Reveals Peter Engel
Mario Lopez and Wife Courtney Announce They Are Pregnant with Baby #3
Mario Lopez Suffers Injury on July 4th Courtney Rose is an Entertainment Writer at Feeling the Vibe Magazine based in New York. Pop culture and rom-com obsessed. Studied Journalism and is up to date on all the latest entertainment news. For tips or comments, email me at Courtney@feelingthevibe.com