Amazing news for Hallmark Channel and Fuller House fans! Lori Loughlin, Candace Cameron Bure and Andrea Barber are all reuniting for the Great American Family Channel.
Big things coming for this group. Candace Cameron Bure departed from the Hallmark Channel and is now exclusively with GAC. Just this past week, her first holiday movie was announced for the network. She is not only starring in "A Christmas…Present," but she is also listed as the executive producer through her production company Candy Rock Entertainment.
---
Andrea Barber Stars in Candace Cameron Produced Christmas Movie
Where does Andrea come into this? Well, she won't be part of Candace's movie, "A Christmas…Present," but she will be starring in a movie of her own. Candace is thrilled to work with her long time friend for "Christmas on Candy Cane Lane," so-starring Dan Payne.
Bure spoke highly of Andrea and what fans can expect in the upcoming project. "Having a 30-year bestie friendship both on and off camera has allowed me to find the perfect project to introduce the Christmas genre audience to her brilliant comedic skills, her heartwarming authenticity and vulnerability that is a rare gem today. Just as I have, audiences will fall in love with Andrea's warmth and relatability, and chuckle along with her all the way down Candy Cane Lane," said Candace Cameron Bure.
[Read also: Andrea Barber Talks 'Fuller House' Ending and Her Love of NKOTB in Exclusive Feeling the Vibe Interview ]
---
Will Lori Loughin Be Part of GAC?
Yes, it sure looks like she will be joining the Great American Family. Lori was forced to take a hiatus from the entertainment world in 2021. Her last credits were from the Hallmark Channel show, When Calls the Heart where she starred as Abigail Stanton. We are happy to see her back on the scene! The official news hasn't been revealed yet, but we are speculating that Lori could be cast in another Christmas movie for the Great American Family Christmas 2022 lineup.
GAC actor, Cameron Mathison also hinted at this by saying, "Great photoshoot with these awesome people to promote our Christmas movies coming soooooon!"
All actors got such positive remarks in the comments. The fans have spoken and they want more!
Another popular Hallmark Channel star, Jen Lilley jokingly stood in as "Michelle" in a recent Instagram post with the Full House stars. She also teased that "big things are coming to GAC." "Just call me Michelle. 💁‍♀️Great things coming for @gactv"
Andrea Barber commented, "You were a perfect Michelle! 😂 Thanks so much for all the advice! 😘"
---
Debbie Matenopoulos Made an Appearance
Home & Family co-hosts Cameron Mathison and Debbie Matenopoulos made an appearance at the photo shoot for GAC as well. In a selfie taken by Cameron, you spot Dan Payne (Christmas on Candy Cane Lane), Andrea Barber, Jen Lilley, Lori Loughlin and Debbie Mantenopoulos (Home & Family).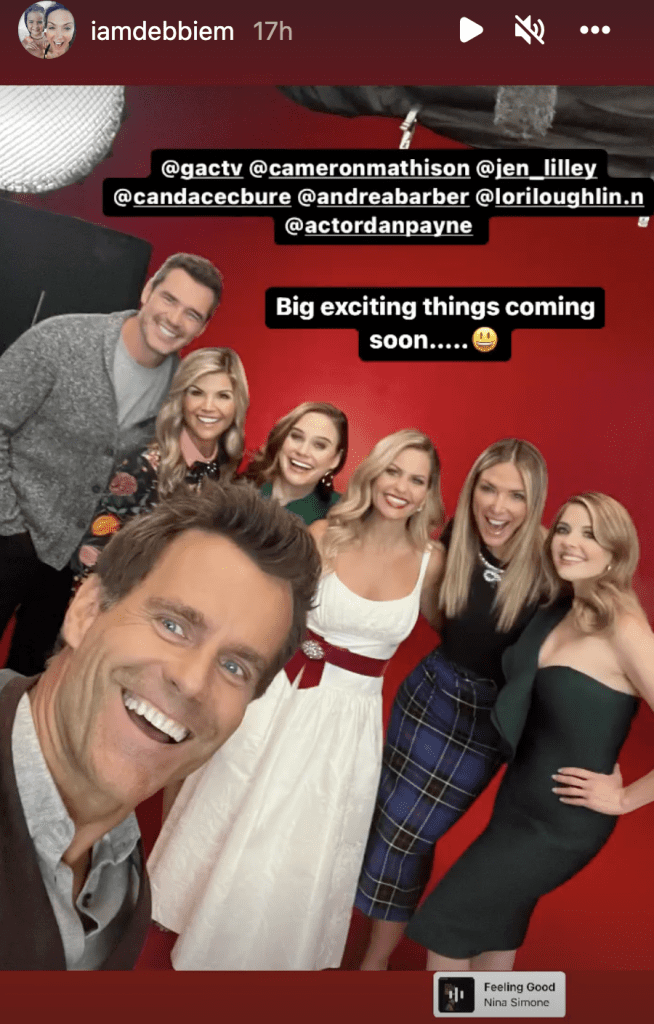 Mathison will be co-starring in an upcoming GAC Christmas movie called "The Christmas Farm" alongside actress, Jill Wagner.
Mathison posted this behind the scenes photo from the shoot as well to his Instagram. He clued fans in on what's going on by saying, "Great American Christmas is coming!!!
Great photoshoot with these awesome people to promote our Christmas movies coming soooooon!🎅🏼🎄🎉
Lots of Great American Family stars couldn't make the photoshoot… but you'll definitely hear about their movies😃"
Keep checking back to Feeling the Vibe for all updates on Great American Christmas 2022!
---
Related
'A Christmas…Present' Will Be Candace Cameron Bure's First Movie For Great American Christmas 2022
'Christmas on Candy Cane Lane' on Great American Family Starring Andrea Barber – Cast, Plot & Details
The Great American Christmas Lineup 2022 on Great American Family Courtney Rose is an Entertainment Writer at Feeling the Vibe Magazine based in New York. Pop culture and rom-com obsessed. Studied Journalism and is up to date on all the latest entertainment news. For tips or comments, email me at Courtney@feelingthevibe.com