Celebrity Family Feud is back with an all-new season. Last week's premiere saw Rob Lowe face off against Terrence Howard. In the second episode, fans will see four different teams full of various celebrities. Donald Faison takes on Neil Flynn, then Wendi McLendon-Covey goes up against Patrick Warburton. Each team is playing for a charity of their choice. Get more details on the episode below, including photos.
Meet the Teams on Celebrity Family Feud
As mentioned above, there are four teams, paired up to face off against each other. In the first game, a team led by Donald Faison and Zach Braff take on Neil Flynn's improv team. The second game features Wendi McClendon-Covey's team of family and podcast co-host that go head-to-head with Patrick Warburton's family team.
Team Fake Doctors; Real Friends; playing for Stop AAPI Hate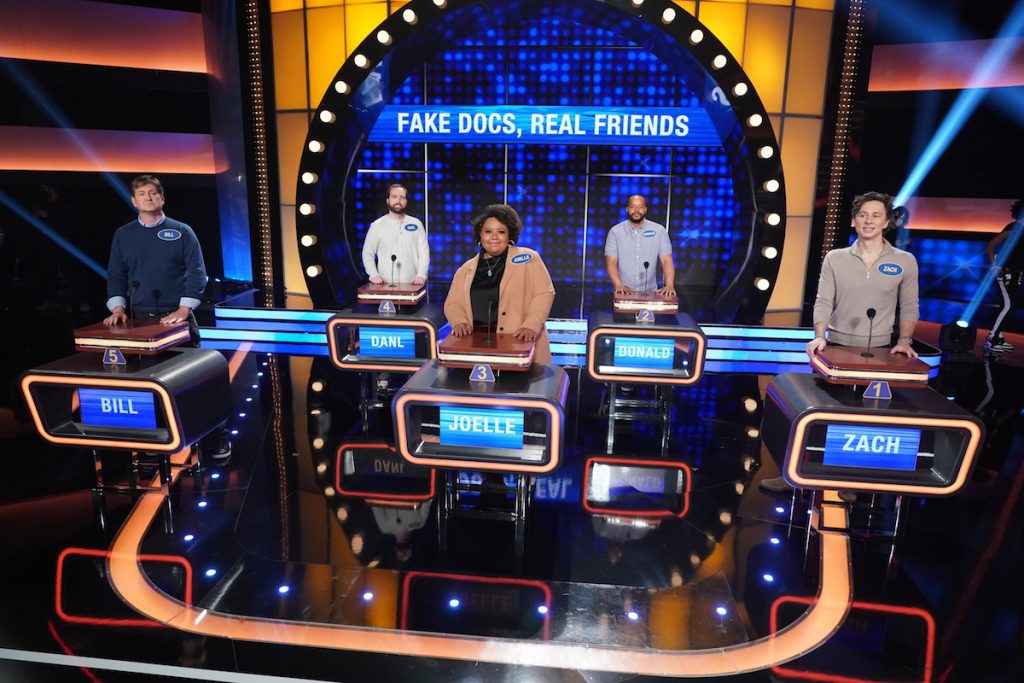 This team consists of:
Zach Braff
Donald Faison
Joelle Monique
Danl Goodman
Bill Lawrence
Zach Braff and Donald Faison co-starred on the hit NBC/ABC series Scrubs, which ran from 2001-2010. They are playing alongside their podcast producers Joelle Monique and Danl Goodman. If you didn't already know, the Scrubs stars do a podcast called Fake Doctors, Real Friends, which is where their team name comes from. Rounding out their team is the creator of Scrubs, Bill Lawrence.
Team Beer Shark Mice; playing for St. Jude's Children's Research Hospital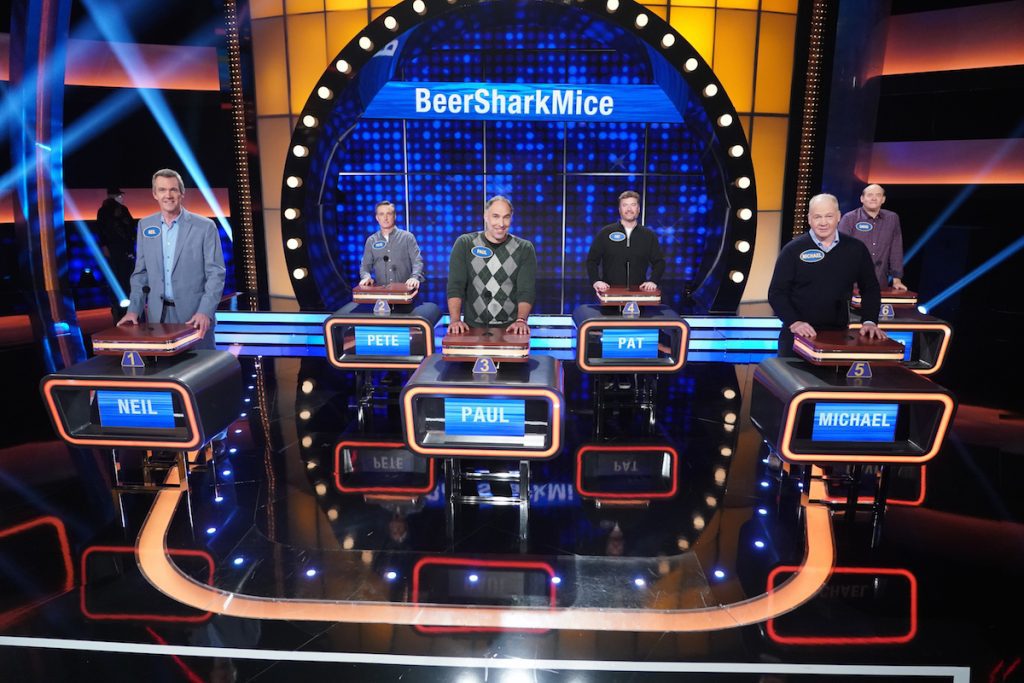 This team consists of:
Neil Flynn
Peter Hulne
Paul Vaillancourt
Pat Finn
Michael Coleman
David Koechner
David Koechner, Peter Hulne, Pat Finn, Mike Coleman, Neil Flynn and Paul Vaillancourt are all a part of the long form improvisational group called Beer Shark Mice (hence their team name). You may also know Neil from his role on Scrubs; you can see him reunite with Zach and Donald in one of the photos below. In the meantime, check out a few from Pat's IG page here:
Team Generation Ripe; playing for Foster Nation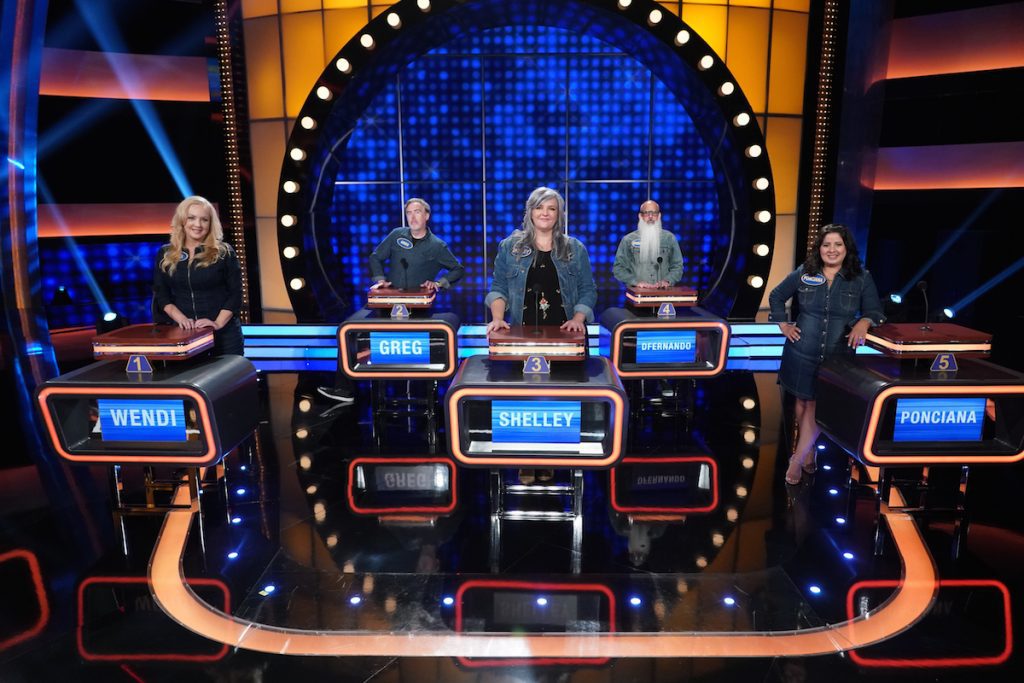 This team consists of:
Wendi McLendon-Covey
Greg Covey
Shelley McLendon
Ponciana Badia
Dfernando Zaremba
Wendi McLendon-Covey is an actress and producer. Her work is mostly in stand-up comedy or improv, but she's also well-known for her role as matriarch Beverly Goldberg in the ABC series, The Goldbergs. She's playing alongside her husband Greg Covey, her sister Shelley McLendon, best friend Ponciana Badia, and podcast co-host Dfernando Zaremba. Wendi's podcast with Dfernando is called Generation Ripe (again, reference to the team name)!
She recently retweeted this Celebrity Family Feud tweet, which reads: "It's a match up made for laughs. Team @wendimclendonco faces off with Team @paddywarbucks this Sunday! #CelebrityFamilyFeud"
Team Patrick Warburton; playing for St. Jude's Children's Research Hospital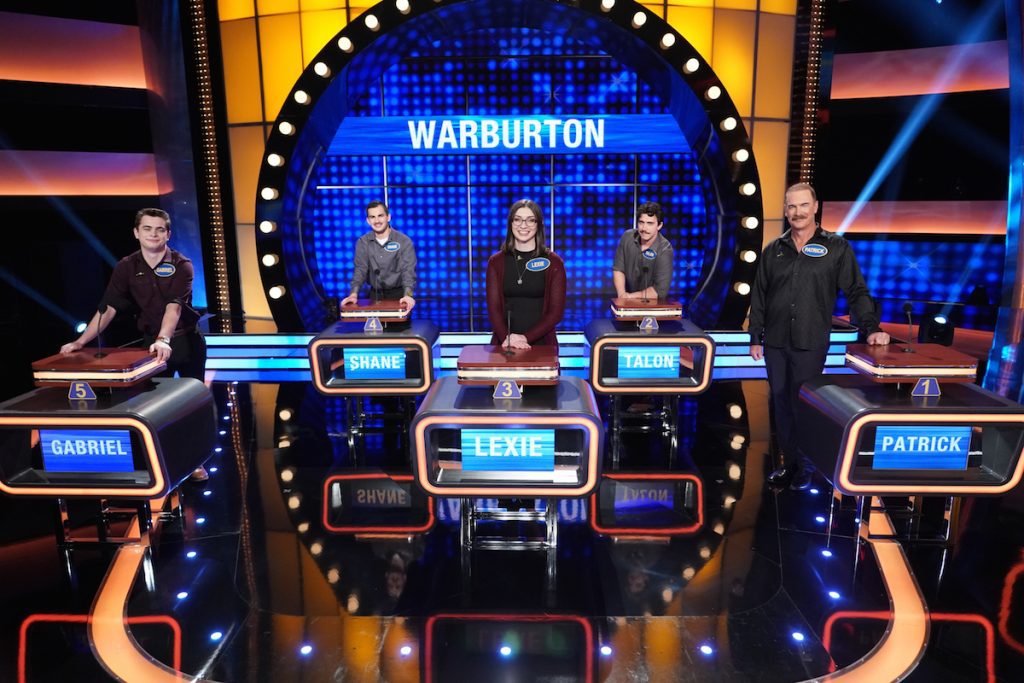 This team consists of:
Patrick Warburton
Talon Warburton
Lexie Warburton
Shane Warburton
Gabriel Warburton
Actor Patrick Warburton is playing the game with his kids. The episode will feature his sons, Talon, Shane, and Gabriel, as well as his daughter, Lexie. Even though Lexie didn't get bitten by the acting bug, Talon did! He's currently working with SBV Talent as a voiceover actor. Their dad is best known for his roles on Seinfeld, Less Than Perfect, and a variety of ads for National Car Rental.
Celebrity Family Feud Photos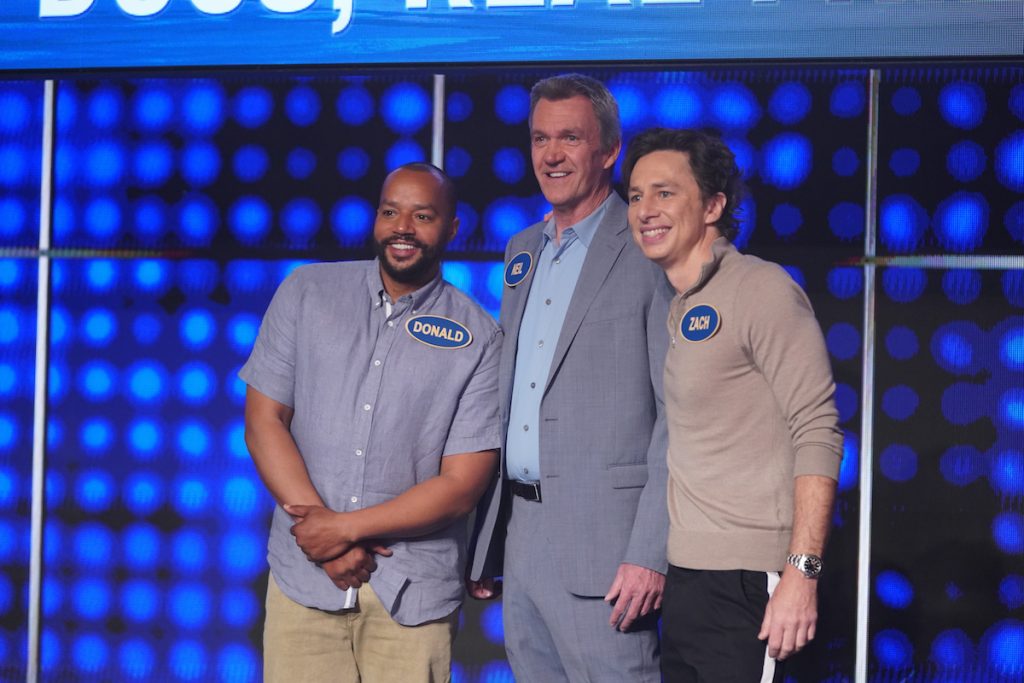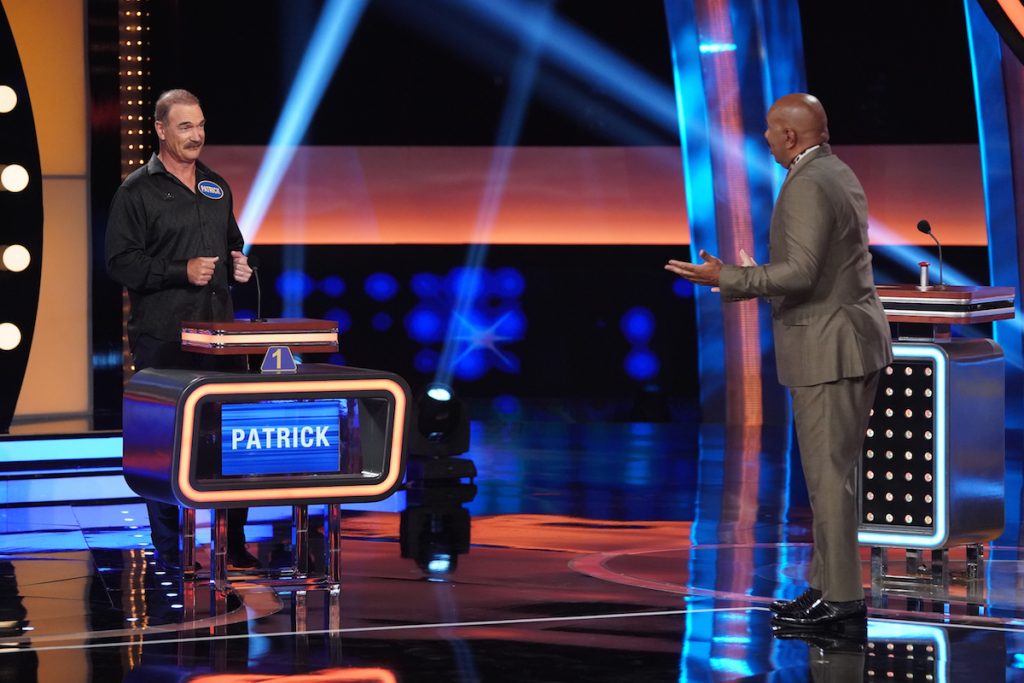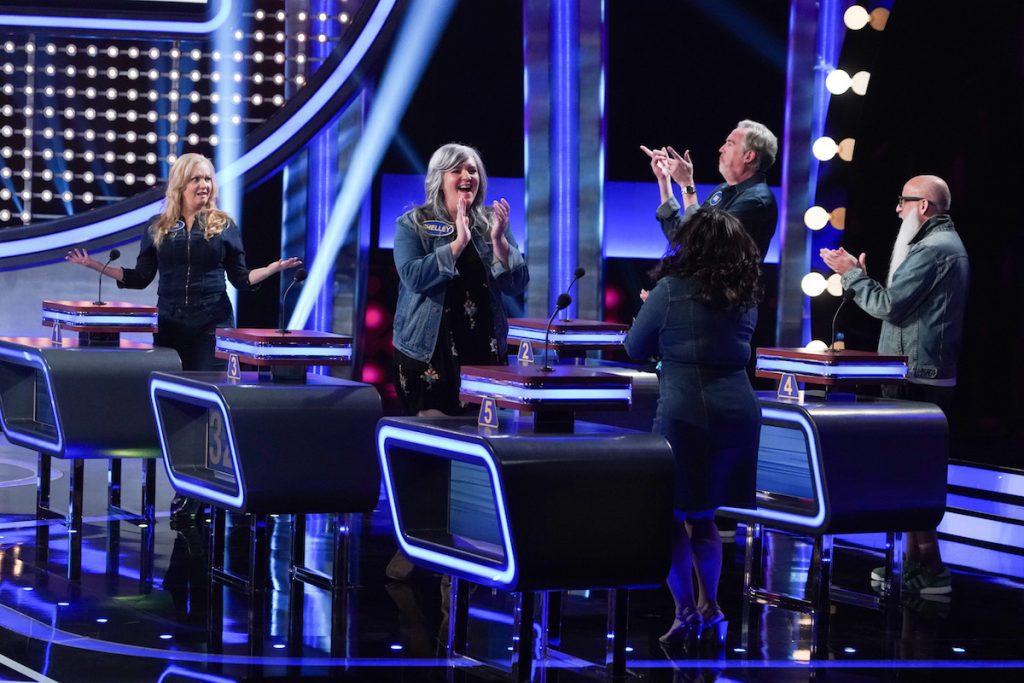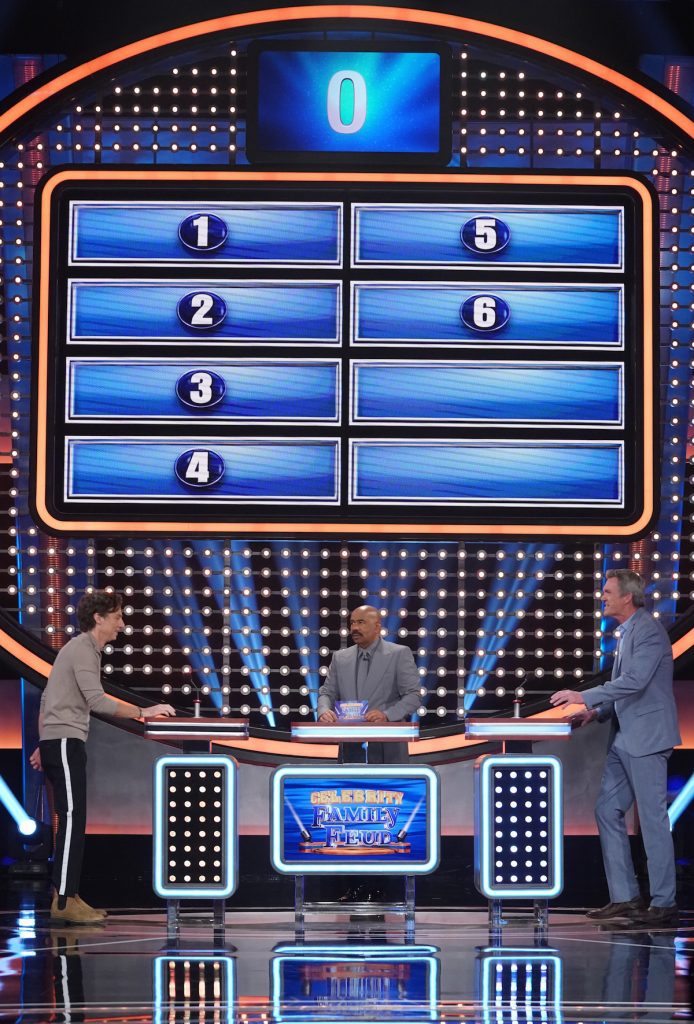 Tune into Celebrity Family Feud to see their teams compete on June 13 at 8 PM ET, only on ABC.
---
MORE CELEBRITY FAMILY FEUD NEWS
Team Rob Lowe vs. Team Terrence Howard on Celebrity Family Feud 2021 – See Pics!
Who is Going to Be On Celebrity Family Feud for the 2021 Season?
To Tell the Truth, Celebrity Family Feud Get 2021 Summer Premiere Dates on ABC
Kari Highman is a Beauty and Fashion Blogger at Feeling the Vibe Magazine. Otterbein Alum (2017) – English & Psychology. Always learning & creating. Avid fan of mid 2000's TV & pop music. Comments or tips, email kari@feelingthevibe.com