Aly Michalka & Chad Michael Murray star in the new Hallmark film Sand Dollar Cove, and they recently revealed more about filming, their favorite scenes, and more. The movie centers around their characters, Elli and Brody, who after a chance meeting, start to spend more time together. Elli's (Aly Michalka) a real estate developer looking into property in Sand Dollar Cove, but falls for the property owner, Brody (Chad Michael Murray), in the process. Find out more about their time working on the movie together below.
Aly Michalka reveals why she was so excited to film on location for Sand Dollar Cove
This is Aly Michalka's first Hallmark Channel original movie, and she told Black Hills Pioneer part of the reason she decided to do it was that it was "just perfect timing" for her schedule. She also had a connection to their filming location in Connecticut: "And honestly, I was really excited to shoot in Mystic [Connecticut]. I knew the little town because I had been there for a wedding years earlier."
Even though Aly's familiar with the town in real life, her character of Elli is very much a city girl. Described as a workaholic, she's driven to develop this property on the beach in Sand Dollar Cove. But, that begins to change when she meets Brody, played by Chad Michael Murray. Elli is surprised to find herself falling in love with the quaint little town, and possibly Brody too.
Chad Michael Murray talks about their pawsome co-star & why they were so impressed by the movie's dog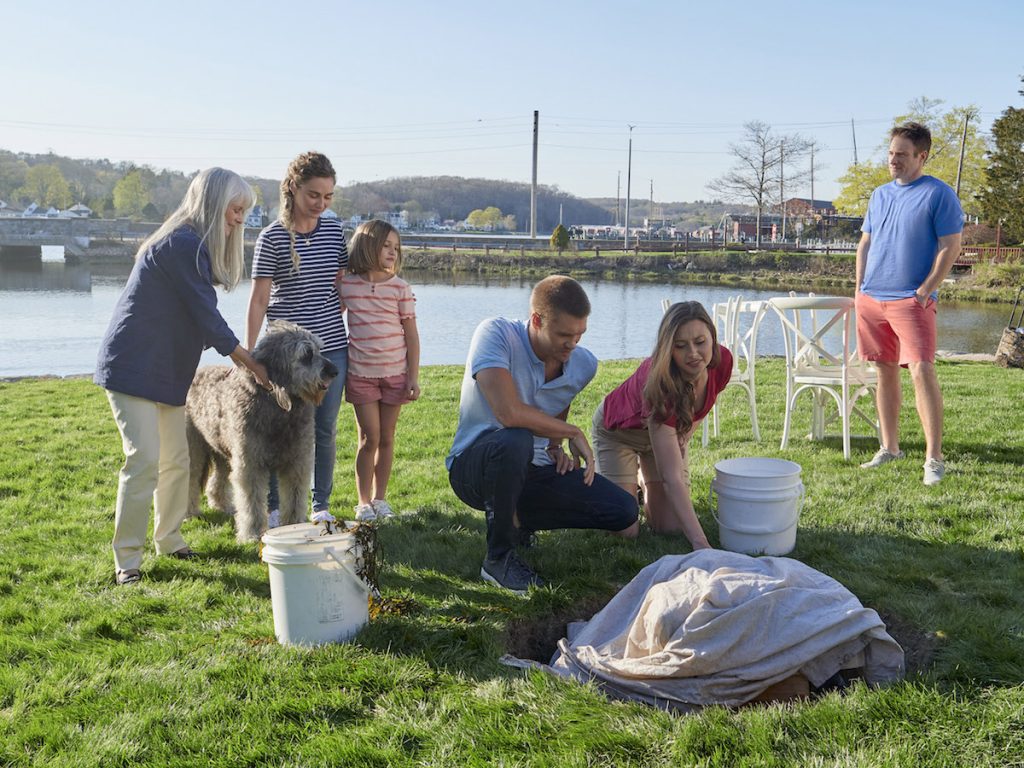 Chad Michael Murray's a TV vet. After years on One Tree Hill and a more recent stint on Riverdale, he's no stranger to the land of television. One thing that was unique about this experience? The adorable co-star: a dog! He told BH Pioneer: "He was a rock star. I've never seen [an acting pet] that was so very smart."
Aly added: "The dog in the movie was amazing. He was our favorite cast member. He was the best-behaved on-set dog ever." Another cast member they loved working with? Lily Jane Chachula (also known as LJ), who played the little girl named Millie in the movie.
Some of their favorite scenes were with both Lily and the onscreen dog. Chad said "LJ's an incredibly, incredibly talented young girl" and she brought "such a light, wonderful energy to the set."
Aly agreed, saying that she enjoyed filming with "the dog and the little girl who played Millie…we just adored the two of them." Any scene, from the clambake to the sandcastles, if the dog and LJ were in it, Aly and Chad were happy about it. She told the newspaper that "[they] brought out I think really good performances from everybody else because they were so, so down."
Any other details to know?
At the heart of the film, there's romantic love, sure. But, it's also about community, and platonic or familial love. Elli not only enjoys Brody's company, but really takes to spending time with his family. As she and Brody grow closer, she's also welcomed into the town's open arms. Speaking of the people, rounding out the cast is Nashville's Clare Bowen and Condor's Glynnis O'Connor.
If you're familiar with Aly's career, then you know she's a singer along with being an actress. She's been a part of a musical duo with her sister AJ Michalka: first as Aly & AJ, then briefly 78violet, before going back to their namesake. So, while it's not a for sure thing, if you go by the movie's preview, perhaps we'll get a bit of music from her character. Brody invites Elli on stage in the trailer, and you can see a band behind him. Check it out below:
Catch the premiere of Sand Dollar Cove on June 26 at 9/8 c, only on Hallmark Channel.
---
MORE HALLMARK CHANNEL NEWS
Hallmark 'Christmas in July' 2021: See Full Lineup + Details on New Movie!
Get the Looks from 3 New Hallmark Channel Movies
One Perfect Wedding: Taylor Cole Stars in 2021 Hallmark Movie
Kari Highman is a Beauty and Fashion Blogger at Feeling the Vibe Magazine. Otterbein Alum (2017) – English & Psychology. Always learning & creating. Avid fan of mid 2000's TV & pop music. Comments or tips, email kari@feelingthevibe.com