After the news broke of her split from husband, Jay Cutler – Kristin has been keeping busy with her kids, rumored new boyfriend, Jeff Dye and spending time in the gym. In a new video posted to Instagram, Kristin revealed the secret to her super toned legs!
What Kind of Exercise Does She Do?
Towards the end of her workout, Kristin got down on her exercise mat on all fours for some leg exercises. She writes:
Straight Leg 10
Bent Knee 20
Straight Leg 10
Bent Knee 10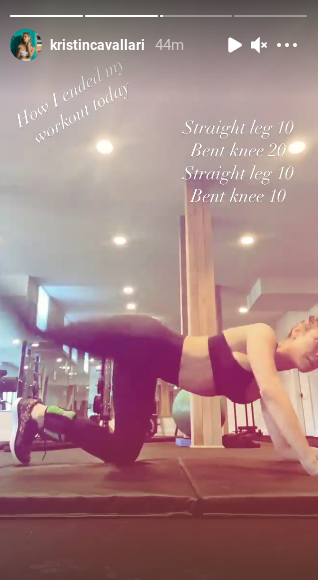 After that, she continues on all fours with 15 crosses with her knee bent and 12 side leg lifts.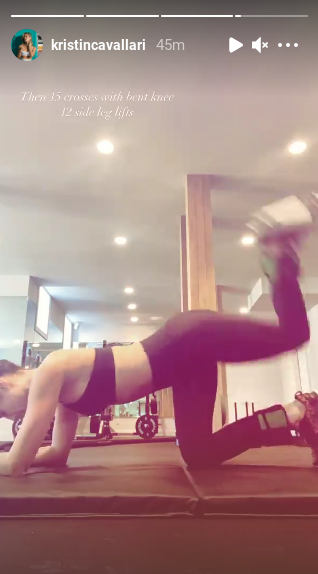 ---
---
What is Kristin's Diet Like?
Exercise isn't the only way Kristin keeps herself in shape. Kristin spoke exclusively to Delish and revealed she doesn't eat gluten-free. However, she did eliminate wheat from her diet. "They've been shown to spike blood sugar levels faster than some candy bars," she said.
What if she gets hungry for a snack? She will indulge in a blueberry cashew bar. Here is a recipe for one you can whip up in the kitchen!
For lunch, Kristin opts for a cup of soup. Instead of using heavy cream to make hers, she substitutes it with cashews in water. Try this Cashew Cream of Mushroom Soup recipe to get a taste of this substitute!
---
Workouts with Justin Anderson
Kristin and her BFF Justin Anderson hang out a lot together and even hit the gym side by side! She posted a sped up video of the two working out. They are seen doing floor exercises, using weights, using the exercise ball, and resistance bands around the legs.
"Nothing better than getting sweaty with @risemovement and @justinanderson," Kristin writes.
Even though Kristin is super disciplined with her workout schedule, doesn't mean she doesn't indulge once in a while in a glass of tasty red wine. "Looks like I'm celebrating," she wrote.
How Does Kristin Get Her Toned Arms?
We already went over how Kristin gets her super toned legs! She also reveals what she does to obtain a strong and toned upper body. Who remembers the pull up/chin bar? "Been getting photo shoot ready for the spring/summer @uncommonjames campaign tomorrow and Wednesday. This was the very end of an hour long workout exhausting my arms so I'm struggling a bit," Kristin said.
Can't get to a gym? Get a chin up bar for your home! Courtney Rose is an Entertainment Writer at Feeling the Vibe Magazine based in New York. Pop culture and rom-com obsessed. Studied Journalism and is up to date on all the latest entertainment news. For tips or comments, email me at Courtney@feelingthevibe.com