It's that time of year: Hallmark Channel is rolling out all-new original holiday films as part of their annual "Countdown to Christmas" event. One such film is We Wish You a Married Christmas starring Marisol Nichols and Kristoffer Polaha.
The movie follows married couple Becca (Nichols) and Robby (Polaha) who are having a hard time connecting over the holidays. When they go on a weekend getaway to Vermont, their trip ends up being unexpectedly extended due to car trouble. So, the two decide to take part in the festivities, where they rediscover their holiday spirit and remember what drew them together in the first place.
Great plot and amazing cast aside, another major draw of Hallmark movies are the festive fashions! With winter coming soon, it's the perfect time to restock your wardrobe with warm and cozy items. Shop the looks (including affordable dupes!) from We Wish You a Married Christmas below.
---
Classically Chic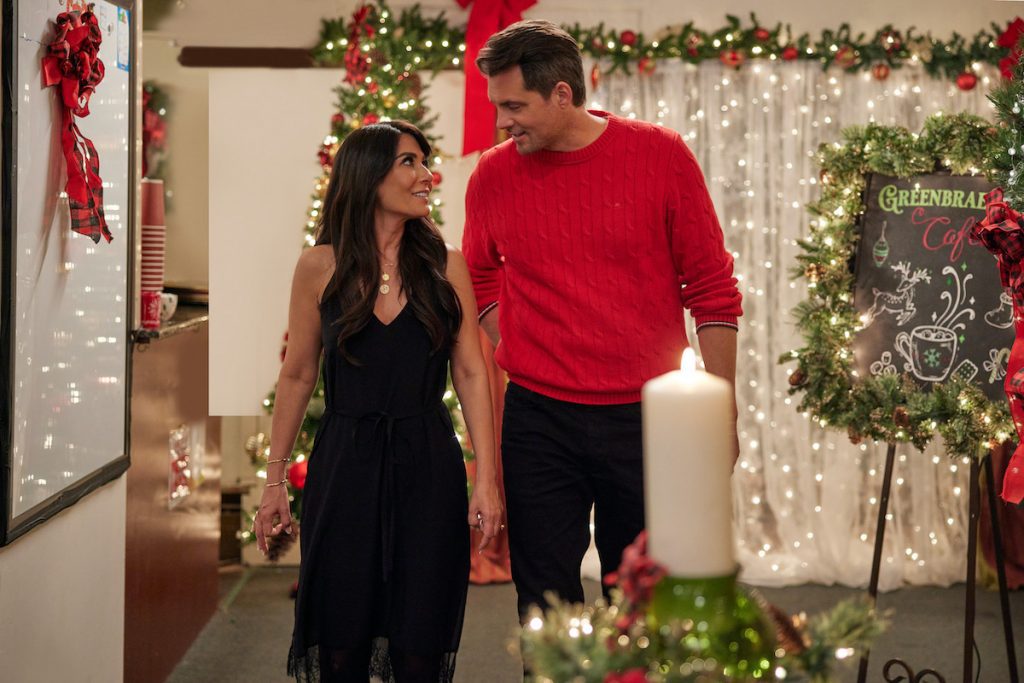 Marisol Nichols wears a stunning black dress and Kristoffer Polaha rocks a red sweater with black dress pants in the photo above. You can buy her exact dress from GUESS here, or if you want a more affordable option, try this one from Amazon. Shop his look with this sweater from Bergdorf Goodman, and these pants from Amazon.
---
Holiday Blues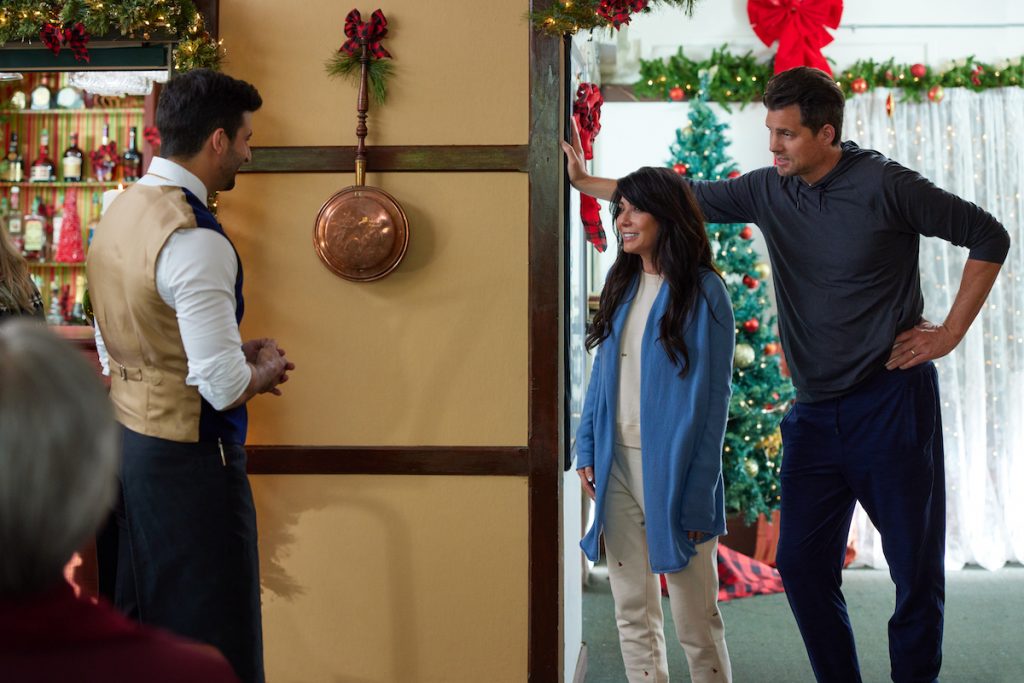 Marisol dons a pretty blue cardigan, cropped off-white sweater and white patterned pants in the photo above. Kristoffer is wearing a faded navy blue hoodie with deep navy sweatpants. While her exact sweater is no longer available, either of these two affordable options from Nordstrom or LL Bean get you an almost exact look. Pair it with these inspired pants from Levi's and this cropped sweater from ASOS. For Kristoffer's outfit, this burnout hoodie from Zappos and navy pants from Under Armour give a similar look.
---
Sweater Weather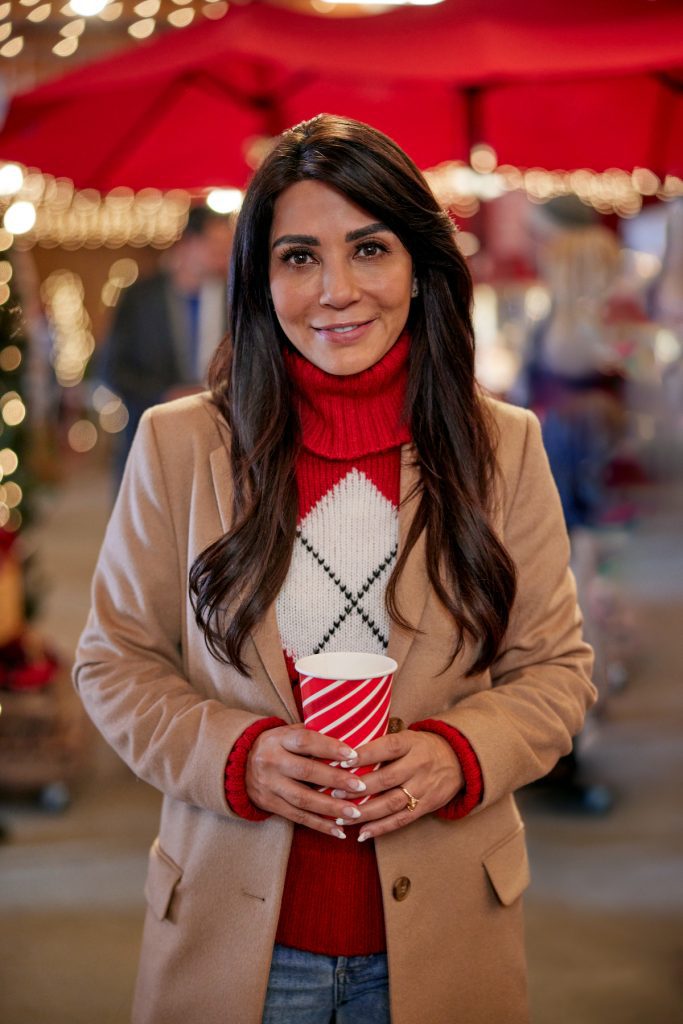 Marisol rocks a lovely red knit turtleneck sweater underneath a tan peacoat; faded jeans finish the look. Get her exact turtleneck from Tommy Hilfiger here; exact coat from Calvin Klein, and a pair of jeans from American Eagle to complete the outfit.
---
Christmas Spirit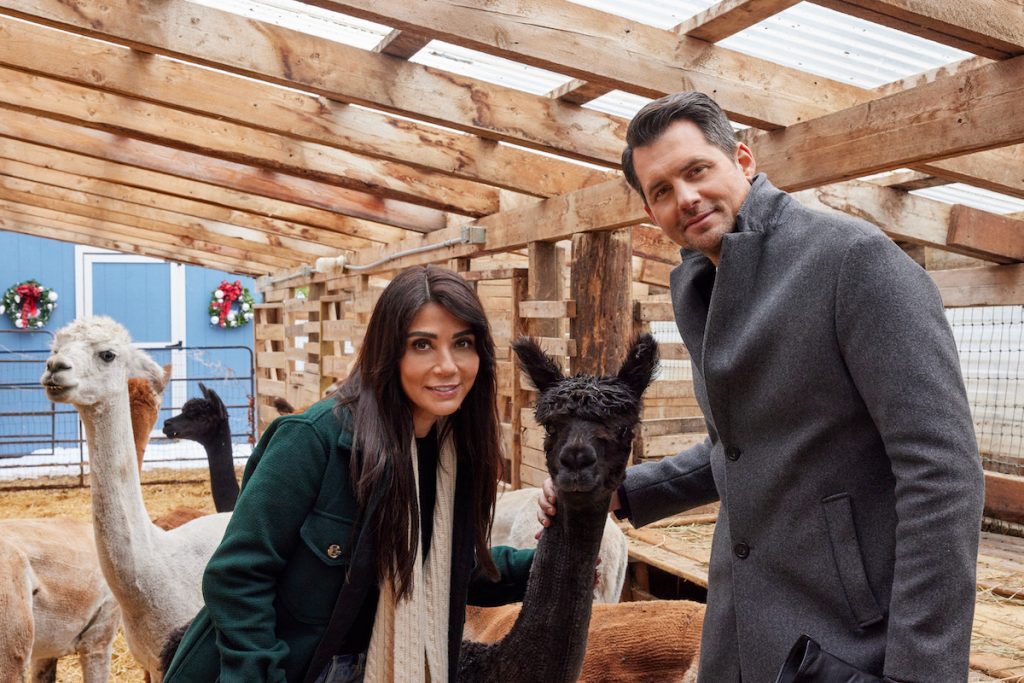 Marisol wears a deep emerald green peacoat with a cream cable knit scarf. Kristoffer rocks a charcoal gray peacoat with black leather gloves. While her exact coat is no longer available, this coat from Kohl's gets you a similar look; try this scarf from Amazon to complete the look. To get his look, try this gray coat from Amazon, and these black gloves from Lands' End.
---
Bundled Up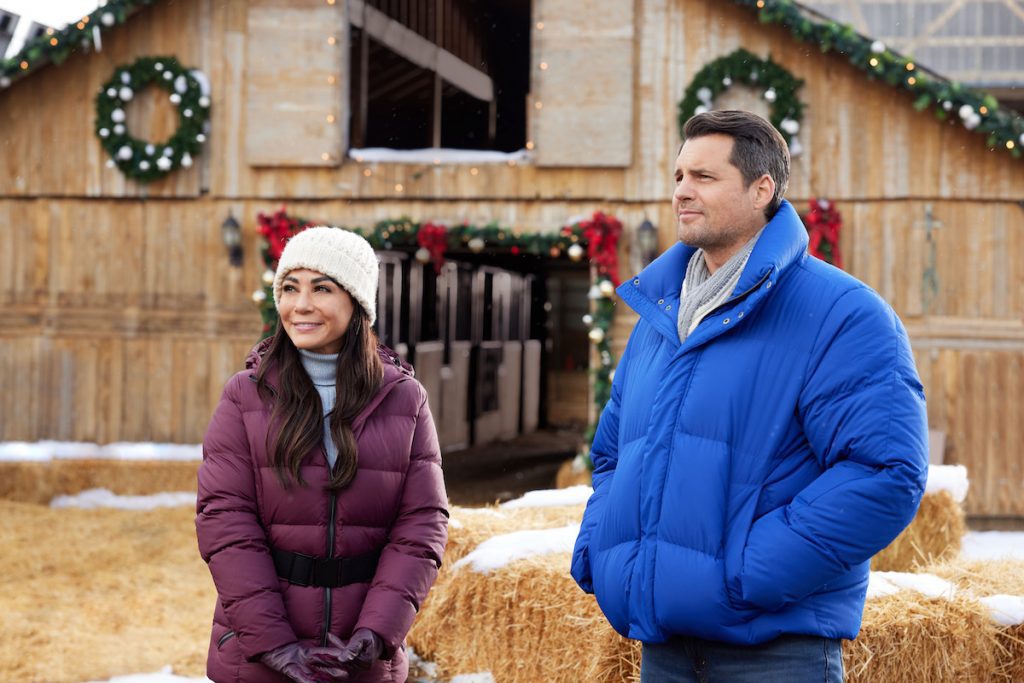 Marisol is wearing a pretty plum puffer jacket with matching gloves; a pale blue turtleneck and white knit beanie finish her look. Kristoffer is wearing a cobalt blue puffer jacket and blue jeans. Get her look with a plum jacket from FWRD and matching gloves from Saks Fifth Avenue; blue turtleneck from Kohl's, white knit beanie from Lucky Brand. Get his look with this blue puffer jacket from Adidas and jeans from Levi's.
---
Catch the premiere of We Wish You a Married Christmas on Saturday, October 22 at 8 PM ET/PT, only on Hallmark Channel.
---
MORE HALLMARK CHANNEL NEWS
Top 10 Stunning Dresses from Hallmark Channel Movies
'Romance in Style' on Hallmark Channel – Plot, Photos & More
'Love in the Limelight' on Hallmark – Cast, Plot, Photos & More
Kari Highman is a Beauty and Fashion Blogger at Feeling the Vibe Magazine. Otterbein Alum (2017) – English & Psychology. Always learning & creating. Avid fan of mid 2000's TV & pop music. Comments or tips, email kari@feelingthevibe.com