Billy Stamos, 4, is the first son of famous actor John Stamos! In his few short years on the earth so far, he has captured the hearts of everyone much like his heartthrob father. He recently had a week long birthday celebration and had a milestone in his life.
Let's dive in to answer all your burning questions about Billy.
---
Who are Billy Stamos's Parents: More on His Mom & Dad
Billy Stamos was born to one very famous parent. He is the first and only son of popular actor, John Stamos who is best known for his role as Uncle Jesse on 'Full House.' Billy's mother, Caitlin McHugh married John in February 2018. Caitlin is also an actor and model. She landed bit parts in film and television starting in 2007. McHugh is signed with Wilhelmina Models.
Caitlin Wishes John a Happy Birthday
These two have been married since 2018 and in 2022, Caitlin posted a slew of photos with her husband along with a sweet birthday message. "I have 16,145 pictures of this Birthday Boy in my phone. I picked out a few faves from our early days together. What a lucky lady I am to celebrate you on your birthday and always," she said.
What is the Age Difference Between John Stamos & Caitlin McHugh?
This happy couple is not close in age. They are actually a whopping 23 years apart. However, age only seems to be a number in this case. They are a great match who have a lot in common. As of 2022, John is 59 years old while Caitlin is 36 years old.
---
They Both Love Disney
John Stamos found his match in Caitlin. Both of them absolutely love Disney and theme parks. The celebrated a new superhero at Disney California Adventure Park. Caitlin wrote, "There's a NEW Superhero in town! @johnstamos is the voice of Ironman in @disneyjunior 's Spidey and His Amazing Friends Season 2 Premiering on his birthday, August 19!"
How Old is Billy Stamos?
John and Caitlin's son, Billy Stamos was born on April 10, 2018 only two months after his parents walked down the aisle. He turned 4 in 2022. He had such fun celebrating his 4th birthday "all week long" this past year. His mom, Caitlin shared photos of Billy at The Discovery Cube and Disneyland!
Let the Festivities Begin!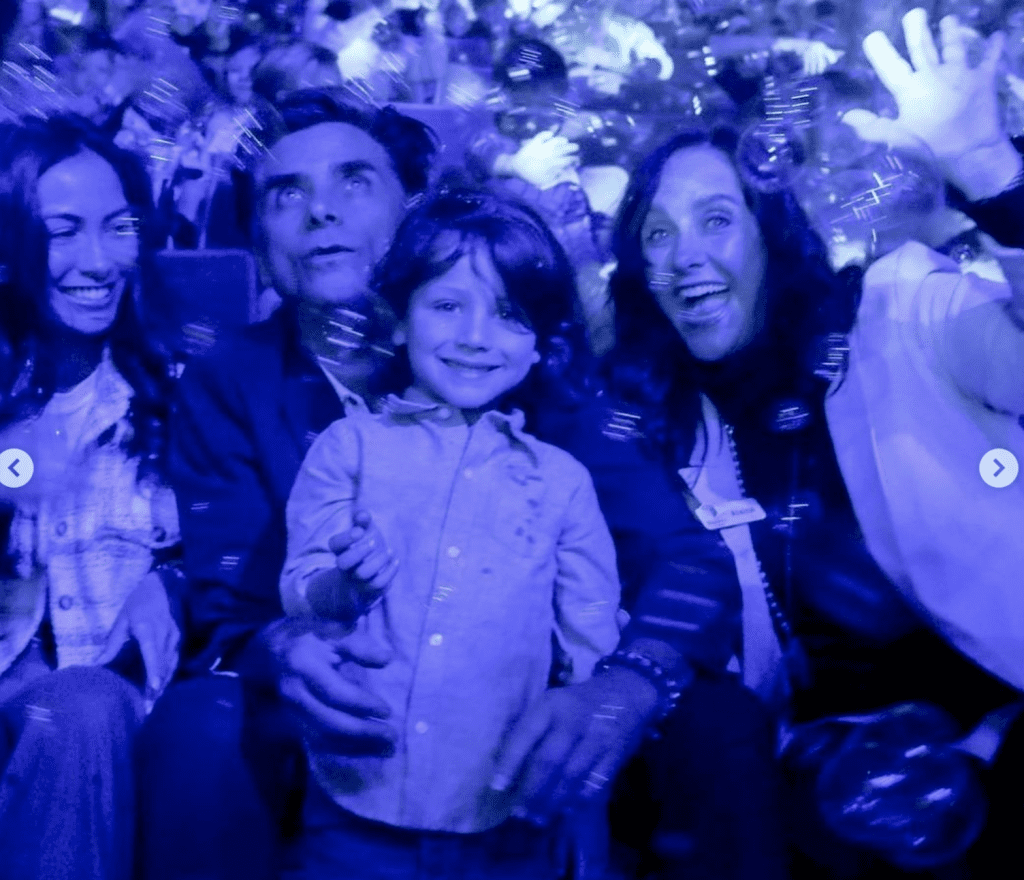 John's sister, Alaina works at The Discovery Cube where Billy spent his birthday. Then they took their adorable son to Disneyland next and then destination home! Caitlin joked that their house is quickly turning into Disney.
Billy was wide eyed when he went to Disney with his parents! Look at the happy family take a photo in front of Cinderella's Castle. As a little behind the scenes look, his mom shared that it took many bribes and tries to get this perfect shot.
Caitlin shared how she was reminiscing on how fast the years go by. See these sweet photos of baby Billy from her Instagram post. "Billy turns 4 tomorrow! And I was just looking at him now, remembering these early days. Like everyone says, the years go by fast," she said.
Billy Goes to School
Just at the end of August 2022, Billy got ready for his very first day of school. This was a big milestone in the little boy's life. It was celebrated with a photoshoot alongside his famous father. The father and son were matching in white collared shirts and khaki shorts.
The first day of school can be an emotional time. John was no exception. He very honestly and humorously captioned the photo, "One of us is starting his first day at school. And the other is doing everything in his power not to cry."
Billy is a Part Time Beach Boy
It's no secret that John Stamos is extremely dedicated to his career and family. Since the heartthrob was young, he has been a huge fan of America's Band, the Beach Boys. Well, now he made sure to bring his mini me into the mix of course. During a tour he joined playing the guitar and drums, Billy graced his presence on stage. "A magical time in Paris last night at @olympiahall with @thebeachboys and my favorite little guest!" wrote John.
Do John & Billy Look Alike as Kids?
The 'Full House' actor posted a throwback photo from when he was a young boy to his Instagram. He looks to be around the tender age of 5 or 6. Stamos reminisced that he attended My Clara J. King elementary school. In this side by side, look and see if you find a resemblance between he and his son Billy.
---
John Stamos's TV Sons
Now that John Stamos is a dad in real life, we can't forget how he played a TV dad on Full House to twin boys. Who remembers Nicky and Alex? These are the twins he shared with Rebecca Donaldson, his wife on the popular sitcom. This part was played by twins, Dylan and Blake Tuomy-Wilhoit. They were born on November 29, 1990.
Dylan has a verified Instagram profile with the username @realityduality. Dylan shared a photo of his real mother with both he and his brother during the time of Full House. John Stamos liked the post.
The actor is actually diving into the music world. He posted a selfie saying, "Writing, singing, and listening to #music is my sanctuary in life."
---
Related
A Look Inside John Stamos's Family: Wife, Kids & More!
John Stamos's Son Billy is Too Cute with his Chef Louis Hat On
Why John Stamos's First Date with His Wife, Caitlin Was a Slight Disaster Courtney Rose is an Entertainment Writer at Feeling the Vibe Magazine based in New York. Pop culture and rom-com obsessed. Studied Journalism and is up to date on all the latest entertainment news. For tips or comments, email me at Courtney@feelingthevibe.com