When Chris Gronkowski entered the tank in 2017 to pitch his invention, the Ice Shaker – little did the sharks know who his other 4 famous brothers really were.
Chris Gronkowski hails from a family of 5 sons – 4 of which have played for the NFL including himself and one who played for MLB. This family is super successful in athletics, so why not dive into the business world next?
The Gronkowski brothers have started a slew of businesses including Gronk Nation, Gronk Fitness Products and the Ice Shaker of course.
What is the Ice Shaker as seen on Shark Tank?
If you are a regular at the gym, you need this. It is a double walled, vacuum insulated, stainless steel shaker bottle. What sets it apart from other similar looking bottles? This one will hold ice for over 30 hours in a 75 degree room!
Only these guys could challenge the sharks alongside Alex Rodriguez to a game of flip cup during their pitch. Who won? The Gronk brothers of course!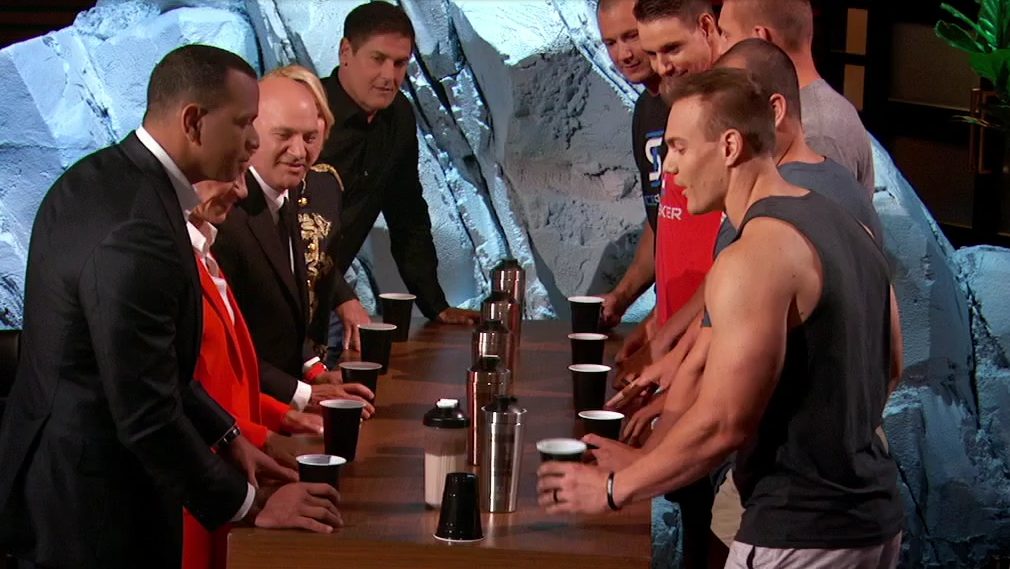 Chris revealed in the first 6 months, they sold around $80k worth of cups. They were selling them on their own website, Amazon, and a few retail stores.
Why is your name not on the product? asked shark, Barbara Corcoran. "I wanted to build a product that people wanted," he replied. Lori quickly chimed in and said, "You should call it the Gronk Shaker."
The brothers received offers from all 5 sharks. They were able to negotiate a deal with Mark Cuban and Alex Rodriguez as they landed a deal for $150,000 for a 15% stake in the company.
So who are the Gronkowski Brothers?
The oldest is Gordie, Jr. He was born in 1983 in NY. Gordie was drafted by the Los Angeles Angels in 2006.
Dan Gronkowski is second born, in 1985. He is 2 years younger than his older brother. He was drafted by the Detroit Lions in 2009.
Chris Gronkowski is the third brother. He was born on December 26, 1986. He was signed by the Dallas Cowboys in 2010.
Rob Gronkowski is probably the most recognizable brother. He was born on May 14, 1989 in New York just like his other brothers. Rob was the tight end for the New England Patriots and has won 2 superbowls.
Glenn Gronkowski is the youngest of 5. He was born 1993 in Buffalo, New York. He was also on the New England Patriots alongside his brother Rob.
Update on the Ice Shaker Now
It looks like they kept the name The Ice Shaker and in fact didn't take Lori's advice to change it to the Gronk Shaker. The Ice Shaker has sold millions of units since their appearance on Shark Tank in 2017.
It is still available on their website as well as Amazon. It has over 4 stars with more than 450 reviews. You can buy it with prime on Amazon now.
Get the Ice Shaker by clicking the photo below.
More on Shark Tank
'Shark Tank' Preview: Robert Herjavec Falls off Bed During Hug Sleep Pitch
Wylie Robinson from Rumpl Said 'Shark Tank' Filming is Intense
Shark Tank Season 12 Cast and Entrepreneurs for Episode 1 Include Toms Founder Blake Mycoskie Courtney Rose is an Entertainment Writer at Feeling the Vibe Magazine based in New York. Pop culture and rom-com obsessed. Studied Journalism and is up to date on all the latest entertainment news. For tips or comments, email me at Courtney@feelingthevibe.com