Trevor Donovan is not only a dynamic actor known for roles on "90210," "Days of Our Lives," and multiple movies, but he is also an avid athlete and dog lover. He is currently a mainstay on your GAC Christmas Movie channel this season, playing "Sam" in "Jingle Bell Princess" opposite Merritt Patterson. We had the opportunity to sit down with Trevor from his west coast home to learn more about the man behind the actor. Find out about his love of dogs, why an unexpected actor was the most popular on set, what makes him happiest, and many more fun facts you will love to learn.
---
This or That
Morning Person or Night Owl? Morning
Skiing or Swimming? Skiing. I do love the ocean and surfing
Night in by the fire place or go to a holiday party? At this point, a night in by the fireplace
Egg nog or hot chocolate? Hot chocolate
Cooking or eating out? Where I am right now, I'd rather cook
Shopping online or shopping in the store? Can I have someone else shop for me?
Cold weather or warm weather? Warm weather even though it just snowed last night here
---
Favorites
Christmas song – I never really had one. Recently it's "Beginning to Look a Lot like Christmas"
Board game to play – Would Charades or Heads Up count?
Sport to Play – A team sport, it would be football
Movie of all time (that you weren't in) – That's a hard one but when Fight Club came out, I would have loved to play Brad Pitt's part.
Way to unwind after a long day – a beer and my guitar
Vacation spot – My family and I used to go for 20 + years… 2 week surf trip in Bahaha Mexico
---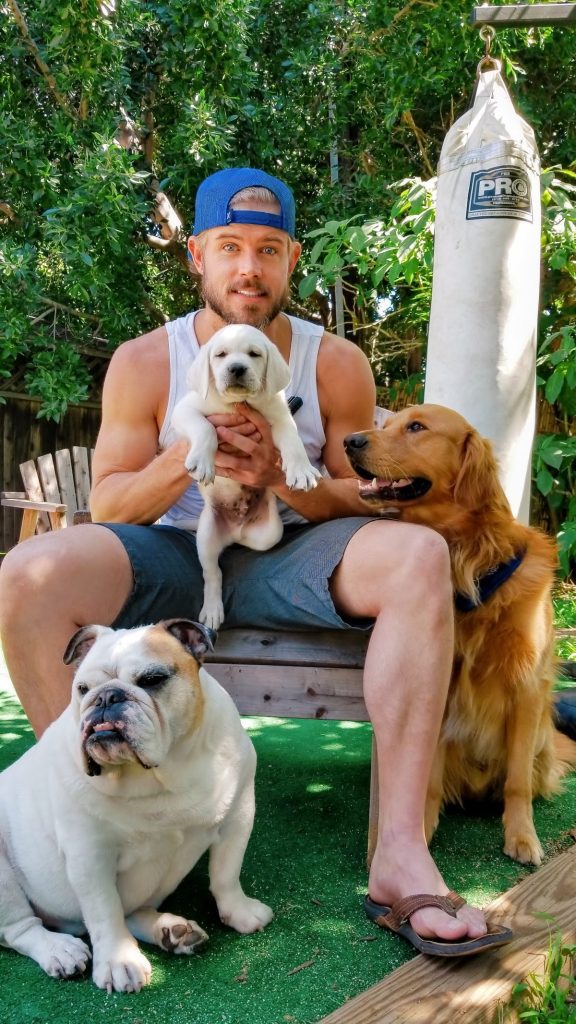 ---
Tell us a little bit about yourself – where did you grow up, etc?
Born and raised in Mammoth Lakes, California – a ski resort. I have both my parents and younger brother. I grew up doing every sport – BMX, swimming competitively, ski racing, snowboarding, football, mountain biking, rock climbing.
So you were an athlete before becoming an actor!
I didn't start acting until I was 26 or so.
What inspired you to follow the acting path?
I think it was because it scared me so much. I liked doing the extreme sports and individual sports. That adrenaline didn't bother me but the adrenaline of standing in front of people expressing yourself was terrifying so in hindsight I believe that's why I stuck with it. Because I hated it for almost 2 years.
What are your plans for Christmas?
Football, big games going on and a bunch of skiing and snowboarding. I will be up in Mammoth Lakes. We're still working on the family thing. My brother has a wife and two daughters and my parents are here in Mammoth. We always try to plan to be together but we may have to travel out to Sacramento. It's kind of up in the air for the actual Christmas Day.
Are you loving getting to play the fun uncle role now?
Yes! I have a 6 1/2 year old niece and one 18 year old step-niece. The 18 year old really got into snowboarding a year and a half ago. I take her snowboarding. We do that together which is awesome. The 6 1/2 year old thinks I'm a jungle gym. When we were together for Thanksgiving for 3 days straight, she was attached to me, climbing up, putting scrunchies in my hair.
You have 3 dogs. Tell us more about these fur babies.
Yes, we do, in the dog family. I have an English bulldog. My manager has a white lab and another good friend of ours has a golden retriever. When I'm traveling so much, my manager looks after them. It's a little dog crew, they get along so well! Tito, my English bulldog is over 10 years old so the puppies are keeping him young.
Did you grow up with dogs too?
On our property, we had at least 3 dogs at a time. We had chickens, ducks, geese and llamas.
How would your friends describe you?
Probably a nice guy, sincere, energetic..
You starred in a new holiday film this season for GAC called Jingle Bell Princess. How did you find out about this new channel?
Bill Abbott, the former CEO of Hallmark became a pretty good friend of mine while I was working there. We kept in contact after he stepped down throughout that next year and he was a little secretive about it going I've got something in the works. He kept me in the loop, so initially I found out through him. I think it's going to be an amazing place for family friendly programming.
For those that haven't seen the movie yet, why should someone tune in? There is a dog in it!
That dog was the most well-behaved dog I ever worked with on a set. It would just sit wherever you put it, zero issues, stole every scene she was in. She was the star of the whole set. It is kind of royal themed. Merritt Patterson plays Princess Amelia who gets stranded in my small town and she doesn't reveal she's a princess at first. Just like a lot of these movies, there is a really morally uplifting message. It's always a feel good story. With this one, there are comedic moments in it because she's a fish out of water in elements she's never been in. She's learning to cook and eat cold pizza with beer. These funny moments of her coming out of her comfort zone
Jingle Bell Princess everyone, you must watch. We're excited you are going to have more movies coming out!
We hit it off immediately. We grew up very similarly. She grew up in a ski resort doing the exact same things I did. There is something to that, kind of a foundation of experience. We hit it off right away. She has a great sense of humor. She is an absolute professional.
You have more movies in post production, one in which you are named an executive producer called The Engagement Plot. Do you prefer to be in front of the camera or behind it?
In front, but I am learning the ways behind the camera. The executive producer Brian Bird who produced When Calls the Heart is on it. I always wanted to work with him. He's fantastic. A buddy of mine directed it who I worked on for Aloha with Love which was shot earlier this year in Maui so it was a cool family project. I got to learn more about how the whole process goes down. But, I still love acting!
Does being in front of the camera still terrify you or are you used to it now?
I got stage fright, I was miserable half the time. Over the years, I've gotten a lot better but I embrace the nerves a little bit. It means that you care. There are times I'll realize I'm not putting my best foot forward because there isn't any anxiousness. I like a little bit of that but I also like to know I have control.
Now that you are talking about things that terrify you, is there anything on your bucket list that you know you must try that's a bit terrifying to you?
I did go sky diving already. It's actually online. It was a segment for Radar Online (see below). I did 5 hours of instruction before so I could jump out without being attached to anybody. They jump out with you but you pull your own cord. The anxiety of that and the anticipation of taking off in a plane with an open door. Then once you jump out, it's no big deal. It just feels like it's windy.
I've been thinking about it lately, I would like to try BASE jumping. I'd have to jump more out of planes before you could jump off a cliff or a bridge.
So Mr. Trevor Donovan, what is next for you on your list of projects?
I have a supporting role in a movie called Reagan that's coming out probably in late winter about President Ronald Reagan. Dennis Quaid plays Reagan and I play his later in life best friend and longest serving secret service agent. I got real good at horseback riding several years ago when I shot a western. I spent a week at the Reagan ranch riding horses with Dennis Quaid. There were really cool emotional scenes with he and Penelope Ann Miller who plays Nancy. That is coming out in the early part of 2022 as a massive theatrical release.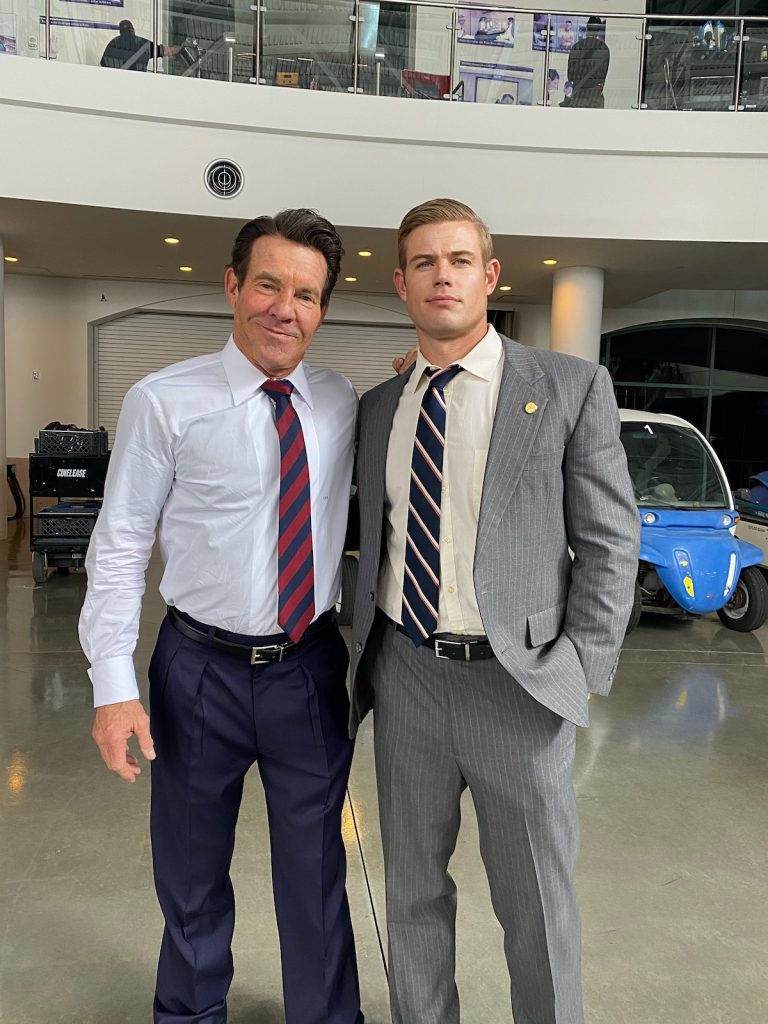 ---
Then we have a romantic drama/comedy convention similar to Comic Con but this one is called RomaDrama. It will be our second one. We did the first one during the summer last year in Franklin, Tennessee. It was fantastic! We're putting a second one on in Palm Beach, Florida for a three day event. Fans can come down and meet some of your favorite comedy drama actors from Hallmark, GAC and Netflix. You can go to the website at romadrama.com to get all the details.
---
Details on RomaDrama 2022:
RomaDrama was originally scheduled for January 7, 8, and 9th. However, due to the spread of COVID-19, they postponed the event to June 24, 25 and 26th of 2022. It will still be held in Palm Beach, Florida and will feature all of the original celebrity guests. RomaDrama will be offering virtual and IG Lives during the weekend of January 7 – 9, 2022. For more details, please visit their official website.
---
Please follow Trevor Donovan on Instagram and check out RomaDrama at their official website!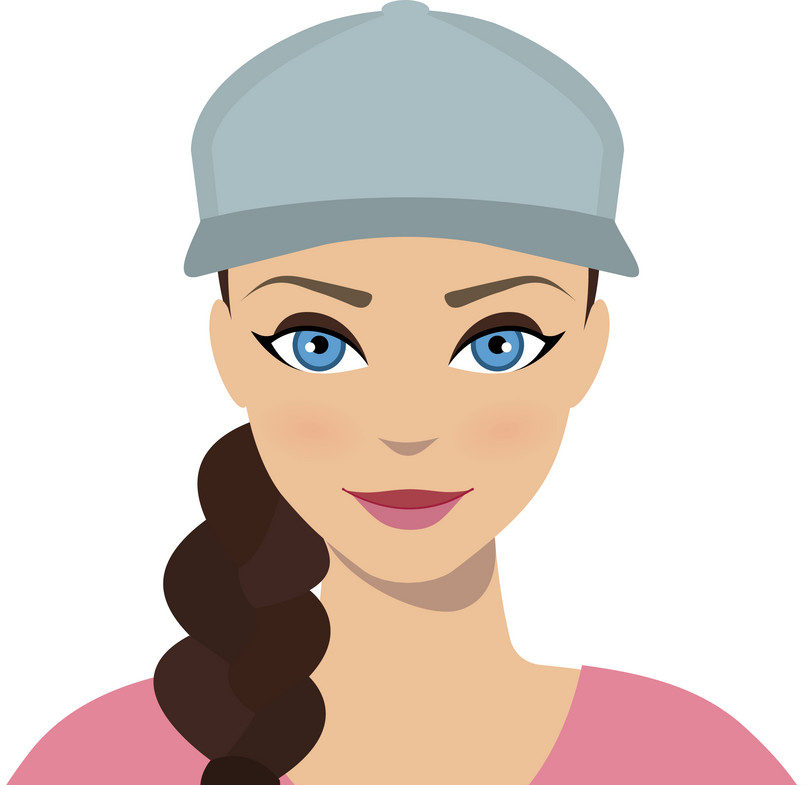 I'm Madison. I live, breathe, and sleep pop culture. You'll either find me at festivals, concerts, or catching up on the newest Netflix shows. For tips or comments, email madison@feelingthevibe.com.