Celebrity Family Feud is premiering an all-new episode on July 16, 2023. This week, the celebrities facing off are Nikki Glaser and Bebe Rexha. Get to know their teams, see photos and more details below.
---
Team Nikki Glaser vs. Team Bebe Rexha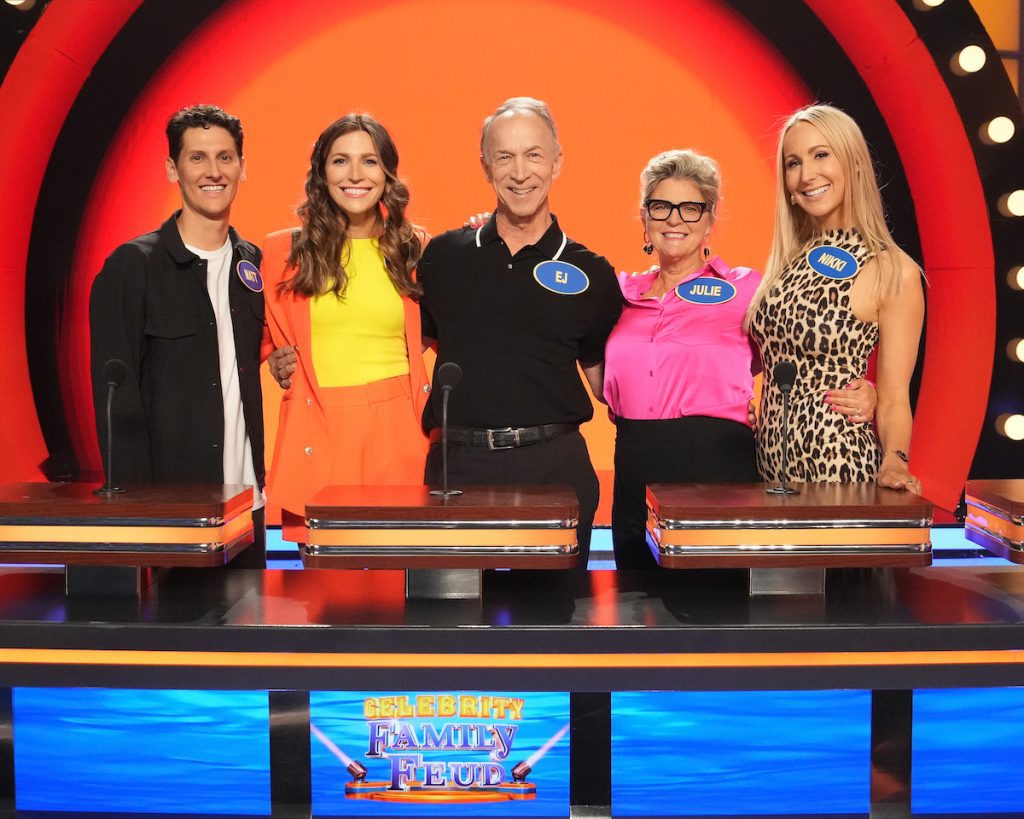 Team Nikki Glaser, playing for Mercy for Animals:
Nikki Glaser
EJ Glaser
Julie Glaser
Matt Green
Lauren Green
Nikki Glaser is a popular comedian. She hosted the show Not Safe with Nikki Glaser on Comedy Central. In 2022, Glaser starred in the reality show Welcome Home Nikki Glaser for E!. Nikki placed 3rd overall on the season 8 of The Masked Singer on FOX. The 39-year-old has one sister named Lauren (seen above in the team photo!) and her parents are EJ and Julie (also above). In addition to her work, Nikki's a vegan and an animal rights activist.
View this post on Instagram

Glaser posted about the new episode of Celebrity Family Feud on Instagram, writing: "My family is on @familyfeudabc tonight on ABC at 9/8c! We played against @beberexha's family and I promise it's worth watching. Ooh boy."

---

CELEBRITY FAMILY FEUD – (ABC/Eric McCandless) BEBE REXHA, BUKIE REXHA, JIMMY REXHA, FLO REXHA, KEYAN SAFYARI

Team Bebe Rexha, playing for SeekHer Foundation:
Bebe Rexha
Bukurije "Bukie" Rexha
Flamur "Jimmy" Rexha
Florent "Flo" Rexha
Keyan Safyari

Bebe Rexha is a famed singer-songwriter. She first gained momentum with various collaborations with artists like David Guetta, Nicki Minaj and Florida Georgia Line. Then, Bebe's debut album was a success with the hit single "I'm a Mess." Rexha followed that with her second album in 2021, and a self-titled record out this year. Last month, she finished touring to promote that record. Bebe is very active on social media, and promotes positive body image to her followers.

---

Photos from Celebrity Family Feud

See photos from the July 16 episode of Celebrity Family Feud below, featuring Nikki Glaser, Bebe Rexha and their teams alongside host Steve Harvey.

(ABC/Eric McCandless) STEVE HARVEY, BEBE REXHA, BUKIE REXHA, JIMMY REXHA, FLO REXHA, KEYAN SAFYARI

(ABC/Eric McCandless) MATT GREEN, LAUREN GREEN, EJ GLASER, JULIE GLASER, NIKKI GLASER, STEVE HARVEY

NIKKI GLASER, STEVE HARVEY (ABC/Eric McCandless)

JIMMY REXHA, STEVE HARVEY, FLO REXHA, KEYAN SAFYARI (ABC/Eric McCandless)

---

Celebrity Family Feud airs tonight July 16 at 9 PM ET only on ABC. Episodes can be streamed next day on Hulu or on demand.

---

MORE CELEBRITY FAMILY FEUD NEWS

Celebrity Family Feud Season 9 Premiere: Yellowjackets Cast & Gayle King vs. Sophia Bush

Who's Competing on Celebrity Family Feud 2023? Find Out Inside!

'Celebrity Family Feud': Boyz II Men vs. Amber Ruffin Turn Up The Competitive Edge

Kari Highman is a Beauty and Fashion Blogger at Feeling the Vibe Magazine. Otterbein Alum (2017) – English & Psychology. Always learning & creating. Avid fan of mid 2000's TV & pop music. Comments or tips, email kari@feelingthevibe.com