On an all-new episode of Celebrity Family Feud, NFL Players Association All-Stars face off against NFLPA Legends. Then, actor and podcaster Oliver Hudson takes on his podcast co-host, sportscaster Joe Buck. We've got details on the episode below, including who's on the teams, info on the players, and even a few photos.
NFL Players Association All-Stars vs. NFLPA Legends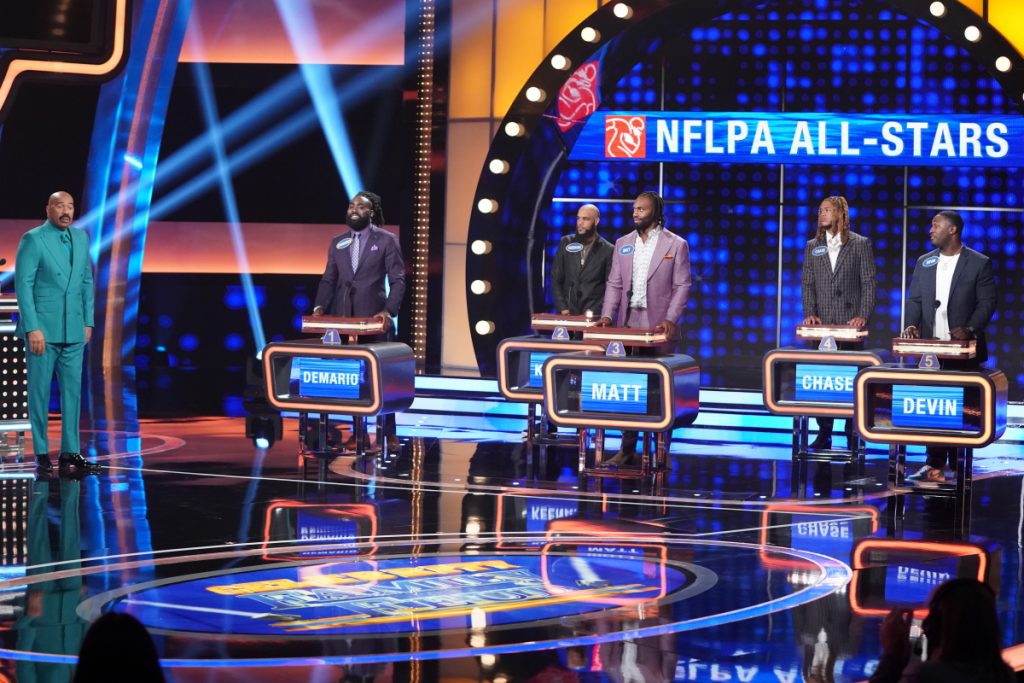 The National Football League's Players Association is the union that represents pro-footballers. Playing for the NFLPA All-Stars are:
Chase Young – Washington Football Team
Keenan Allen – Los Angeles Chargers
Devin White – Tampa Bay Buccaneers
Demario Davis – New Orleans Saints
Matt Judon – New England Patriots
Keenan Allen regained active status in January after being placed on reserve due to the pandemic. He's also not the only football player in his family. His half brother is Zach Maynard, former QB; his cousin is free agent Maurice Harris.
In March of this year, Matt Judon signed a 4-year, $56 million contract with the New England Patriots. Prior to that, he spent 4 years with the Baltimore Ravens. Considering he's a 2x Pro-Bowler, it's no wonder his contract skyrocketed from the $2.59 million he received when he was first signed.
The NFLPA Legends team consists of: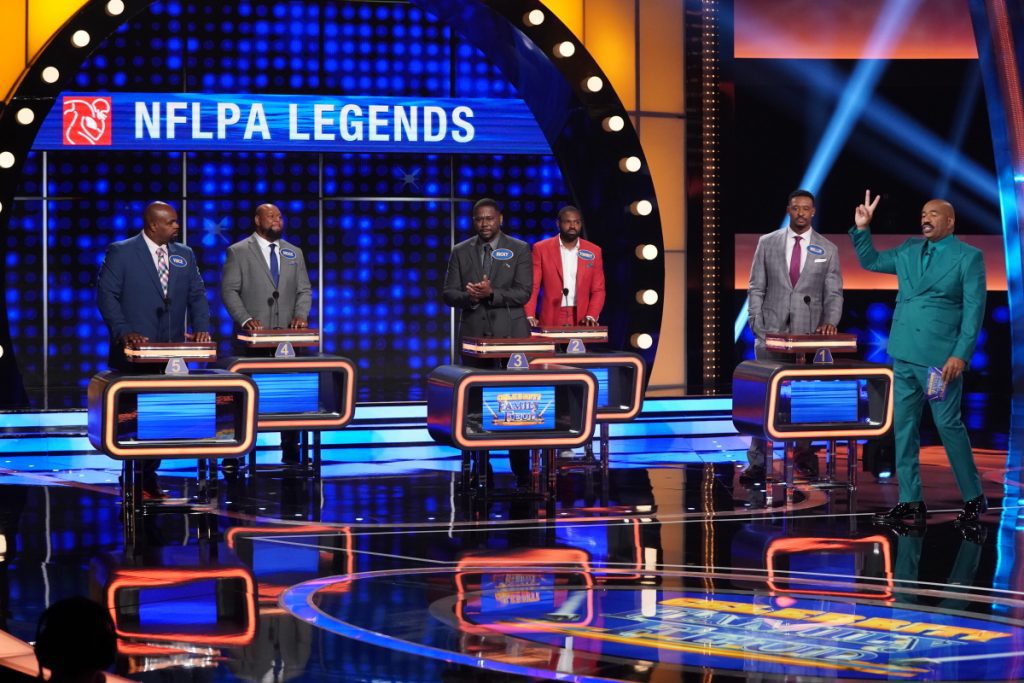 Deuce McAllister
Willie McGinest
Vince Wilfork
Ricky Watters
Torrey Smith
Before they worked with NFL's Player Association, each of the legendary members played for a pro team. Deuce played for the New Orleans Saints, Willie for the New England Patriots and the Cleveland Browns; Vince also for the New England Patriots, then the Houston Texans.
Ricky played for the San Francisco 49ers, the Philadelphia Eagles, and the Seattle Seahawks. Last but not least, Torrey was drafted to the Baltimore Ravens, the Carolina Panthers, as well as the 49ers and Eagles.
Oliver Hudson vs. Joe Buck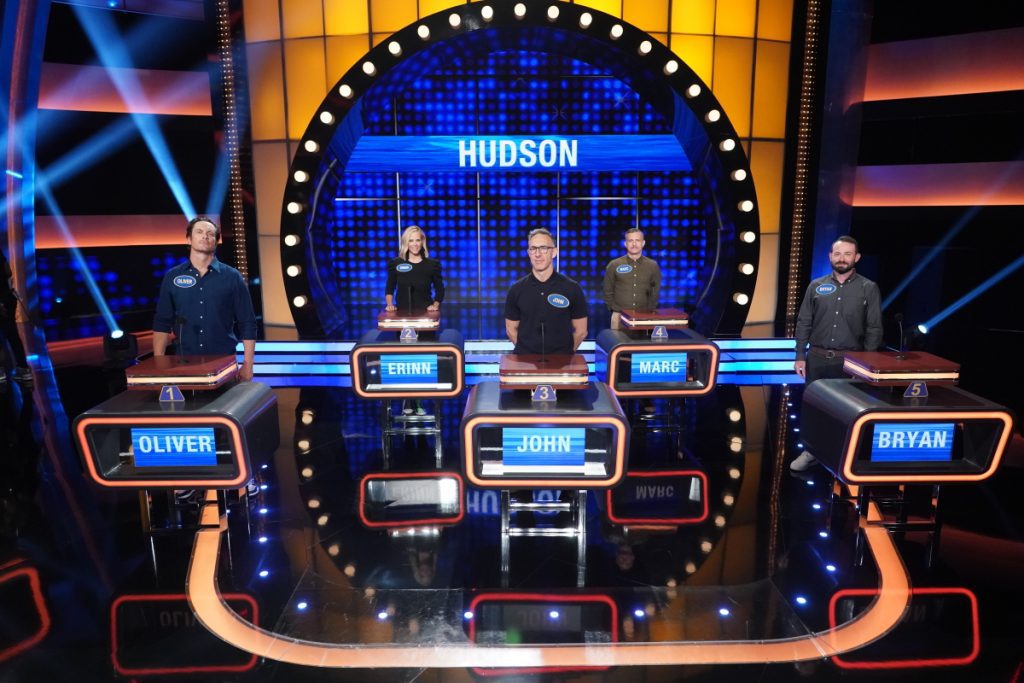 Oliver Hudson leads the eponymous team, and the members include:
Oliver Hudson – actor and co-host of "Daddy Issues" podcast
Erinn Hudson – wife
John Stalberg – friend
Bryan Furst – friend
Marc Rose – friend
After he launched the Daddy Issues podcast in April 2020, it was announced in July 2021 that he would be starring in a new FOX series called The Cleaning Lady. Other credits of his include: Splitting Up Together, Nashville, and Rules of Engagement.
Oliver's wife, Erinn, was also in the acting business. She guested on an episode of his show Rules of Engagement, as well as many other programs like MONK, Charmed, and Felicity. She appeared in movies such as Rumor Has It and Raising Helen.
Joe Buck's team consists of: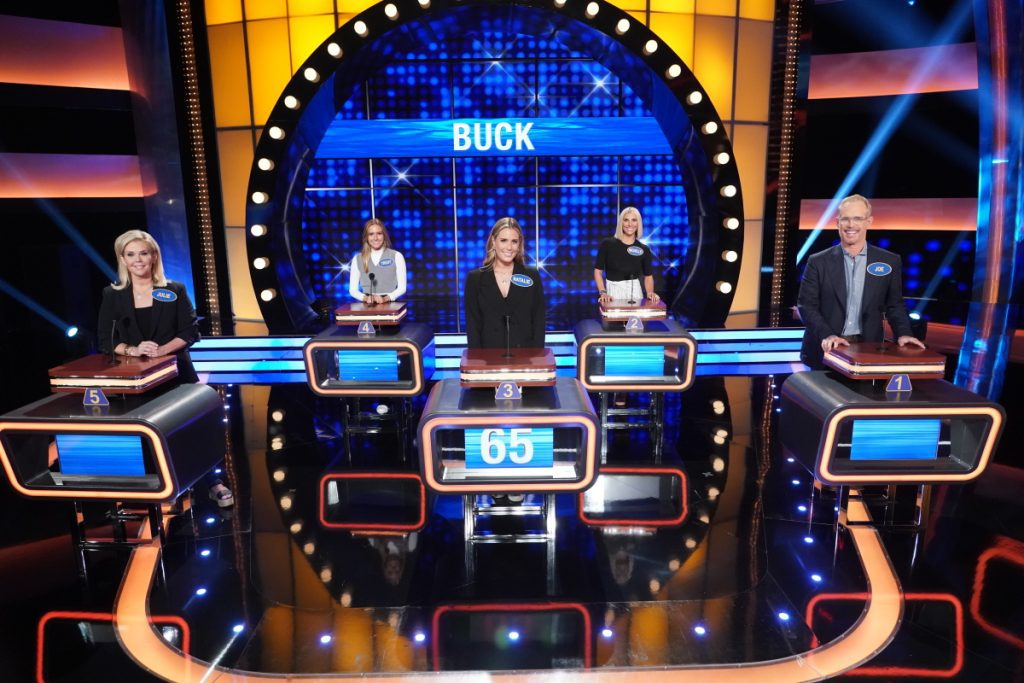 Joe Buck – FOX sportscaster and co-host of "Daddy Issues" podcast
Michelle Beisner-Buck – wife
Natalie Buck – daughter
Trudy Buck – daughter
Julie Buck – sister
Joe Buck is known for his sports broadcasting work with FOX. He's won 8 Sports Emmy Awards: 7 for Play-by-Plays, and 1 for Studio Host. Joe's also a 3x winner of the National Sports Media Association's Sportscaster of the Year Award. In 2020, he was recognized with the Pete Rozelle Radio-Television Award, an award which his dad, famed sportscaster Jack Buck, won in 1996. This makes them the only father-son duo to earn this distinction.
His wife, Michelle, recently guested on his podcast, and Joe posted a sneak peek to his Instagram page below, writing: "I now see the error of my ways. I got flustered. I was scared. I'm sorry @michellebeisner I love you. Did I say I'm sorry ? I'm sorry!!! New pod is up."
Daughter Natalie is an actress, but also holds a degree in telecommunication engineering. Trudy acts as well, but she's also curious as to what goes on behind the camera, which led to her degree in Cinematic Arts.
Last but not least, we have a few promotional photos from the all-new episode of Celebrity Family Feud below. See Joe Buck, Oliver Hudson, the NFLPA All-Stars and Legends have a blast facing off against each other.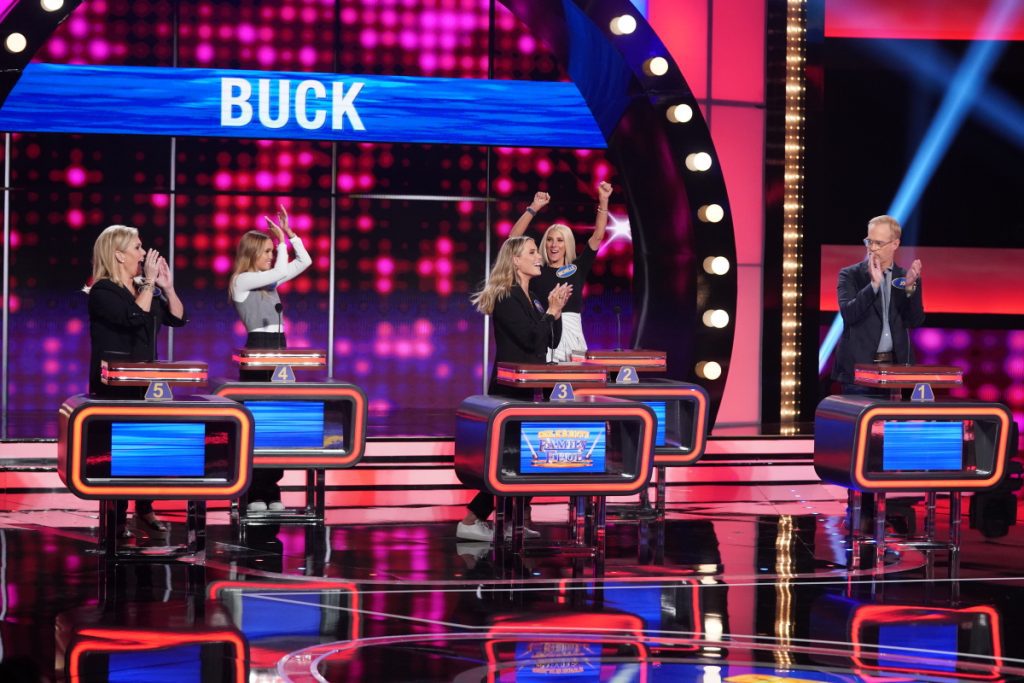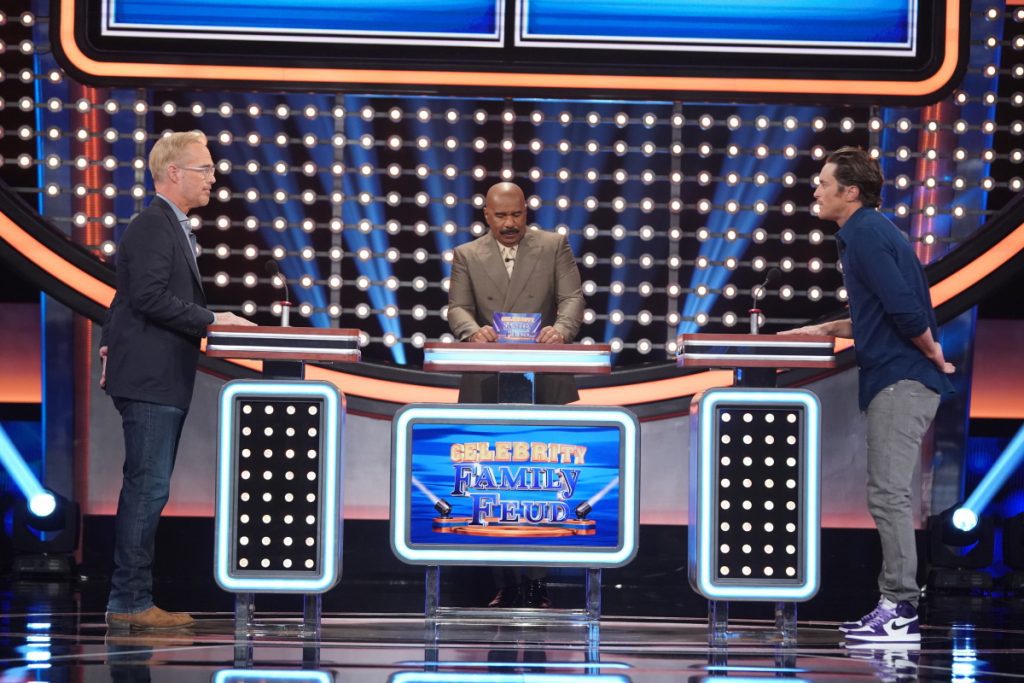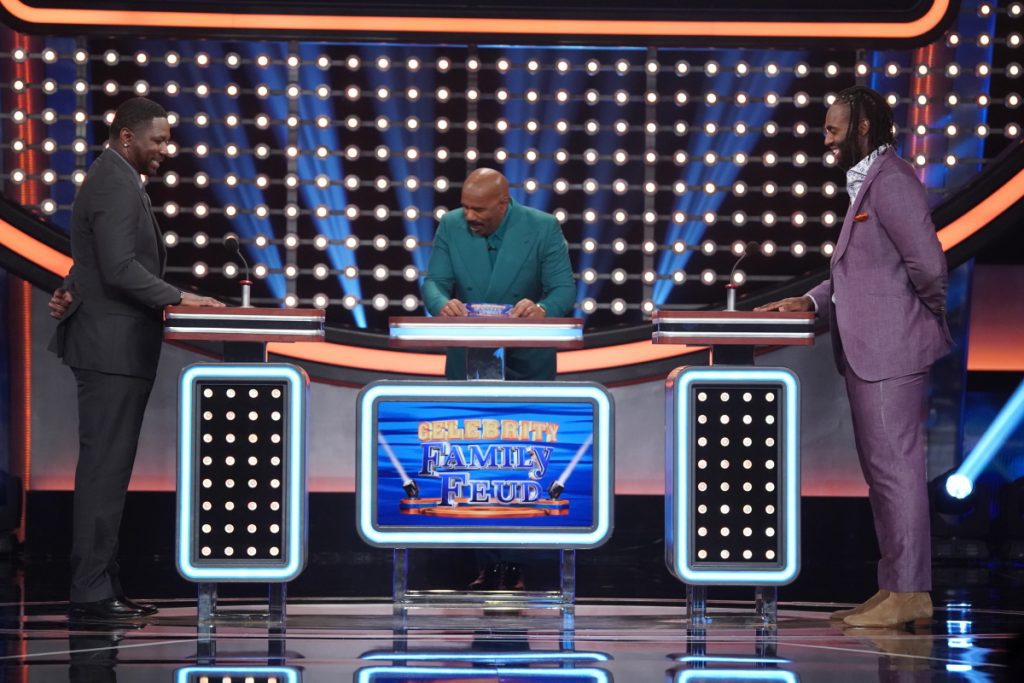 Catch the new episode of Celebrity Family Feud airing August 29 at 8 PM ET, only on ABC.
---
MORE CELEBRITY FAMILY FEUD NEWS
Celebrity Family Feud: Deon Cole, Tisha Campbell, Kevin Smith, Jason Mewes & Justin Long Compete
Team Nev Schulman vs. Team Jimmie Allen on Celebrity Family Feud 2021 – See Pics!
Celebrity Family Feud: Casts of Good Trouble vs. grown-ish and Million Dollar Listing LA vs. Million Dollar Listing NY
Kari Highman is a Beauty and Fashion Blogger at Feeling the Vibe Magazine. Otterbein Alum (2017) – English & Psychology. Always learning & creating. Avid fan of mid 2000's TV & pop music. Comments or tips, email kari@feelingthevibe.com