The stage is set, and the spotlight is back on as the historic star-maker competition series "American Idol" gears up for its 22nd season on ABC. Fans across the nation are in for a treat as music industry legends and iconic judges, Luke Bryan, Katy Perry, and Lionel Richie, reunite to discover America's next singing sensation. With veteran host Ryan Seacrest at the helm, the search for the next superstar is about to captivate audiences once again.
Last season, "American Idol" dominated the Sunday 8-10 p.m. time slot, ranking as the No. 1 program among Adults 18-49 and solidifying its position as the top-rated program in its time period for the fourth consecutive year. Not stopping there, the show proved its immense popularity by claiming ABC's No. 1 program spot in both Total Viewers and Adults 18-49. With nearly 1 billion social video views, "American Idol" stood tall as the No. 1 most social reality series across all television, leaving no doubt that its reach extends far beyond the television screen.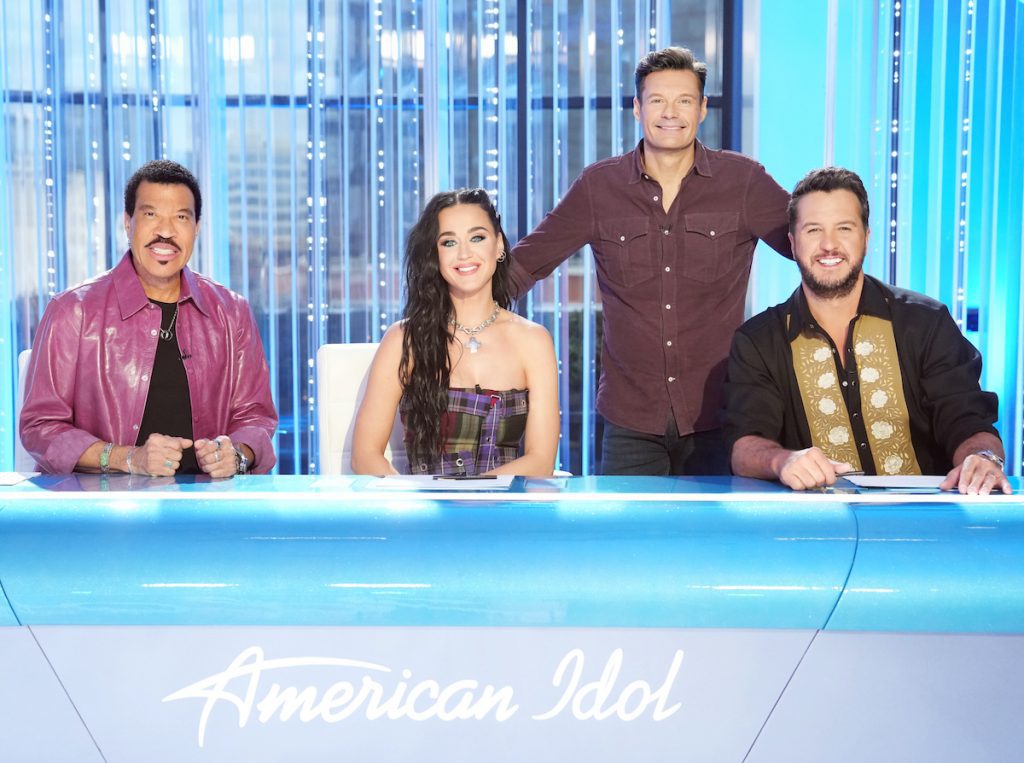 With spring 2024 as the anticipated return for the much-anticipated seventh season on ABC, the auditions are all set to kick off on Wednesday, Aug. 2. To keep the excitement soaring, "Idol Across America" returns as the live virtual nationwide search, allowing aspiring talents from every corner of the country to showcase their skills. This innovative approach brought us last year's winner, Iam Tongi, and has proven to be a game-changer in finding raw talent with immense potential.
During "Idol Across America," hopefuls will get the chance to audition face-to-face with an "American Idol" producer from the comfort of their own location. Whether you're in bustling New York City or the scenic landscapes of Alaska, the opportunity to be part of this grand musical journey awaits you. With a plethora of official audition dates, including specialized genre auditions for the first time in "IAA" history, singers and songwriters of all backgrounds have a shot at making their dreams come true.
The audition dates are set to take place in various regions across the United States, with additional fall dates to be announced soon. Whether you're from Georgia, California, Texas, or anywhere in between, "American Idol" welcomes all those eligible to take a chance on their dreams. From pop and R&B to country and rock, the diversity of genres adds a unique twist to this season's auditions, promising a spectacle of talent and passion.
"Idol Across America" auditions will be held as follows (subject to change.) Additional fall dates will be announced at a later time:
• First 700 VIP Event (Aug 2)
• Georgia, North Carolina, South Carolina (Aug 4)
• Florida, Michigan, Virginia, West Virginia (Aug 7)
• Kansas, Nebraska, North Dakota, Oklahoma, South Dakota, Texas (Aug 9)
• Open Call: Singer-Songwriters (Aug 11)
• Alaska, California, Hawaii, Nevada, Washington (Aug 14)
• Alabama, Arkansas, Louisiana, Mississippi ( Aug 16)
• Indiana, Kentucky, Tennessee, Maine, New Hampshire (Aug 18)
• Arizona, Colorado, Idaho, Montana, New Mexico, Oregon, Utah, Wyoming (Aug 21)
• Connecticut, New Jersey, New York, Pennsylvania (Aug 23)
• Open Call: Country & Rock (Aug 25)
• Illinois, Iowa, Minnesota, Missouri, Wisconsin (Aug 28)
• The South: Open Call Pt. 1 (Aug 30)
• Delaware, Maryland, Ohio, Washington D.C. , Rhode Island, Vermont, Massachusetts (Sep 6)
• Open Call: Pop, R&B & Soul (Sep 8)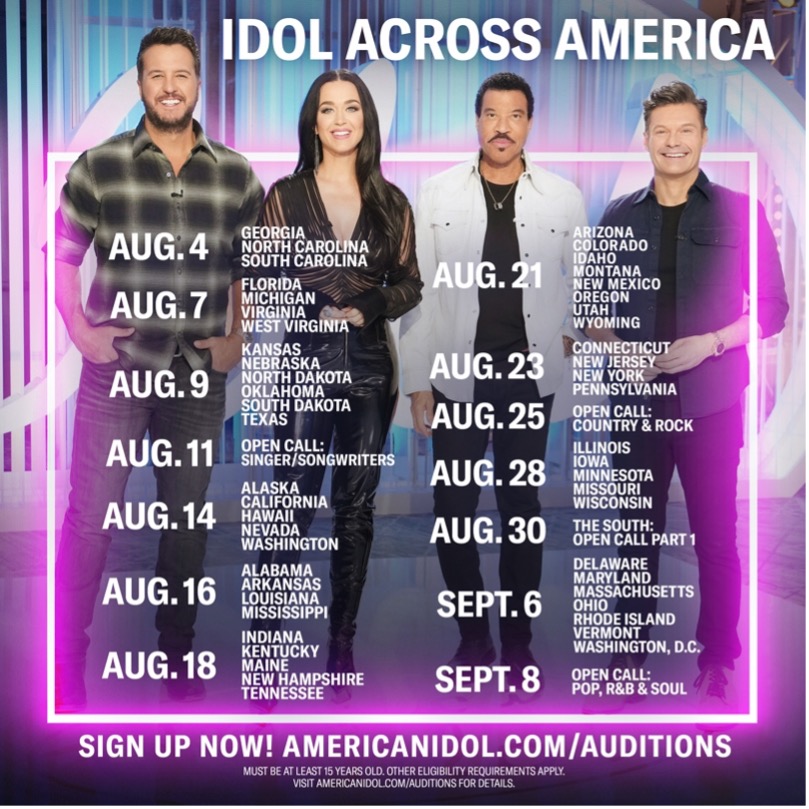 For those ready to take center stage, registration for "Idol Across America" auditions is now open. To secure a chance to impress the producers and advance to the judge audition round, visit www.americanidol.com/auditions for full eligibility requirements, submission forms, and detailed information. Don't miss your shot at stardom as "American Idol" embarks on another thrilling journey to unearth America's brightest singing sensation! The spotlight awaits, and the stage is calling—so step up, follow your dreams, and let your voice shine on the grandest stage of all!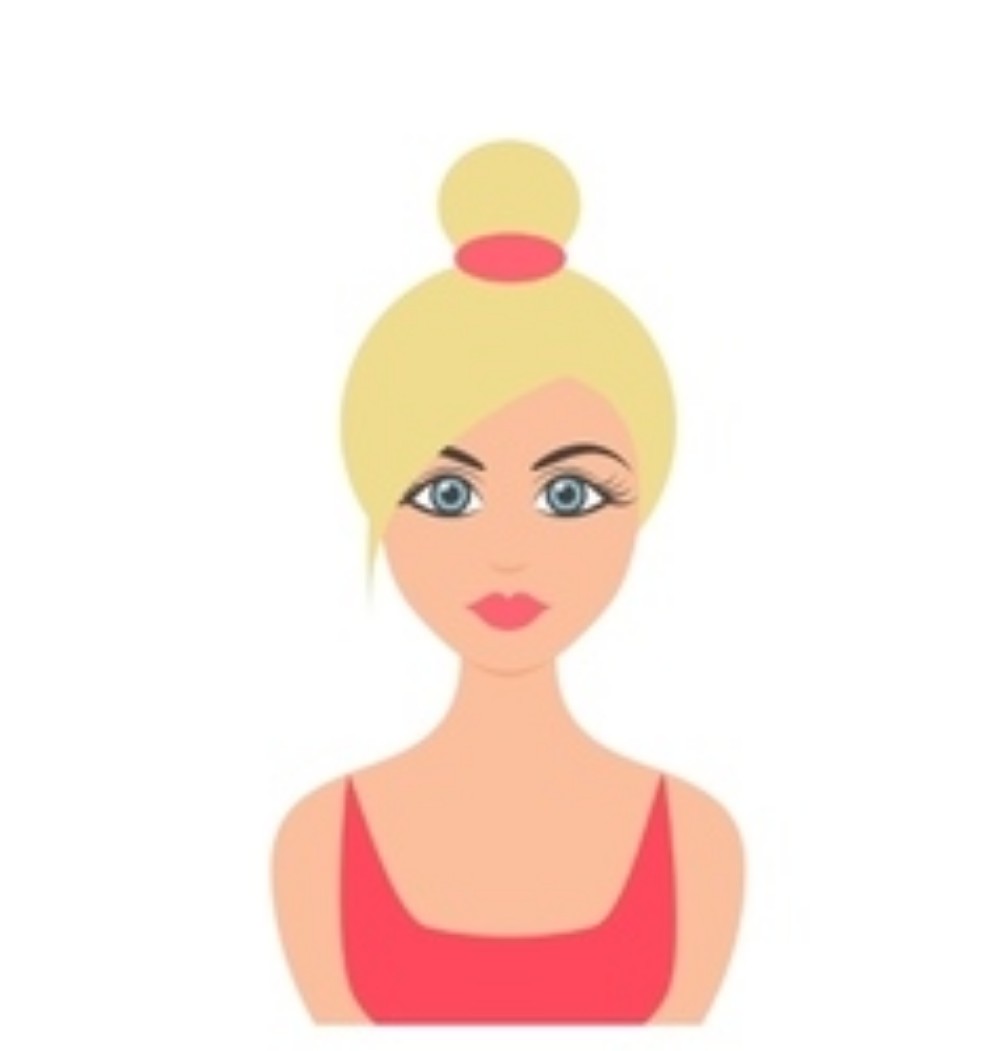 Lover of all things pop culture. 'Catfish' is my guilty pleasure. Hopeless Romantic. For tips or comments, email jaclyn@feelingthevibe.com