Settle in by the fire, Hallmark Channel original movie fans, because we have some great ideas on how to host your own Hallmark Channel Christmas Movie Party this year! Keep reading below for snacks, cozy clothes to lounge in, activities, and of course, the full Hallmark Channel Christmas movie list! Enjoy – and happy holidays!
DECOR
If you're a huge fan of Christmas, then you may already have some of your decorations out already, but don't neglect the family or living room area where your viewing party will most likely take place!
If you're in the mood, string some around or above the TV stand; or hang a wreath in the hall so when guests come in they immediately get a peek of Christmas cheer. Oh, and don't forget the Christmas music for a nice break between movie marathons!
Extra Tip! It's always fun to get the kids involved and create a fun candy filled gingerbread house while taking in the newest Hallmark flick.
FOOD & DRINK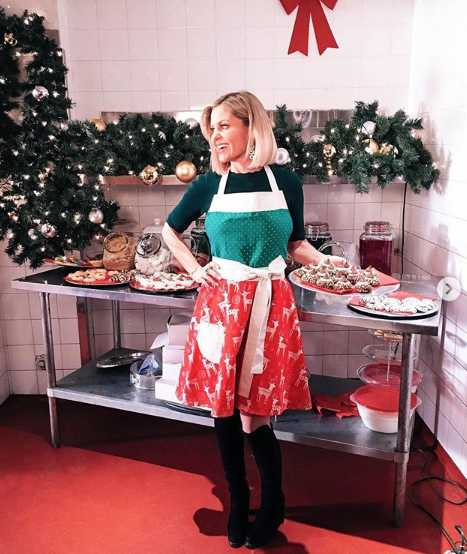 Whether you're a culinary master or an amateur cook, these recipes and drink options are both easy and fun to whip up!
For food, doing a veggie plate and dip is always a nice idea, because it's easy but still gives you that variety you're after. Even doing lighter appetizer-style food would be a cool idea – mini sliders or trying out a pizza ring can be super fun to do!
For dessert, holiday shaped cookies are always a classic – you can't go wrong with Christmas trees and Gingerbread men! Fruit pies are also a hit among party-goers, as well as chocolate chip cookies and brownies!
As for drinks, hot chocolate is one of the best bets. Spice it up by tossing in a peppermint Candy Cane for some holiday fun! Or whip up some egg nog for your guests – that's also an awesome crowd pleaser!
Get Leann Rimes' Hallmark Holiday Movie Style: "It's Christmas, Eve" – Clothes Inside!
OUTFITS
Yes, sweats and baggy t-shirts are comfy, but so are leggings or onesies, plus the latter feature tons of holiday patterns like snowflakes or Santa hats. Old Navy has some cute patterned leggings that are perfect for the holidays; Kohl's has some great sleep sets that feature fun sayings and cool designs!
Top your outfit off with some fuzzy socks or furry slippers, and you're all set to snuggle in for the movies!
*Bonus: grab a Hallmark holiday fleece throw blanket to get really cozy!
MOVIES
Below is the full list of all the Hallmark Channel original Christmas movies that have aired, and will continue to air as part of their "Countdown to Christmas" marathon. See all the movies with their premiere posters, cast members, and synopses at the link here.
Christmas at Pemberley Manor
Christmas Joy
Road to Christmas
It's Christmas, Eve
Christmas in Love
Christmas at Graceland
Christmas in Evergreen: Letters to Santa
Reunited at Christmas
Christmas at the Palace
Pride, Prejudice, and Mistletoe
Christmas Everlasting
Mingle All The Way
Majestic Christmas
Homegrown Christmas
Welcome to Christmas
Entertaining Christmas
A Gingerbread Romance
Jingle Around the Clock
Christmas Made to Order
When Calls the Heart Christmas
A Midnight Kiss
---
We hope this gets you in the holiday spirit – or at least, in the party planning mood! Have a happy holiday season, and enjoy all the heartwarming Hallmark Christmas movies!
Get Kellie Pickler's Hallmark Holiday Movie Style: "Christmas at Graceland" – Clothes Inside!
Kari Highman is a Beauty and Fashion Blogger at Feeling the Vibe Magazine. Otterbein Alum (2017) – English & Psychology. Always learning & creating. Avid fan of mid 2000's TV & pop music. Comments or tips, email kari@feelingthevibe.com