Gauze pants are lightweight, comfortable, and breathable clothing items that are perfect for hot weather. Made from a thin, loosely woven fabric, gauze pants provide excellent ventilation and are highly absorbent, making them ideal for summer days or tropical climates. They come in a range of colors, patterns, and styles, from cropped and wide-leg to harem and jogger, and can be worn for a variety of occasions, from lounging at home to going out to dinner or the beach.
Gauze pants have been around for centuries and have a long history in many cultures around the world. In West Africa, for example, they are called boubous and are worn by both men and women. In India, they are known as pajamas and are traditionally worn for sleeping and lounging. In the West, gauze pants have become a popular fashion item in recent years, with many designers and retailers offering their own versions of the style.
One of the advantages of gauze pants is that they are highly versatile and can be paired with a variety of other clothing items. For a casual look, they can be paired with a t-shirt or tank top, sandals, and sunglasses. For a more formal look, they can be paired with a blouse, heels, and jewelry. Gauze pants can also be dressed up or down with accessories such as belts, scarves, and hats.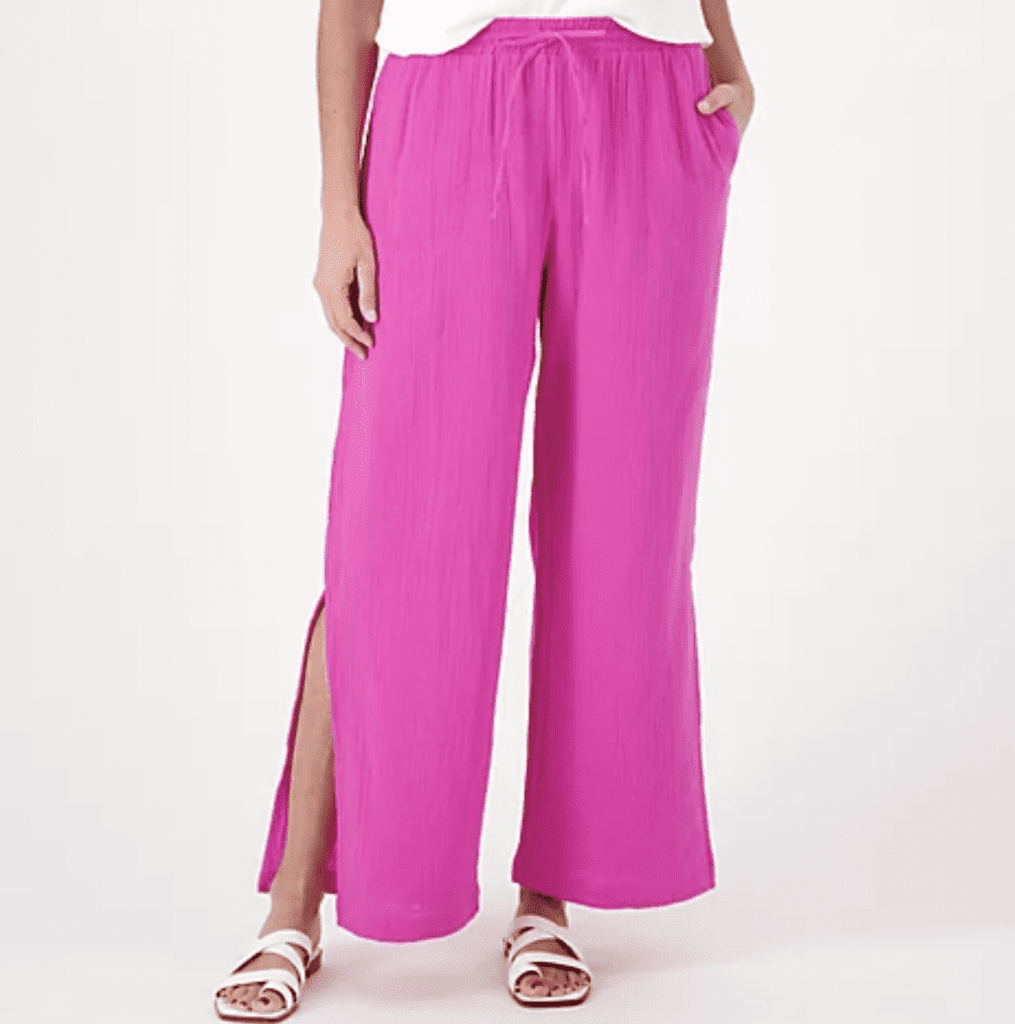 Gauze pants are also known for their comfort and ease of wear. Because they are made from a lightweight fabric, they are perfect for travel, as they take up minimal space in a suitcase and are easy to wash and dry. They are also a popular choice for yoga, meditation, and other wellness practices, as they allow for freedom of movement and are non-restrictive.
Candace Cameron Bure's clothing line has added gauze pants to their collection. The actress and entrepreneur's line of "resort style" clothing offers a comfortable and stylish option for those who want to stay cool in the warmer months. The gauze pants were recently featured on QVC on Friday, March 31, and quickly started selling. Available in blue, pink, and white, the pants offer a breezy and relaxed fit, perfect for any summer occasion.
Candace Cameron Bure has been vocal about her passion for fashion, and her desire to offer stylish and comfortable clothing options to women of all ages and sizes. Her clothing line has been well-received by fans, and the addition of gauze pants is sure to be a hit for those looking for a fashionable and comfortable summer wardrobe. In a recent interview, Bure expressed her excitement about the success of her clothing line, and her desire to expand the collection in the future.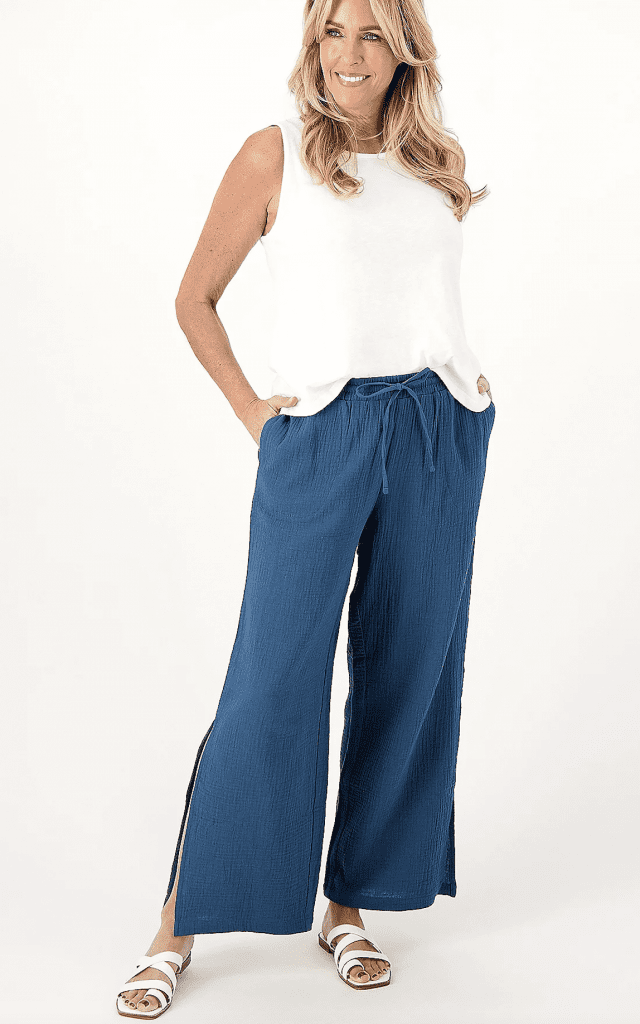 The popularity of gauze pants has grown in recent years, as they offer a breathable and lightweight option for summer clothing. The pants can be dressed up or down, and are versatile enough to wear to the beach or to a summer wedding. With the success of Candace Cameron Bure's gauze pants, it's clear that this trend is here to stay.
Whether you're looking for a comfortable and stylish option for your next vacation or just want to update your summer wardrobe, gauze pants are a must-have. Candace Cameron Bure's clothing line offers a wide selection of resort-style clothing, including the popular gauze pants. With their relaxed fit and breezy fabric, they're sure to be a staple in your summer wardrobe for years to come. Keep an eye out for future releases from the actress's clothing line, as she continues to expand her collection of stylish and comfortable clothing.
Diana is the co-editor-in-chief of Feeling the Vibe.  She loves pop culture and is always up to date on the latest news.  If you have any tips or comments, email diana@feelingthevibe.com.