Influencer, Jess Conte filmed one of her super relaxing pamper day videos and it's totally inspiring.
The Australian American YouTuber is well known for her beauty videos and vlogs with fellow influencer husband, Gabriel Conte.
Jess starts off her day in a perfectly comfortable light gray robe (get a similar one here) before jumping into her self care day routine. In order to get your hair hydrated just like Jess, she shares that she uses hair masks to help get this look.
She likes Function of Beauty Hair Mask as well as the Garnier Fructis Strengthening Treat 1 Minute Hair Mask.
---
She started off the day writing a list of everything she had/wanted to do that day. "The first thing I had on my list was to put on a robe," she said. "It kind of relaxes me straight away and reminds me of being in a spa," she continued.
Set the Mood
After clearing the space in her room and cleaning up, she set up her diffuser with lightly scented essential oils. "I love essential oils and having them all through the house," she said. She uses the lavender scent for her bedroom and has it running when asleep at night as well.
Infused Water
"If you have ever been to a spa or a fancy store, they'll usually have water and cucumber inside, which I love," Jess shared. So what better way to continue this at home spa day then to make your own flavored water?
You Will Need: A water Pitcher, cucumber, strawberries and a lemon. It should look like this when you're all finished!
After it chills in the refrigerator, you can pour yourself some in one of those cool mason jar glasses.
You can then go sit down and take a little time to catch up on reading your Bible or another book.
Jess is also a big fan of unplugging and going off social media, whether it be for a whole day or a few hours in the day. While taking her time offline on her pamper day, she decided to polish her nails and do her toes. She has said she likes using the Kiss Nails.
Next up? She pours herself a cup of Rishi Blueberry Hibiscus flavored tea before she gets ready for her bubble bath.
"I love having baths at the end of the week and wind down for the weekend," she tells her over 2.3M viewers. "I bought some new bubbles yesterday and I'm going to light some candles."
To complete the whole mood, take Jess's advice and play some light spa music. "I go on YouTube and search spa music, which is really nice and makes you actually feel like you're at the spa," she admitted.
She starts off by lighting a few candles, a Calm Candle, a San Francisco Candle and Sunday Morning candle.
Now it's time for the bubbles! She's using Dr. Teal's foaming bath with epsom salt in lavender.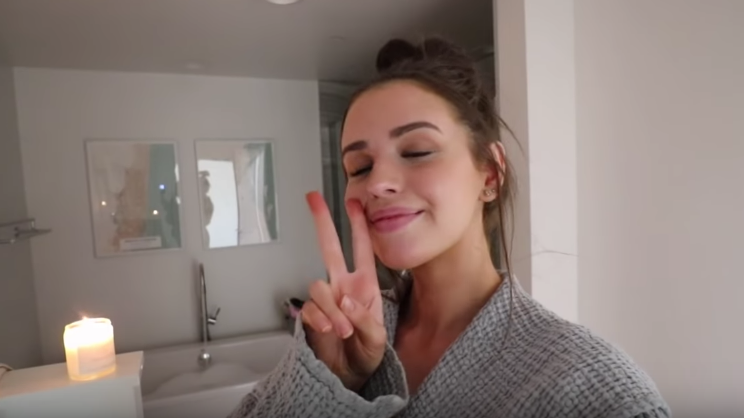 "It was so relaxing and I had the spa music on the whole time," she said of her at-home spa bath.
Before rinsing herself of all the bubbles by getting in the shower, she rubbed on a special bathing oil. You can either put a capful in the bath or rub some on yourself before getting in the shower.
Side note! Please drink some cold water after having a hot bath and/or shower. It's totally refreshing and will cool you off before jumping into Jess's final step of her spa day.
Nightly Skincare Routine
"Now I'm going to do my skincare. I want to steam, wash my face and do a face mask."
To begin, she wants to cleanse her face and steam it. She's using the Vanity Planet Facial Steamer. You can also get a similar one here, which comes with a spa band and professional facial tools.
To first remove the makeup on her face, she uses Boscia Makeup Breakup Cool Cleansing Oil. "It's an oil, so it melts the makeup away," she said.
Follow this by using your facial steamer as you can see Jess doing below.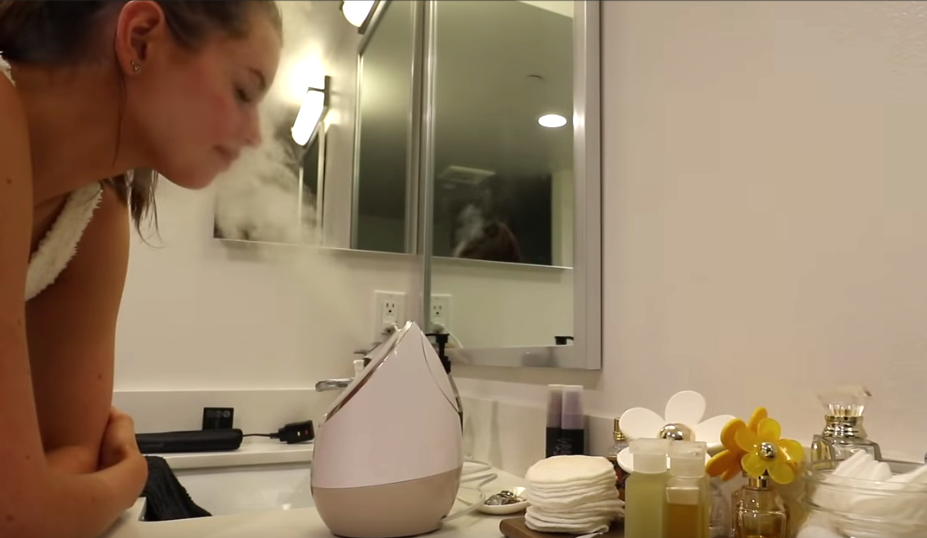 Face Mask next!
Today, she's using the Dr. Jart + Shake & Shot Face Mask. You have to paint it on, and then it becomes hard for you to peel off when done. See the image below.
If you look like Mrs. Doubtfire by the time you paint it all over your face then you did it right!
Follow the directions on the package, but it should become rubbery. At that point, it's safe to peel it off your skin. How did Jess feel after? "Wow, that's so satisfying, " she exclaimed.
Next up: Dr. Andrew Weil For Origins™ Mega-Mushroom Relief & Resilience Soothing Treatment Lotion, Murad Retinol Youth Renewal Night Cream, Biossance Squalane Marine Algae Eye Cream, Loving Tan Deluxe Face Tan,
And that completes Jess's amazing at home spa and pamper day! Now you must try it for yourself. Happy Relaxing!
Watch Jess's full Spa/Pamper Day Video below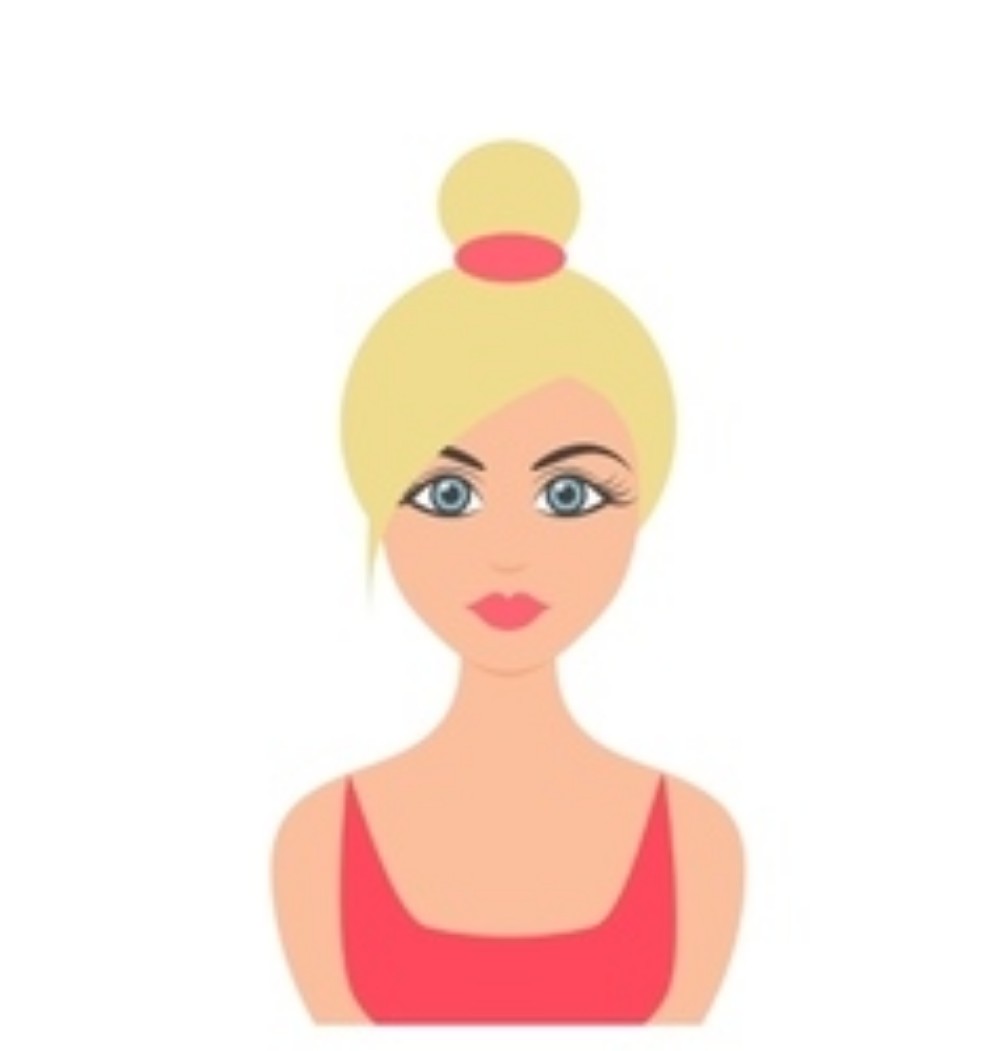 Lover of all things pop culture. 'Catfish' is my guilty pleasure. Hopeless Romantic. For tips or comments, email jaclyn@feelingthevibe.com