Lindsay Hartley Interview Exclusive: Hallmark Channel Movie "Perfect on Paper"
Feeling the Vibe Magazine recently conducted an exclusive interview with soap opera actress, Lindsay Hartley. She is best known for her previous roles On Passions, All My Children, and Days of Our Lives. Apart from that, Lindsay has appeared on CSI and Smallville. In addition to acting, she enjoys singing and holds several awards from national competitions.
This year, Lindsay has been super busy filming the upcoming "feel good" Hallmark movie Perfect on Paper, which will premiere on Saturday, September 20th. Her character, Natalie Holland is a young woman who moves to L.A. to help a famous author edit her upcoming romance novel. This summer, she sat down with Feeling the Vibe to talk about her experience filming the movie, how her audition was an unusual one, what it was like working with Morgan Fairchild, the type of music she is listening to and so much more. Plus find out about her official Twitter.
Lindsay is an all around sweetheart and America is blessed to see her on the small and big screens. She has a real heart and gives it her all in every performance she gives.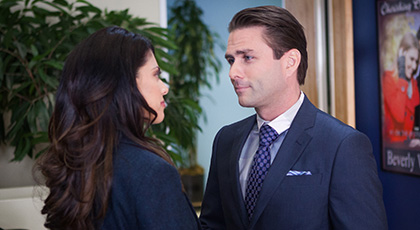 Read on for Feeling the Vibe's exclusive interview with Lindsay Hartley about Perfect on Paper plus much more!
FTV: What was the audition like for Perfect on Paper? How did you find out about the role?
LH: This is kind of a crazy story. I didn't audition. I was called to play the part of Avery, the red headed girl who was Natalie's best friend but originally she was Natalie's babysitter. We shot 30 something pages that day but they hadn't even cast Natalie yet who was a younger girl in the original script. The way Hallmark works, is that they wait a couple of months, complete the full casting, rewrite the script and then they shoot the film. About a week before we started filming, they called me and asked "How would you like to play the role of Natalie?" I thought, "Are you kidding? Of course!" I was wondering what happened to all that other footage we taped. Nothing, they just ended up throwing it out. So that's how it happened! This was my first starring role in a film. I've acted in films before but only have been in a couple of scenes. "Perfect on Paper" was very different in the fact that I was almost in every single scene. I was very appreciative of my soap opera background prepping me with that work ethic you need in order to have a main role in a movie. It was a lot. We shot in December, then had a Christmas break and shot in the end of January, working Monday – Saturday. It took about 2 months to finish. They originally wanted it out for Valentine's Day of this year but they ended up waiting for their fall lineup which I am so grateful for. We got to attend their fall launch party so I was so excited to be part of their family.
FTV: Were they long days?
LH: They were but it doesn't even matter because you're having so much fun. We were on location in different places 90% of the time. We filmed at a bar/restaurant as the place that everyone in the movie goes to for their famous hamburgers. They called it "Nicky's" in the film. We were in a hotel as the apartment building, so we were very rarely in the studio. I just had a great experience. Not only was the director incredible and the actors so kind, everybody was so happy to be there. We had fun, there was no stress the whole time. It's definitely one of those feel good movies, it's a Hallmark movie so everyone gets a happy ending!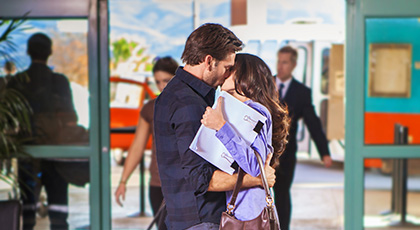 FTV: How are you similar to your character Natalie and how are you different?
LH: I try to play her a little bit innocent/quirky and much younger than me. She's trying to find love and meeting the wrong guys so I wanted her to be younger and not as experienced. I tried to make it funny and add a lot of humor to her. So I definitely pulled from when I was younger but she's still different from me in that way. I've always been a little more serious, I do have a lot of fun but with guys it's totally different than how Natalie is. As far as work, she is super focused on doing something that makes a difference. I would like to say that I try to do that with my work too. I like to put a lot of effort into something that will affect people and that's where I feel we really connected. She wanted to make a difference with her editing so when she gets called to go to LA to be a full time book editor for Avery, she is surprised Avery didn't tell her it's actually to work for Beverly Wilcox played by Morgan Fairchild. Natalie freaks out on Avery because in her mind, Beverly only writes romance novels and that's not going to change the world. That is not why she moved to LA, she wants to make a difference. So that's the journey that you go along in the movie as far as her relationship with Beverly and Avery. Avery explains to her that she has to find a guy that looks good on paper. So in essence, the title has two meanings. Making it perfect on paper with her editing and finding a guy that looks perfect on paper. This guy would have all the attributes that Avery feels Natalie needs. It's really clever because it's not just a love story, but it has to do with her work and finding the love of her life.
FTV: What was it like working with Morgan Fairchild?
LH: Morgan Fairchild is one of the nicest ladies on the planet. Not only is Morgan gorgeous and super talented, she's also really funny. She's a really amazing actor and the kindest woman, just so real.
FTV: What type of music do you like to listen to?
LH: Wow that's a good question! I like a lot of music! I like Coldplay, Shakira, Bruno Mars, Jason Mraz, Lady Gaga, and David Gray. I've never stuck with one style. I like country, R&B, pop. Miley Cyrus' song Wrecking Ball was so amazing. Music is really good right now, it kind of came into its own. At one time it was all about R&B, then it was super alternative, and it's just been evolving. Then they have the fun remixes with the DJ's. It's moving forward and it feels good!
FTV: Will you be performing live anywhere?
LH: I actually started singing again. I just performed at the House of Blues a couple of weeks ago. I will be there again on October 17th at the House of Blues.
FTV: Our readers love to connect with our featured singers/actors. What's your official Twitter? Do you enjoy reading tweets from your fans?
LH: It's @L_Hartley on Twitter. I read every message that comes through and check it every day. That's definitely me, I read them, favorite, retweet and/or respond. I love reading the tweets and feel so special that they care.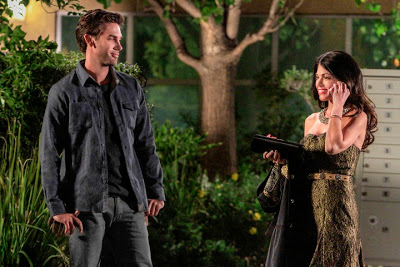 Lindsay Hartley's latest movie Perfect on Paper is coming to the Hallmark Channel this September 20th at 9/8c. The film stars Morgan Fairchild, Lindsay Hartley, and Drew Fuller. Perfect on Paper is a romantic comedy with a twist as Natalie (played by Lindsay) must decide which guy to choose and what it really means to be "perfect on paper." Be sure to join Feeling the Vibe next Saturday for a virtual movie watching party with virtual popcorn!
If you would like to learn more about Lindsay Hartley, visit: Getting to Know Soap Opera Actress Lindsay Hartley!
Watch the premiere of Perfect on Paper with us!

Join us @feelingthevibe!