Weighted blankets have been taking the world by storm recently, and they are continuing to be popular thanks to easy access on sites like Amazon. We have broken down the top 10 reasons why you should get yourself a weighted blanket, so keep reading below to find out all the details!
Can help reduce anxiety: imbalances in the brain can contribute to anxiety, and a weighted blanket can help combat that by allowing the mind to slow down and mesh with the body, which can be a powerful mood booster, and therefore you will be less anxious. Plus, when you know it works, you will have another coping strategy for the next time an anxiety attack strikes.
Can ease insomnia: weighted blankets provide the perfect amount of pressure that can allow your body to relax and unwind, making it less likely to toss and turn.
Can promote a sense of calm: after you put the blanket on, you'll instantly feel soothed, which can make you feel more at peace with yourself and your environment, giving you an overwhelming sense of calm.
Can boost your mood: using a weighted blanket can help your brain produce more serotonin, which is the key chemical in making you happier.
Can recreate the feeling of a hug: it's been shown that touch can help us feel less alone, and therefore safer. The weighted blanket gives off this same effect, without having to leave the comfort of your own home.
Can improve the quality of your sleep: weighted blankets can also reduce cortisol levels in the body, which means you will be stressing less, which is especially good for nighttime when your mind can often run a million miles a minute. Less stress = more sleep! Win win.
Can be easy to use: simply settle in somewhere cozy, and pull the weighted blanket on your body. Simple as that!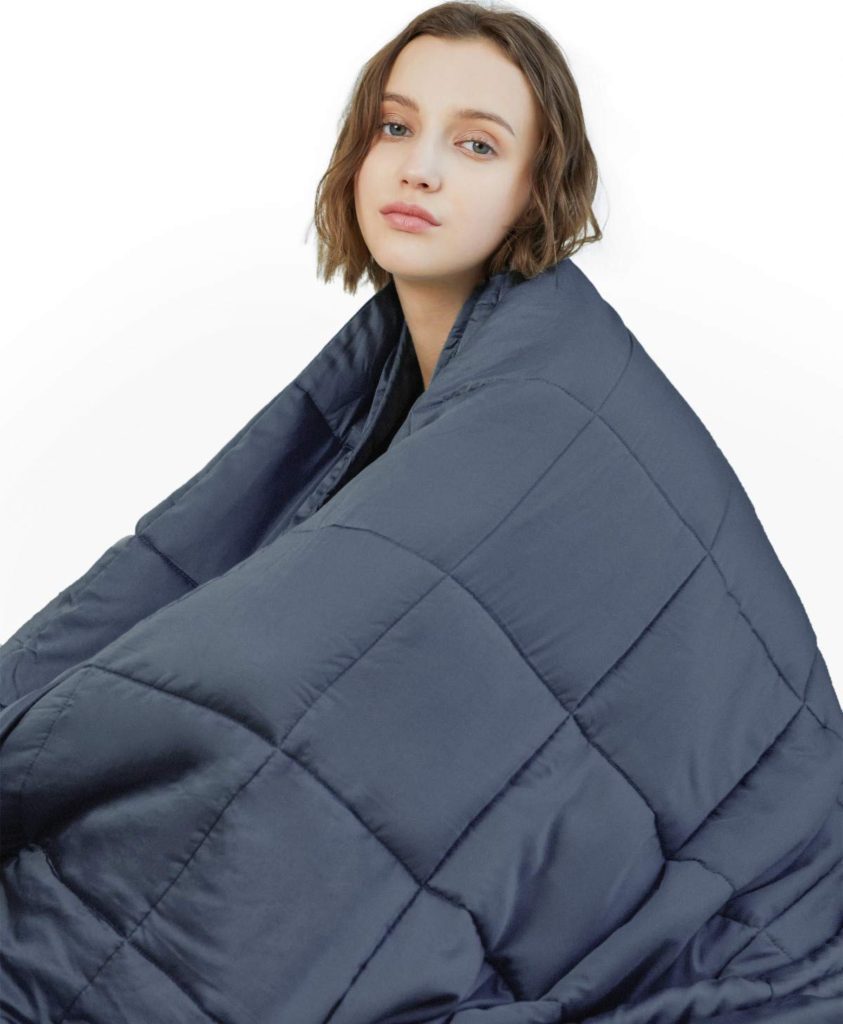 Can help symptoms of various disorders (panic disorder, ADHD, PTSD etc.): a lot of these disorders run on fatigue, and by using a weighted blanket, you can help fight that symptom. Weighted blankets can also reduce blood pressure and keep your pulse steady, which will leave you feeling better.
Can provide healing from pain without the use of drugs: weighted blankets provide a nice and helpful alternative to traditional medicines, so this may be the right choice for you if pharmaceuticals haven't worked for you in the past, or you're simply not one to use that kind of method in the first place.
Can improve your focus in work or school environments: sometimes work or school can be overwhelming and triggering for people, so a weighted blanket provides a grounding effect, leaving you feeling more centered, which then will increase your productivity.
Interested in trying one for yourself? Check out these options:
YnM Weighted Blanket– one of Amazon's top sellers, this blanket has rave reviews thanks to its 7-layer system and range of sizes (weights).
Pine & River Ultra Plush Blanket– can be pricey, but well worth it for the super soft fabric and luxe look.
---
Hopefully the benefits of weighted blankets convinced you to check one out for yourself! You will definitely see an improvement in both body and mind after using this comfortable and cozy item. Don't forget to check out the links above for a couple top-rated blankets; but Amazon also has a ton more options in stock, so you can pick one that suits your preference. Enjoy!
Kari Highman is a Beauty and Fashion Blogger at Feeling the Vibe Magazine. Otterbein Alum (2017) – English & Psychology. Always learning & creating. Avid fan of mid 2000's TV & pop music. Comments or tips, email kari@feelingthevibe.com