ABC has a new hit on its hands. The drama series Promised Land is full of twists, turns, and secrets to spill as a two families fight for one American dream. The show has a strength about it thanks to its almost all Latino cast and crew, and promises to deliver an epic saga of how far people will go for wealth and power. Keep reading below for information on the cast, plot, where the show was filmed, where to watch, and more.
---
What is Promised Land about?
ABC's official press release states that "Promised Land is an epic, generation-spanning drama about a Latinx family vying for wealth and power in California's Sonoma Valley."
Even though the series is set Sonoma, California, it's actually filmed in Santa Clarita, California, according to ShowBiz CheatSheet. It follows patriarch Joe Sandoval (John Ortiz), who owns Heritage House Vineyard, as he passes the family business down to his daughter, Veronica (Christina Ochoa). But, his ex-wife Margaret Honeycroft (Bellamy Young) is planning a hostile takeover – she desires the winery for herself, and will do anything to get it.
Margaret's not the only one who wanted the family business. Veronica's brother Antonio (Tonatiuh Elizarraraz) was first in line to take over; plus, two outsiders – brothers Carlos (Andres Velez) and Billy Rincón (Rolando Chusan) – have hatched a plan to take over the winery.
Speaking of the winery, no, Heritage House Vineyard isn't an actual place. But, they filmed at a winery called Agua Dulce in Southern California, per ShowBiz CheatSheet.
---
Meet the Cast of Promised Land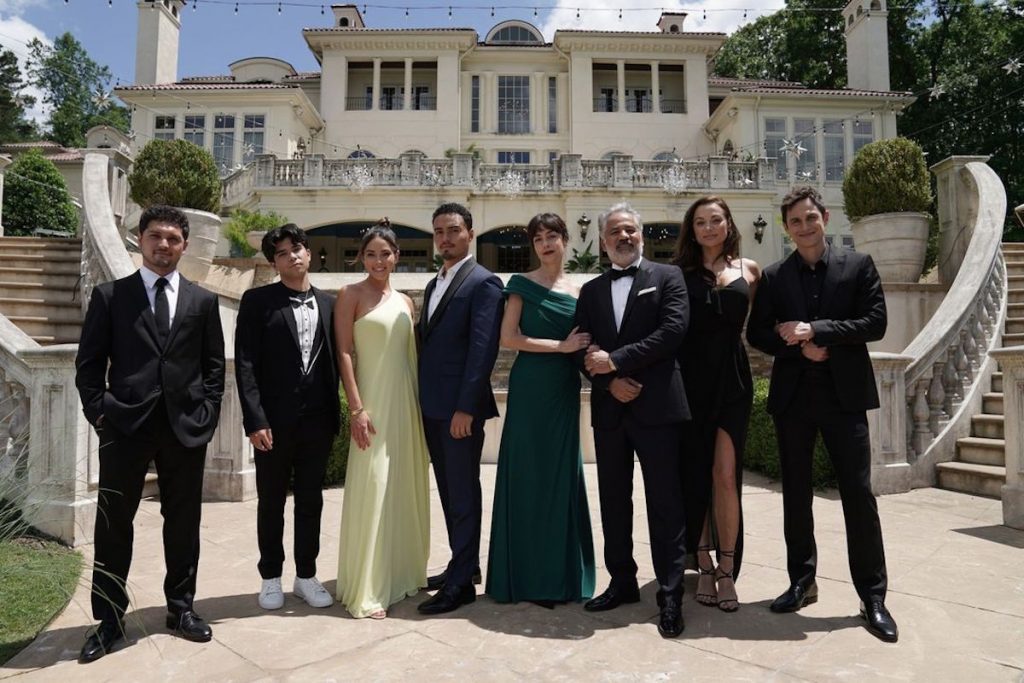 Bellamy Young as Margaret Honeycroft
Bellamy Young is best known for her role as Melody "Mellie" Grant in the ABC drama series Scandal. More recently, you may have seen her on FOX's Prodigal Son as Jessica Whitly. Bellamy guested on FOX's Fantasy Island season 1 premiere, and now is back on ABC as matriarch Margaret Honeycroft. Margaret is ruthless and resourceful, always getting the last word in when it comes to interactions with her ex-husband, Joe. The question is: will she actually be able to take the vineyard?
John Ortiz as Joe Sandoval
John Ortiz is known for his roles in Messiah, Peppermint, and most recently, The Fallout alongside Jenna Ortega. Now, he portrays Joe Sandoval, the patriarch of Sonoma Valley's Heritage House Vineyard. Joe seems to be the central focus of the series, as he kind of holds everyone and everything together. His character is smart and business savvy, but sometimes he's too good at playing the game. Can he balance his family life with his work life, or will one suffer because of the other?
Christina Ochoa as Veronica Sandoval
Christina Ochoa is an actress known for her role as Renn Randall on TNT's Animal Kingdom, which is due back for season 6 in 2022. A few other notable credits to her name are: ABC's A Million Little Things as Ashley Morales, the CW's Valor as Nora Madani, and Syfy's Blood Drive as Grace d'Argento. In Promised Land, she plays Veronica Sandoval, the newly appointed CEO of Heritage House. Veronica is ambitious and wants to do the best job she can, but she'll have to fight her siblings' rivalry to keep her place at the top.
Tonatiuh Elizarraraz as Antonio Sandoval
Tonatiuh Elizarraraz is known for his 3-season recurring guest star arc as Marcos Zamora in the STARZ series Vida. Other guest credits include: Jane the Virgin, Chicago Med, Famous in Love as well as the forthcoming Peacock limited series Angelyne alongside Emmy Rossum. He attended the University of Southern California School of Dramatic Arts and School of Cinematic Arts, where his passion for theater grew. As Antonio Sandoval on Promised Land, Tonatiuh's character is ready to reunite with his family after building a business of his own. But, will the homecoming be what any of them expected?
Mariel Molino as Carmen Sandoval
Mariel Molino is a Mexican American actress who has been in a slew of Spanish television shows and movies, such as La Negociadora (The Negotiator) and Papis muy padres (Very Dad). While she did guest star on an episode of Narcos: Mexico in 2021, her turn as Carmen Sandoval on ABC's Promised Land is technically her American TV debut. She's currently producing a play with two Promised Land co-stars, Andres Velez and Miguel Angel Garcia, according to her ABC bio. Mariel's character Carmen is the youngest Sandoval sibling, the "free spirit" of the family who hasn't really found her place yet. But, you'd be wise to not underestimate her, because while everyone else is busy trying to take over the family business, Carmen is trying to make a name for herself.
Andres Velez as Carlos Rincon
Andres Velez may be newer in the acting world, but he's already worked alongside popular names like Riverdale's Camila Mendes in Coyote Lake and Disney's Debby Ryan in Night Teeth. His next project is The Woods, starring JK Simmons. In Promised Land, Andres plays Carlos Rincon, an immigrant who crossed the border to search for his brother, Billy. Carlos and his brother also have plans to overtake the winery, unbeknownst to Joe and his family.
Katya Martin as Juana Sanchez
Katya Martin is an actress whose credits include BBC's Roadkill, Lifetime's Ten, Showtime's The Affair, and My First Miracle. Katya's also a director, having several films be shown at festivals around the world, like the short film Vandal for Venice Film Week. In addition to acting, she's also created digital content for brands via Duolingo and RED IS DANCING, according to her LinkedIn. In Promised Land, Katya is Juana Sanchez, a woman who fled from El Salvador and has aspirations of being a teacher. But, will her feelings for Carlos persuade her to go down a different path?
Cecilia Suarez as Lettie Sandoval
Cecilia Suarez is a Mexican actress known playing Paulina de La Mora in the Netflix co-produced series La Casa de Las Flores (The House of Flowers). She received critical acclaim for this role, especially for her LGBTQ+ allyship, according to LATINA. As Lettie Sandoval in ABC's Promised Land, she will breakout once again and not be stereotyped, which is what attracted her to the series in the first place. Lettie is Joe's new wife, and the arch-nemesis of Margaret. But, will she be able to find her place amongst the family drama where secrets are abundant?
Any other details to know?
You can watch Promised Land on Mondays at 10/9 c on ABC, or you can stream it the next day on Hulu. Speaking of which, you can actually watch episodes one and two on Hulu right now. The pilot premiered on January 24, and episode 2 will air on TV January 31. Keep up with updates from the show by following them on Instagram and Twitter.
---
RELATED ENTERTAINMENT NEWS
ABC's 'Rebel': Cast, Plot & Photos from Series Starring Katey Sagal
What TV Shows to Watch on ABC: January 27, 2022
Who's on 'Shark Tank' This Week? Full Company List Inside!
Kari Highman is a Beauty and Fashion Blogger at Feeling the Vibe Magazine. Otterbein Alum (2017) – English & Psychology. Always learning & creating. Avid fan of mid 2000's TV & pop music. Comments or tips, email kari@feelingthevibe.com