We are so happy because Selena Gomez is back on TV tonight.
The 26 year old Texas native has made rare appearances in the past couple of months. She was seen rocking a bold red lip last month at the prestigious Cannes Film Festival and more recently revealed her super cute clothing line with Puma.
Tonight Gomez will be appearing on NBC's Jimmy Fallon Show. She is seen wearing a sparkly sequined multi colored dress and sporting a smokey eye.
In typical Jimmy fashion, he's not going to simply have a sit-down interview with Sel. "Things are about to get hot in here," Jimmy said on Instagram with a photo from Gomez's appearance. What will they be doing?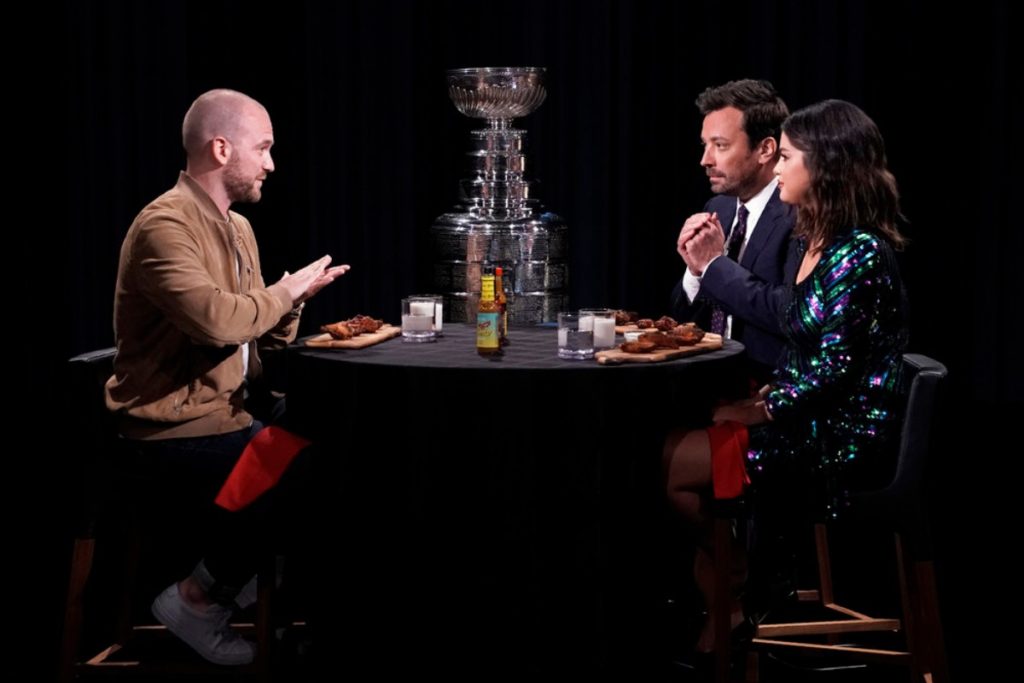 The pair will be taste testing spicy chicken wings with hot hot salsa sauce. We are hot just thinking of that! Will she handle all the spice or need major pitches of water to wash that down?
Selena the Model
Selena recently released her sporty collection with the popular brand Puma. She offers adorable black and white jackets and all sorts of sporty items that you can easily wear from day to night.
She is also still a spokesmodel for Coach. "All @Coach combo -biker jacket and butterfly parker bag," writes Selena. How cute is this white biker jacket and dusty rose Coach purse?
What is Selena Gomez's Relationship like with Justin Bieber?
All eyes were on Selena's roller coaster relationship with the "Sorry" singer, until he got married to model, Hailey Bieber; then even more eyes were on her. In those moments, she did a great job of stepping out of the spotlight and focusing on herself. It was reported by People that she recently deleted the last photo of Justin off her official Instagram. Go girl!
"She hasn't been thinking about Justin. She's in a great place and is very happy," the close source revealed.
Catch Selena Gomez on 'Jimmy Fallon' Tonight at 11:30pm EST on NBC.
MORE ON SELENA GOMEZ
Get Selena Gomez's Adorable Black & White Jacket While It Lasts
Selena Gomez Explains the Personal Touches She Added in Her Latest Puma Collection
Get Selena Gomez's Red Hot Look from Cannes Film Festival 2019 – Beauty Breakdown!
Selena Gomez Shows Off New Swimwear She Helped Design
Diana is the co-editor-in-chief of Feeling the Vibe.  She loves pop culture and is always up to date on the latest news.  If you have any tips or comments, email diana@feelingthevibe.com.