Four years since the original Pretty Little Liars series ended, a new one has come to town. HBO Max's highly anticipated reboot is dark, edgy, and just as thrilling as the first ABC Family/Freeform show, and its spinoffs (Ravenswood, PLL: The Perfectionists). Titled Pretty Little Liars: Original Sin with a cast led by Bailee Madison, the new series promises twists, turns, and a small town with many secrets. Keep reading below for everything else we know about the new PLL show.
---
Pretty Little Liars: Original Sin Plot + Cast
HBO Max's official press site released the series description in July when some of the first castings were announced. It reads: "Twenty years ago, a series of tragic events almost ripped the blue-collar town of Millwood apart. Now, in the present day, a group of disparate teen girls — a brand-new set of Little Liars — find themselves tormented by an unknown Assailant and made to pay for the secret sin their parents committed two decades ago…as well as their own."
Even though the "dark, coming-of-age, horror-tinged drama" isn't set in Rosewood (PLL was), it still exists within the same universe as the original show, and its spinoffs. Translation? Possible cameos from OG PLL cast members aren't completely out of the question, although Original Sin is set in a brand new town, with a brand new generation of Liars.
As mentioned earlier, Bailee Madison leads the cast as Imogen, "a true survivor [and] final girl [who will] drive the mystery of uncovering 'A' as she fights for her life and the lives of her friends," according to E! Bailee has been a huge fan of the original PLL series since it was first on air. She regularly posted about her love for the show on Twitter, and participated in live tweeting sessions. Check out a couple fangirl tweets below:
Does this picture answer ur question? 😉 "@ABCFpll: @BaileeMadison r you excited for the #PLL #FatalFinale tonight?" pic.twitter.com/ebLlwjXmse

— Bailee Madison (@BaileeMadison) August 27, 2014
"@ABCFpll: @BaileeMadison Are you wearing A hoodie? #PLL" ummmm AlwAys ;);) #PLL pic.twitter.com/cK7BKd5O1J

— Bailee Madison (@BaileeMadison) January 14, 2015
She even dressed up as 'A' for Halloween in 2013! Bailee reminisced about the occasion while filming Pretty Little Liars: Original Sin. She wrote: "Shhhh. A is back. & 2021 Bailee had to bring back 2013 Bailee's Halloween costume choice… because filming for @prettylittleliars is in full swing and life is pretty damn special and crazy and my 13 year old self would be freAking out right now❤️❤️ 🤫 #prettylittleliarsoriginalsin"
Chandler Kinney will play Tabby, an "aspiring director and horror movie buff. Like the other Little Liars, Tabby's hiding a secret"; Maia Reficco will play Noa, a "striving, sardonic track star who's working hard to get her life back to normal after a summer spent in juvenile detention," per HBO Max. Rounding out the little liars are: Malia Pyles who plays Minnie, and Zaria Simone, who will play Faran.
According to Teen Vogue, Minnie has "survived a childhood trauma [and] spends most of her time in a virtual world, but she is more than capable of taking on the dark forces of Millwood — including 'A.'" Meanwhile, Faran is "a poised, disciplined ballerina with aspirations to make it out of Millwood." But, she'll have to fight with 'A' just like the rest of the girls. You can see a "final girls photo" of the five of them below:
Joining the main cast as series regulars are a few PLL: Original Sin parents and other characters:
Lea Salonga is Elodie, Minnie's overbearing mom who keeps her daughter safe after a trauma occurs
Sharon Leal plays Sidney, Tabby's mother and real estate agent
Elena Goode is Marjorie, Noa's mother, a nurse with a secret that threatens their relationship
Alex Aiono plays Shawn, Noa's boyfriend and one of the most popular jocks at Millwood High
Mallory Bechtel plays Karen, Millwood High's mean girl and antagonist to the Liars
Eric Johnson portrays Sheriff Beasley, the domineering patriarch of the Beasley family
Per Deadline, there's an even longer list of recurring cast, including:
Carly Pope plays Davie, Imogen's mother with a dark secret from her past
Zakiya Young portrays Corey, Faran's mother who works as a paralegal
Carson Rowland will play Chip, a film buff with a not-so-secret crush on Tabby 
Jordan Gonzalez takes on Ash, a transgender student and romantic interest to Minnie
Ben Cook appears as Henry, a dancer and partner to Faran both on and off stage
Elias Kacavas plays Greg, Karen's boyfriend with whom she shares a tumultuous relationship
Benton Greene recurs as Zeke, Faran's father who balances his work with his daughter's ballet
Cristala Carter plays Millwood High's Nurse Simmons, a confidante for the Liars
Derek Klena plays Wes, Tabby's boss at The Orpheum local movie theater
Kate Jennings Grant will portray Madame Giry, the dance teacher at Millwood High
Robert Stanton is Marshall Clanton, Millwood High's principal
Jennifer Ferrin is Martha Beasley, wife of Sheriff Beasley who tries to keep up appearances
Lilla Crawford plays Sandy, Karen's most ardent admirer
Brian Altemus portrays Tyler, a MHS jock who's a poster child for toxic masculinity
Anthony Ordonez is Mr. Gardner, computer science teacher at MHS and mentor to Minnie 
Jeffrey Bean is Mr. Smithee, Tabby's film teacher who is stern and doesn't like to be challenged
The final 9 listed above were first reported by Deadline as well.
Something that's distinctly different from the OG PLL series is that there will be teenaged versions of the parents seen in Original Sin. The mistakes of the girls' parents are just as important, maybe even more so, considering the villain is seeking retribution for sins committed two decades earlier. The cast of teenage versions of parentals were recently announced. They are Ava DeMary and Kristen Maxwell, who will portray teen Davie and teen Sidney, respectively.
The Wrap also reported that Gabriella Pizzolo will portray Angela Waters, "a lonely teen girl who is desperate to belong." Apparently teen Sidney has a soft spot for Angela; meanwhile teen Davie is "the leader of her friend group [and] the tie that binds them all together" after tragedy strikes.
---
Any other details to know about Pretty Little Liars: Original Sin?
The series comes from Roberto Aguirre-Sacasa and Lindsay Calhoon Bring, both of whom worked on Netflix's The Chilling Adventures of Sabrina. According to US Weekly, both have said they're "leaning into the suspense and horror in this reboot, which hopefully will honor what the fans loved about the hit series, while weaving in new, unexpected elements."
HBO Max's official press site stated that Lisa Soper, also from The Chilling Adventures of Sabrina will direct the first two episodes of the series. The show is produced by Muckle Man Productions and Alloy Entertainment, the latter of which is responsible for series like Gossip Girl, Pretty Little Liars, The Vampire Diaries, and You in association with Warner Bros. Television.
According to an Instagram post shared by Roberto, the first episode of the series is titled "Chapter One: Spirit Week." Roberto and Lindsay wrote the pilot episode, and Roberto's Instagram hints at Friday the 13th being Millwood's "favorite day of the year," so it's sure to be spooky.
Filming began in August in New York, and has continued into the fall. Multiple cast members have been updating fans throughout the weeks of filming, which you can see in our photo gallery below.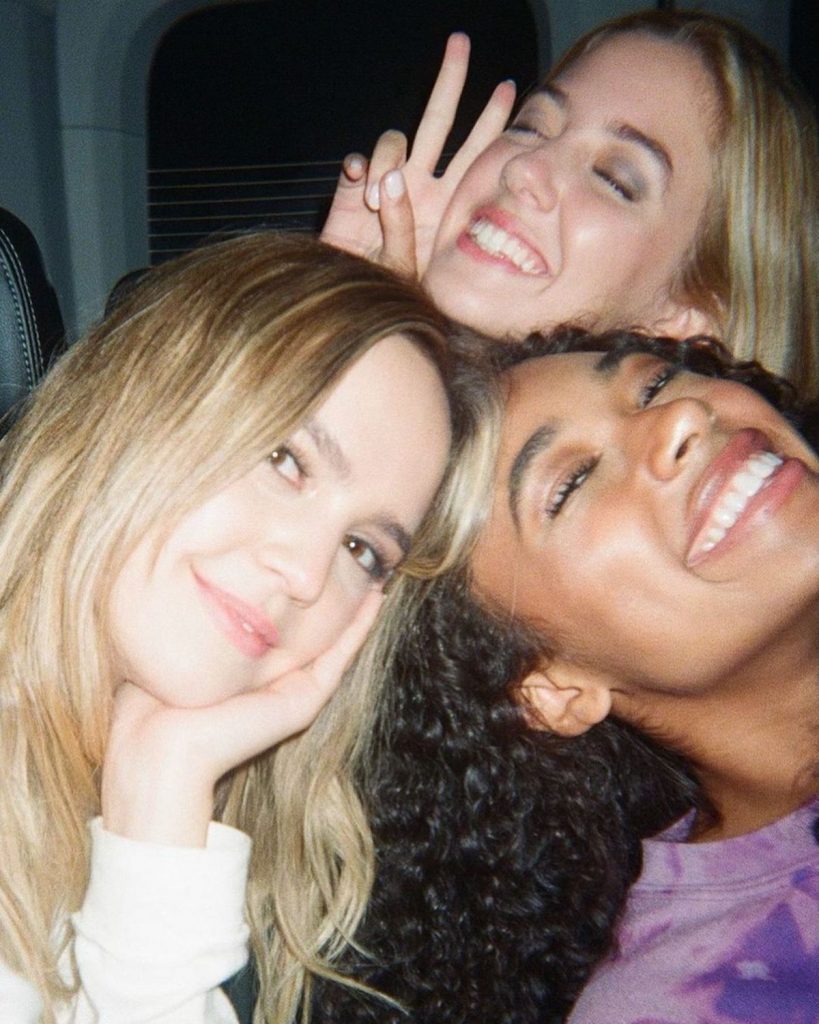 While there's no release date set yet for the series, it will stream exclusively on HBO Max, which is where you can currently watch the original Pretty Little Liars. In the meantime, check out the teaser trailer for Pretty Little Liars: Original Sin below:
---
RELATED ENTERTAINMENT NEWS
A Week Away on Netflix: Cast, Trailer, Release Date for the Film Starring Bailee Madison
In the Dark Season 4 – Release Date, Plot Hints, & More Inside
Selling Sunset Season 4: Everything We Know So Far
If you purchase an independently reviewed product or service through a link on our website, Feeling the Vibe may receive an affiliate commission.
Kari Highman is a Beauty and Fashion Blogger at Feeling the Vibe Magazine. Otterbein Alum (2017) – English & Psychology. Always learning & creating. Avid fan of mid 2000's TV & pop music. Comments or tips, email [email protected]