Who out there knows what tech neck is? We kind of need to, because most of us have it!
Dr. Doug Willen, New York chiropractor joined the set of E!'s Pop of the Morning to school us all on the dangers of tech neck.
We live in the day and age of constant technology. Whether we are walking to our car, waiting for an appointment, or chilling on the couch – you can usually find us doing one thing, checking our phones.
Did you know this position is putting a tremendous strain on our necks and posture? Dr. Doug Willen said, "our heads weigh about 10 to 11 pounds. They should be sitting on our shoulders." Just what is this doing to our bodies?
Check the image below for a good visual – (and if you're anything like the POTM co-host, Lilliana Vasquez, we can see you adjusting your posture and sitting up straighter now.)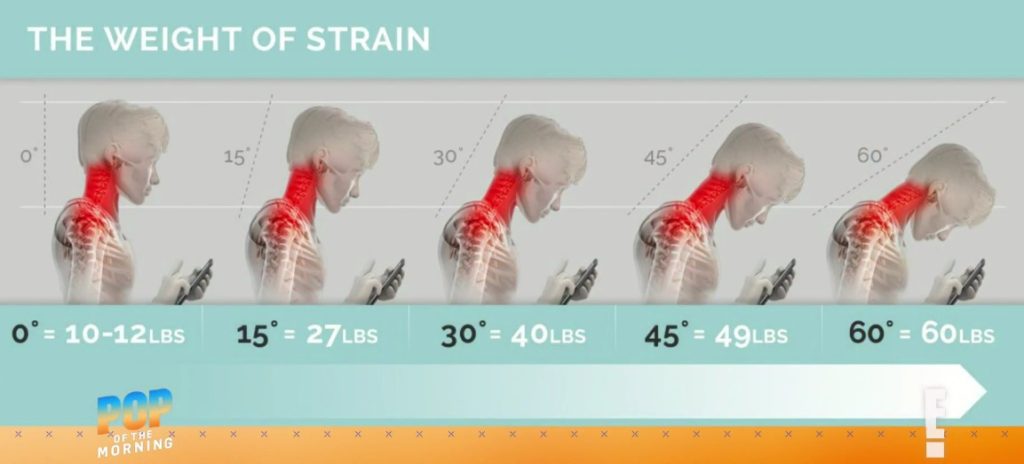 To see if New Yorkers were clued into what tech neck is, Pop of the Morning co-host, Scott Tweedie took to the streets of NYC to find out.
"Do you know what tech neck is?" Tweedie asks. "I do not," one woman responds. "What do you think tech neck would be?" "Maybe someone who hurts their neck by looking down at their phone too much?" See the full video here!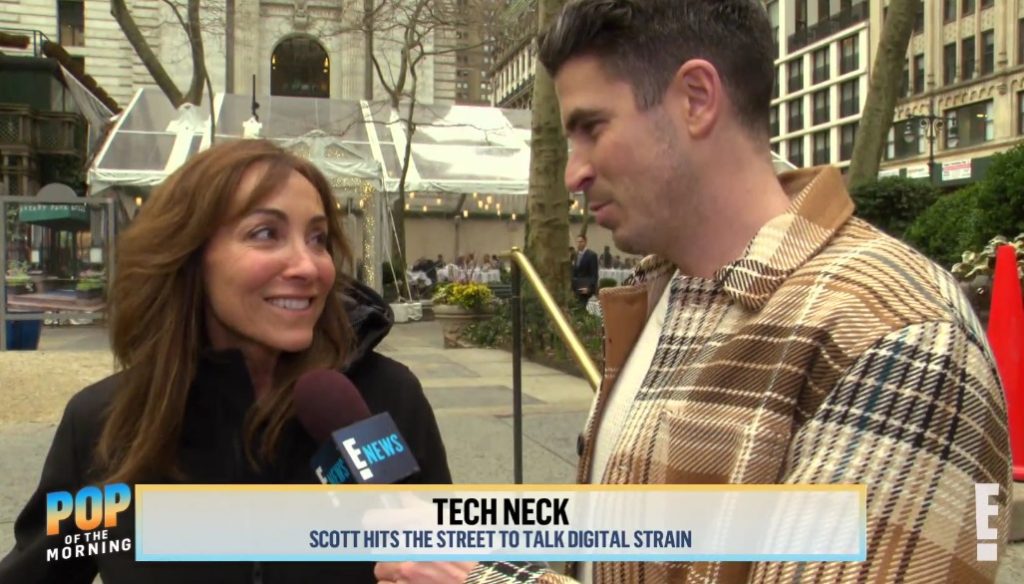 ---
How can you fix tech neck?
"The obvious thing is you would come to me and I'd fix it," Willen said. However, if you can't do that, there's another option. "When you're laying in bed texting, put pillows on your lap so your arms are higher so now my arms are up and it wouldn't be as bad," the doctor explains.
Also when you can, use voice texting if you plan to send an extra lengthy message! There you have it, now we hope your neck can hurt a little less!
Tune into Pop of the Morning weekdays at 11am ET/PT on E!
---
MORE CELEB NEWS
KRISTIN CAVALLARI AND JAY CUTLER VISIST ITALY ON 'VERY CAVALLARI'
20 FACTS ABOUT THE NEXT 'BACHELORETTE' CLARE CRAWLEY
KRISTIN CAVALLARI RELEASES DPHUE SUN & CITY MIST SPRAY WITH HAIR STYLIST, JUSTIN ANDERSON
20 FACTS ABOUT THE NEXT 'BACHELORETTE' CLARE CRAWLEY
If you purchase an independently reviewed product or service through a link on our website, Feeling the Vibe may receive an affiliate commission. Courtney Rose is an Entertainment Writer at Feeling the Vibe Magazine based in New York. Pop culture and rom-com obsessed. Studied Journalism and is up to date on all the latest entertainment news. For tips or comments, email me at [email protected]