Very Cavallari fans have an early holiday present: Kristin Cavallari announced that prior to the highly anticipated third season of her reality show, there will be a special episode airing Sunday Dec. 15 called Very Merry Cavallari. Keep reading below for all the details, plus info on season 3!
What can we expect from Very Merry Cavallari?
Kristin Cavallari herself said it best: the holiday special will be a 'teaser' of sorts to Very Cavallari season 3, before the official season premiere on Jan. 9. If the photo below is any indication of what's to come on Sunday's all-new special, safe to say we're in for seeing Kristin, her husband Jay Cutler, and the rest of the Very Cavallari crew in a festive mood!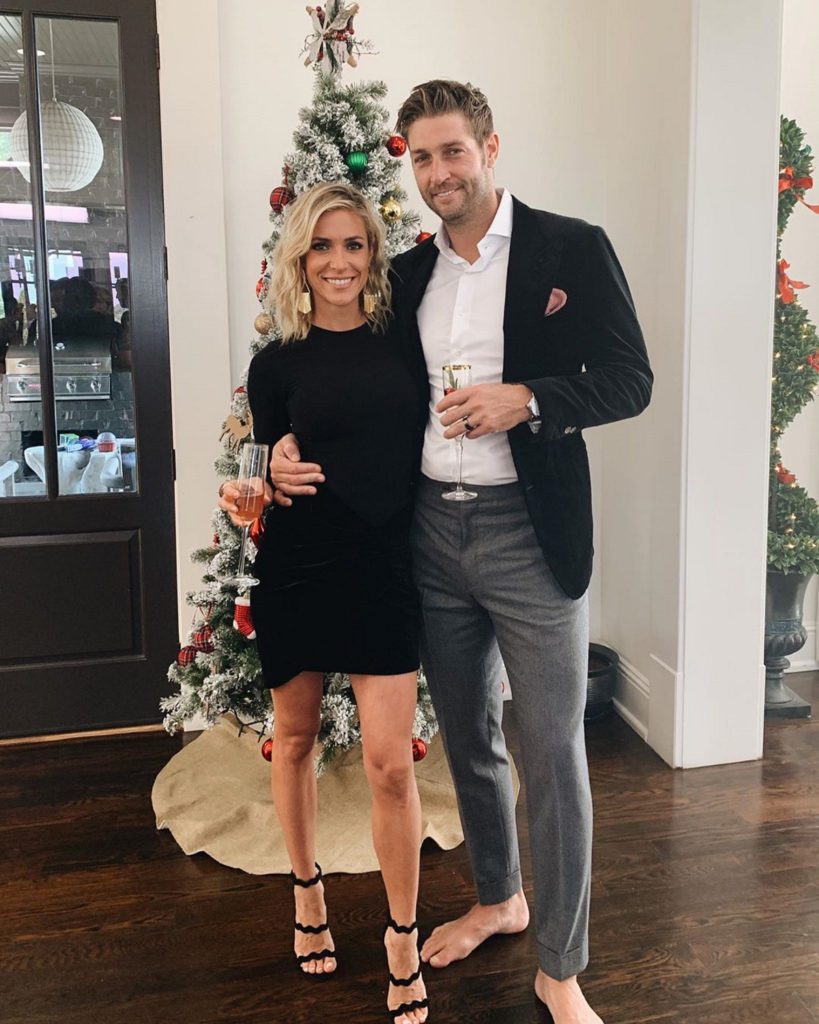 What's Kristin Wearing?
Also, can we take a moment to say how stunning Kristin looks in the above photo? So many of our readers have been asking how they can get the same look. Well, Kristin is wearing Prada Scalloped suede sandals, Alexandre Vauthier skirt, and of course Uncommon James earrings.
What about Very Cavallari season 3?
As for the third season of Very Cavallari, there's a lot we can expect. From friendship drama to a new Uncommon James store, Kristin Cavallari is busier than ever in both her personal and professional life.
Now, if you've been following Kristin on social media, then you might already know of her decision to open a new UJ location in the Windy City – aka: Chicago, Illinois. But, for those that don't know the story, you will get to see the full decision making process pan out when season 3 premieres in January. Kristin even enlists her husband's opinion, and relies on Jay again when she's navigating the expansion of her store.
While her marriage is solid, a relationship that is on the rocks? Kristin's friendship with longtime BFF, Kelly Henderson. It seems the two are on the outs in the trailer (which you can see below), and it's tough to say if they will reconcile. Kristin wisely wonders if she's just now "figuring out who [my] real friends are" and we can't help but think she's onto something there. You will also get to see Brittainy Taylor with longtime boyfriend Jon Stone and how that relationship unfolds.
Guess we'll have to wait and see how the story unfolds — but hopefully the holiday special Very Merry Cavallari will give fans some indication of what's on the horizon. Catch Very Merry Cavallari on Sunday Dec. 15 at 10 PM EST; season 3 of Very Cavallari premieres Jan. 9 at 9 PM EST, only on E!
---
MORE VERY CAVALLARI NEWS
Kristin Cavallari Meets Up with Steph Biegel in Chicago — See Photos!
Kristin Cavallari Goes to Cabo with Husband Jay Cutler on Very Cavallari
Very Cavallari Gets Premiere Date for Season 3 on E!
Kari Highman is a Beauty and Fashion Blogger at Feeling the Vibe Magazine. Otterbein Alum (2017) – English & Psychology. Always learning & creating. Avid fan of mid 2000's TV & pop music. Comments or tips, email kari@feelingthevibe.com