Sugar, spice, and everything nice: that's how Blossom, Bubbles, and Buttercup were described in the original Cartoon Network animated series The Powerpuff Girls. Now, the CW has worked on a live action show that follows the once young superheroes into their twenties. Ahead of the pilot, the cast has been announced, including Dove Cameron as Bubbles. Get more details on her casting, as well as what you can expect from the show, below.
Dove Cameron is Bubbles, but what about Blossom and Buttercup? Who else has been cast?
As we mentioned earlier, Dove Cameron has been cast as Bubbles, the playful blonde haired Powerpuff girl. She's one of three superheroes, the other two being Blossom and Buttercup. If you grew up watching the animated series, then you may remember that Blossom was the redheaded leader of the trio, while Buttercup was the sassy, raven haired chick.
Dove Cameron, with her platinum hair and angelic looks, is pretty perfect for the role of Bubbles. The two ladies cast alongside her are: Chloe Bennet (Blossom), and Yana Perrault (Buttercup). This is actually the second time Dove and Chloe will work on the same show. Dove guested on Chloe's Marvel's Agents of S.H.I.E.L.D in 2018. If the pilot gets picked up to a full series, it will be Yana's TV debut.
Just Jared Jr. reported that Dove told NYLON she was "so excited to be in jeans and a little blue tank top and then levitate and zoom out of a window. Please. Fighting monsters? But also specifically getting to play the Powerpuff Girls."
She also said that this version — written and executive produced by Diablo Cody — is so insane, but it "is so exactly what you would want" in a more grown-up addition to the Powerpuff franchise. Variety reports that the show follows three young adults "who resent having lost their childhood to crime fighting." So, the question remains: will they band back together when they're needed most?
Any other details?
Dove had to wait a whole week before she could announce her casting. She said it was excruciating not being able to tell anyone, but she's glad it's now out in the open. She's been a fan of the cartoon series, so she's very excited to portray one of the Powerpuff girls.
Recently, a couple more cast members have been announced. Variety also reported that Clueless' Donald Faison has been cast as the girls' father, Professor Utonium; Nicholas Podany will portray the all-grown-up Mojo Jojo, who was one of the trio's enemies. It's worth noting that since the earlier announcement of Dove, Chloe, and Yana's casting, the series has been changed to the simpler title: Powerpuff.
Dove posted the announcement of her Bubbles role to Instagram in March. She captioned the news with the iconic line: "The city of Townsville is under attack" along with a string of fun emojis. You can see it in full below:
Just yesterday Dove appears to be on set getting ready to film for her role of Bubbles in Powerpuff Girls. She posted "Here we goo" with a group of behind the scenes photos of her newest (and coolest) job.
The blonde beauty took a moment between hair and makeup to snap a quick selfie of course for the gram!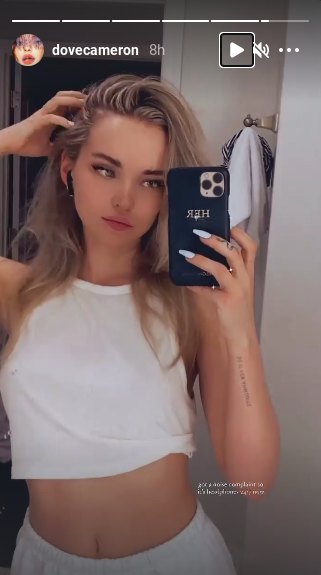 If you've followed Dove's career for a while now, then you'll know of her previous Disney background. She was the lead in the series Liv & Maddie, and portrayed Mal in the Descendants film franchise. This would be her first foray as a lead into a program aimed at a slightly more adult audience.
There's no release date set, as the series is only in the pilot stage. If it would be upgraded to a full series order, perhaps fans could expect it for the Fall 2021 schedule, or in the Winter 2022 season. Be sure you're following Dove on Instagram to keep up with her posts about the Powerpuff show.
---
MORE DOVE CAMERON NEWS
Get Her Look: Dove Cameron's Go-To Makeup and Hairstyle, Plus Her Favorite Beauty Products
Dove Cameron Supports Descendants 3 Director Kenny Ortega on Hollywood Walk of Fame Star
Casts of Descendants 3 & American Housewife Face Off on Celebrity Family Feud
If you purchase an independently reviewed product or service through a link on our website, Feeling the Vibe may receive an affiliate commission.
Kari Highman is a Beauty and Fashion Blogger at Feeling the Vibe Magazine. Otterbein Alum (2017) – English & Psychology. Always learning & creating. Avid fan of mid 2000's TV & pop music. Comments or tips, email [email protected]