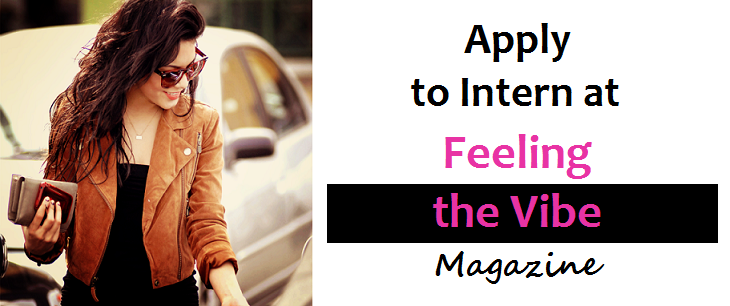 Internships at Feeling the Vibe
High School and College Virtual Internships
Interested in interning at one of the top entertainment Digital Magazines? Here's how to apply for one of our fun and exciting internships.
Feeling the Vibe is searching for motivated high school students and current undergrads with a love of pop culture, music, social media, and everything young America loves.
Our ideal candidates for the internship positions are motivated individuals with an eye for catching trends before they're big, a zest for social media, great written and verbal communication skill, innovative, and creative thinkers.  Does this sound like you or someone you know?
You can apply by emailing your resume and cover letter to:
with "Internship Application" in the subject line
In your introduction letter please specify which of the following topics interest you most:
Music
Television
Fashion
Beauty / Makeup
Social Media
Dating
Young Adult life
Let us know when you are available to start and why you would love to intern for Feeling the Vibe Magazine.
What type of work can you expect as a Feeling the Vibe Teen intern?
At Feeling the Vibe we are looking for self-motivated interns who can work independently while still being part of the Feeling the Vibe team as you work in this virtual internship (unpaid) from the comfort of your home about two to four days a week.
What are the responsibilities of a Feeling the Vibe Virtual Intern?
Intern responsibilities include:
Assisting editors with research
Trend reporting
Social media scouting and posting
Compiling and creating stories
Conducting interviews
Attending concerts for reviews
Providing administrative support to FTV staff
Have the chance to have your writing and other creative works be seen by a nationwide audience with readers even around the world.
Get started early. This will be a great experience and resume builder for you.  It will have you way ahead of the game as you graduate high school, attend college, and beyond for all future career endeavors.
There are always new and exciting opportunities coming about with Feeling the Vibe Magazine and we're looking for a few special virtual interns to join our team and enjoy the journey with us!
To Apply, please email us at info@feelingthevibe.com with "Internship Application" in the subject line.